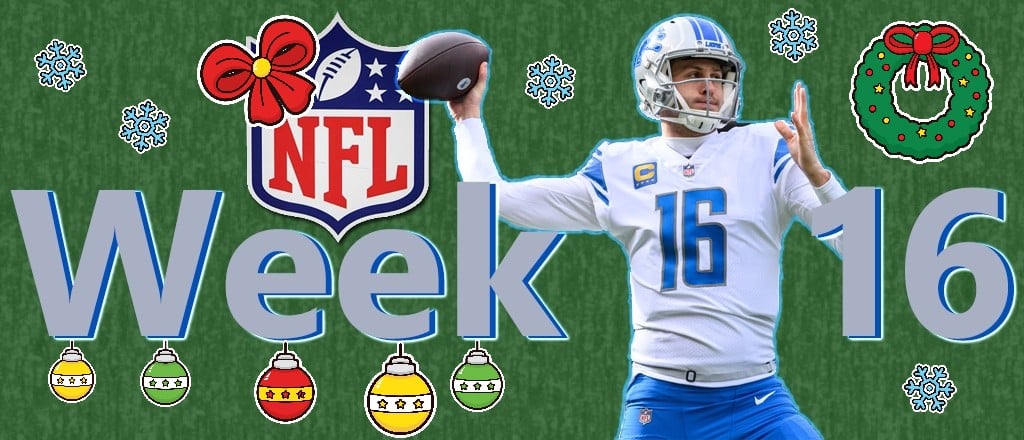 The festive season is finally upon us, and you wouldn't be blamed for having been caught off guard. Why nary a Christmas song was played or decorative bobble adorned along the stores and promenades of our fair towns. As retailers show their traditional restraint and wait for the first snow before decorating, as is tradition.
Ok enough with fantasy world, we all know that Christmas music has been playing since probably before Labour Day and Christmas decorations barely even have time to come down anymore. I just wanted to live a while longer in a fantasy, because in that fantasy, I also had a winning record against the spread the last two weeks, instead of the bag of coal we got in the real world.
Enough Scrooging about the past, it's done. Our record took some hits and Tiny Tim has a wooden leg or something, I don't really remember. The fact of the matter is that Christmas is here and with it, a full spread of NFL goodies around the table. Games that matter, games that most certainly do not, and games that may well take place under 40 feet of snow. This week's got it all! So when you gaze under the tree and wish for the ultimate gifts, save a wish for us at CSB and let's get our record looking far more jolly!
As always if you're new to ATS betting in football, check out our convenient primer on Point Spread Betting and take a look at our new and improved Parlay Betting Guide should the mood strike to combine some of these picks!
Week 15 Record: 7-9 🎅🏼 / Season Record: 118-106 🎄
Without further ado, on to the Week 16 picks against the spread.
Skip Around to Any Week 16 Game Here:
Thursday Night Game
Jacksonville Jaguars (-1.5) @ New York Jets
Christmas comes early for fans of Thursday Night Football (do those exist?). The resurgent Jags travel to MetLife to take on the Jets, with both teams clinging desperately to their playoff aspirations. Jacksonville comes into this one with considerably more momentum, having knocked off the Cowboys (who happened to be ranked No. 1 in Week 15's power rankings) while putting up 40 points against one of the league's best defences in the process. Trevor Lawrence has emerged in recent weeks as the quarterback Jacksonville hoped for when it drafted him first overall. While growing pains were evident early on, he seems to be imprinting on this team and taking command like a truly elite pivot. Should these Jags manage to sneak into the playoffs, they'll be a scary matchup for anyone.
The Jets, meanwhile, have had to stall the Mike White hype, while going back to outcast quarterback Zach Wilson. White, still suffering from a rib injury, will be sidelined for at least another week and Wilson will be tasked with (at the very least) maintaining competitiveness until he's healthy. Truth be told, Wilson has had good games but it's his consistent inconsistency that saw him banished from starter island. Despite only completing 18 of his 35 passes in Week 15, Wilson still managed to rack up 315 yards passing, two touchdowns and an interception.
It's hard to put much faith in Wilson producing at a level that outpaces the Jags right now. Lawrence still has to prove he can do what he does on the road, in hostile territory and in the cold, but the forecast for Thursday is not as daunting as the winter storm heading toward the Northeastern United States this weekend. This match should avoid the nasty weather and all signs point to Jacksonville continuing its unlikely push to the playoffs.
Pick: Jaguars Cover
Christmas Eve Games
Minnesota Vikings (-3.5) vs New York Giants
Does the Vikings comeback from 33 points down (the biggest in NFL history) say more about their ability to lose very winnable games or win against the odds?
Minnesota has been a frustrating team to predict this year and in a matchup at home, against the Giants, there really shouldn't be this much doubt. Yet here we are, with a small line and 55% of pundits and fans picking New York.
The Giants' stock is no doubt bolstered by their convincing Week 15 win over the Commanders, but even with that in the back pocket, on paper, this really shouldn't be this close. Should the best version of the Vikings show up on Christmas Eve then there's very little to wonder about. I'm betting that at home, with visions of sugar plums dancing in their heads, Kick Cousins and the Vikes will give their fans the gift of a total performance. The raucous crowd will pay them back, and ensure they don't feel home alone. Bet on Minnesota this Christmas, and don't get Lost in New York.
Pick: Vikings Cover
Cleveland Browns (-2.5) vs New Orleans Saints
We've arrived at our first game this weekend that will likely be affected by the weather. The outlook for kickoff is -11 C with flurries and winds up to 45 km/h.
Out of these two teams, only the Browns have at least a chance of making the playoffs, and with all due respect to pro football players, I wouldn't blame anyone for having a bit of letdown in those kinds of weather conditions, with nothing on the line.
Cleveland will eke out a win in the harsh home confines and what feels like a field goal game will widen out a bit as the Saints players start to lag.
Pick: Browns Cover
Best NFL Sign Up Bonuses in Canada
If you're looking to sign up for a Canadian Sportsbook for the first time and put these picks to good use, check out these great sign up bonuses currently on offer:
New users at BetVictor can get a 100% deposit bonus up to $500! – Sign Up Now
New users on Bet99 will get a Matched Bonus of 100% on their first deposit, up to $600! – Check It Out
New users at PariMatch get a 100% deposit bonus of up to $500 with a minimum deposit of only $10. – Sign Up Today
Detroit Lions (-2.5) @ Carolina Panthers
Realistically, could a Panther ever beat a Lion? I guess maybe if the Lion had to come up to the Panther's home (a tall tree) then maybe the Panther would have a fighting chance. But really, once the Lion was in the tree, all up in the Panther's face, who would fancy the Panther's chances?
Now imagine Jared Goff is riding that Lion up the tree.
Pick: Lions Cover
Cinncinati Bengals (-3.5) @ New England Patriots
If the Music City Miracle is the high watermark for lateral shenanigans leading to an unlikely victory, then what do we name the rock bottom of it? Belichick's Boneheaded Bobble? The New England Gift Exchange? The Patriot Act of Generosity?
Whatever you wanna call it, the Patriots gift wrapped a win for the Raiders and left their own season dangling by a thin thread of tinsel. The common refrain I've heard this week is that Bill Belichick will rebound from this embarrassment and scheme the heck out of the Bengals, pulling out an unlikely win. But I'm sorry to say, this is not the same Patriots team, nor is it the same Belichick.
It would require a Christmas miracle for New England to stifle Cincinnati's momentum right now (winners of six straight), and unless the Patriots have an outcast with a bright, shiny red nose in their midst, Christmas Miracles rarely occur on Christmas Eve.
Pick: Bengals Cover
Buffalo Bills (-8.5) @ Chicago Bears
Pick: Bills Cover
Tennessee Titans (-4.5) vs Houston Texans
Pick: Titans Cover
Kansas City Chiefs (-10) vs Seattle Seahawks
Pick: Chiefs Cover
Baltimore Ravens (-7.5) vs Atlanta Falcons
A pretty significant line here for a Ravens team that only managed to score three points in Week 15. Once we dive into the facts surrounding it, however, it becomes more and more justified. Their opponents this week in Atlanta have all but thrown in the towel, opting to get (what it hopes will be) valuable reps to shaky rookie quarterback Desmond Ridder in favour of Marcus Mariota. The desired two-fold effect is seasoning for their young passer and hopefully, a better draft position.
Meanwhile, the Ravens will likely welcome Lamar Jackson back at pivot. If Jackson, the proverbial straw that stirs the drink as it were, is not able to go, then first-choice backup Tyler Huntley should have an easier go of it than he did against the Cleveland defence.
No doubt it's a scary line considering what we saw of the Ravens last week, but considering their increased desperation to solidify their position in the standings, added to their opponents willingness to let theirs erode, I think it's safe to assume that Baltimore has every reason to leave nothing to chance here and runs up the score.
Pick: Ravens Cover
San Francisco 49ers (-7.5) vs Washington Commanders
Am I all-in on Brock Purdy? Purdy much.
The Commanders struggled to move the ball when confronted with the Giants' good, but not great pass rush. What will they look like on the road facing down the elite line of the 49ers? Not very Purdy.
Pick: 49ers Cover
Dallas Cowboys (-4) vs Philadelphia Eagles
Very interesting matchup and line for what is likely to be the game of the week. Considering the Cowboys just dropped their Week 15 tilt to the Jaguars, while allowing 40 points, it's curious to see them not only favoured here but by more than a field goal. However, the underlying metrics, primarily those that make up ESPN's Football Power Index (expected point margin vs average opponent on a neutral field) still have Dallas as the top dog. The Eagles, meanwhile, despite beating the Bears in Week 15, have fallen two spots in the FPI, to fifth overall. Sports are a bit wild like that, losing a close one to good team is, in this case, better than beating a bad team.
Does that help us make our pick this week? Not a whole lot. What will sway most picks this week is the fact that Philly quarterback Jalen Hurts will not suit up for this one, sidelined with a shoulder injury. So, a lot of folks will jump all over Dallas and discount the Eagles in this one, but I'm not most folks. See I'm old enough to remember the way, way back year of 2019, when the miracle mustache himself, Gardner Minshew (who happens to be starting for the Eagles this week), electrified the football world.
There's magic in the air this time of year, and maybe, juuuuust maybe, a mustache as mighty as Minchew's can guide the Eagles' sleigh home.
Pick: Eagles beat the Spread
Pittsburgh Steelers (-2.5) vs Las Vegas Raiders
Pick: Steelers Cover
Christmas Day Games
Miami Dolphins (-3.5) vs Green Bay Packers
Loving this line here for the Dolphins. After a brutal stretch of road games — two consecutive weeks in California followed by a trip to Buffalo — the Fins get to spend Christmas back in South Beach. As the locals toast the season with Peppermint Mojitos and Mincemeat Empanadas (I've verified neither of those), the Dolphins get back to their winning ways and thank Santa for the gift of home cooking. Feliz Navidad!
Pick: Dolphins Cover
Denver Broncos (-2.5) @ Los Angeles Rams
Bah Humbug!
Pick: Rams beat the Spread
Tampa Bay Buccaneers (-6.5) @ Arizona Cardinals
Somehow, despite everything that's happened this season, despite holding a 6-8 record, the Bucs are sitting firmly in a playoff spot.
Meanwhile their opponents this week, the Cardinals, saw their hopes of reaching the Super Bowl in their own barn die on the vine sometime around Week 2. Saying Kliff Kingsbury is fighting for his job was cute a few weeks ago, now it's just sad. Kyler Murray out for the season with an ACL injury, backup Colt McCoy concussed. A bad team reeling from injury that was bad to begin with. Ugly stuff in what was to be Murray's big coming out year, post megadeal.
The Cards will regroup in the offseason and hope that the next time the championship game is in Arizona, they can at least have a fighting chance of getting there.
Pick: Buccaneers Cover
Buccaneers 27 – Cardinals 20
Monday Night Football
Los Angeles Chargers (-4.5) @ Indianapolis Colts
How do you rebound from being on the losing end of the biggest comeback in NFL history? What does it feel like to gradually see a 33-point lead evaporate? Do you ever recover from that bewildering state? For the Colts, I don't think there's any recovering. From getting their hopes crushed by angry Vikings to a Boxing Day bout with Justin Herbert, there's no returning this Indy season for a refund.
In a bout between two teams whose logos resemble toenail clippings, my bet is on the jagged, yellow variety. As we lick our wounds from family arguments and presents no one liked, Monday Night Football will serve up a platter of warm leftovers no one asked for. Hopefully you got what you wanted over the weekend so you can better spend your time digging out your car for the week ahead. Merry Christmas, everyone!
Pick: Chargers Cover
---
Missed a week? Get caught up here:
---
2022 NFL Season FAQ
What NFL Teams Have a Bye Week in Week 16?
No Byes in Week 16
What is the 2022 NFL Bye Week Schedule?
Week 6: Detroit Lions, Houston Texans, Las Vegas Raiders, Tennessee Titans
Week 7: Buffalo Bills, Los Angeles Rams, Minnesota Vikings, Philadelphia Eagles
Week 8: Kansas City Chiefs, Los Angeles Chargers
Week 9: Cleveland Browns, Dallas Cowboys, Denver Broncos, New York Giants, Pittsburgh Steelers, San Francisco 49ers
Week 10: Baltimore Ravens, Cincinnati Bengals, New England Patriots, New York Jets
Week 11: Jacksonville Jaguars, Miami Dolphins, Seattle Seahawks, Tampa Bay Buccaneers
Week 13: Arizona Cardinals, Carolina Panthers
Week 14: Atlanta Falcons, Chicago Bears, Green Bay Packers, Indianapolis Colts, New Orleans Saints, Washington Commanders
What are the Week 16 NFL Power Rankings?

Dallas Cowboys
Buffalo Bills
Kansas City Chiefs
Cincinnati Bengals
Philadelphia Eagles
Baltimore Ravens
Miami Dolphins
Los Angeles Chargers
Green Bay Packers
San Francisco 49ers
Las Vegas Raiders
New England Patriots
Minnesota Vikings
Jacksonville Jaguars
New York Jets
Tampa Bay Buccaneers
New Orleans Saints
Tennessee Titans
Pittsburgh Steelers
Washington Commanders
Cleveland Browns
Detroit Lions
Carolina Panthers
New York Giants
Seattle Seahawks
Denver Broncos
Atlanta Falcons
Indianapolis Colts
Chicago Bears
Los Angeles Rams
Houston Texans
Arizona Cardinals

(Per ESPN Power Index)
What is the Week 16 NFL Schedule?

Thursday, December 22, 2022
Jacksonville @ New York 20:15

Saturday, December 24, 2022
Buffalo @ Chicago 13:00
New Orleans @ Cleveland 13:00
Houston @ Tennessee 13:00
Seattle @ Kansas City 13:00
New York @ Minnesota 13:00
Cincinnati @ New England 13:00
Detroit @ Carolina 13:00
Atlanta @ Baltimore 13:00
Washington @ San Francisco 16:05
Philadelphia @ Dallas 16:25
Las Vegas @ Pittsburgh 20:15

Sunday, December 25, 2022
Green Bay @ Miami 13:00
Denver @ Los Angeles 16:30
Tampa Bay @ Arizona 20:20

Monday, December 26, 2022
Los Angeles @ Indianapolis 20:15

What are CSB's Week 16 Picks Against the Spread?

Jaguars (-1.5)
Vikings (-3.5)
Browns (-2.5)
Lions (-2.5)
Bengals (-3.5)
Bills (-8.5)
Titans (-4.5)
Chiefs (-10)
Ravens (-7.5)
49ers (-7.5)
Eagles (+4)
Steelers (-2.5)
Dolphins (-3.5)
Rams (+2.5)
Buccaneers (-6.5)
Chargers (-4.5)


When are the next week's NFL Lines set?
Typically oddsmakers will set the next week's Game Lines after the Sunday slate of games. NFL Odds will evolve as bets are made throughout the week and NFL Picks made too early may lack vital information. The NFL Point Spreads are set with a somewhat unclear picture and NFL predictions become more informed as the games get closer.