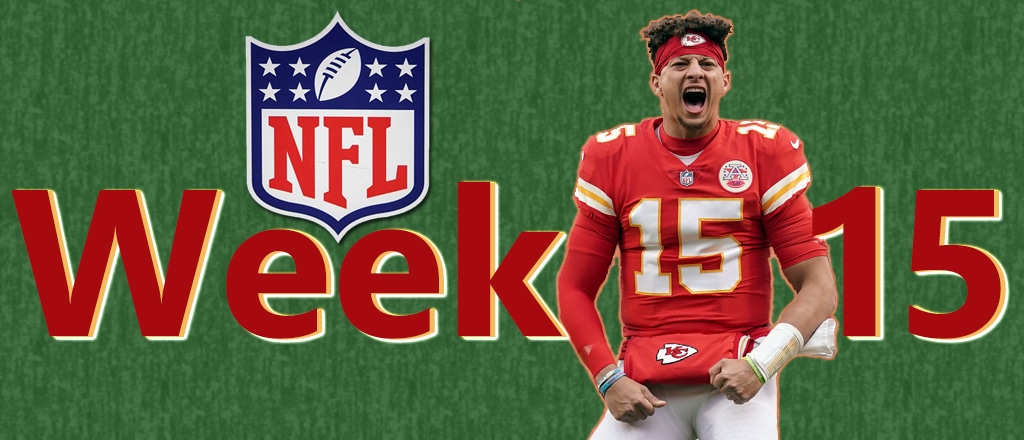 It was a bit of a back-to-earth week in Week 14. After consecutive killer records of 11-5 and 10-5, Week 14 landed flat at 6-7. In the end, it's not a disastrously bad result and our overall record still looks shiny.
The NFL season has entered its endgame, and with three weeks to play teams on the outside looking in enter make-or-break territory. This crucial part of the schedule can produce incredibly tight contests that come down to the wire, but can also produce utter trash score lines as certain teams have all but given up. Oh and this week brings us our first crop of Saturday games to the schedule, does anyone really want them? Who's to say!
We'll try to sift through the trash and pick out some treasured picks. Our record got a little smudged but it's nothing we can't buff out.
As always, if you're new to ATS betting in football, check out our convenient primer on Point Spread Betting and take a look at our new and improved Parlay Betting Guide should the mood strike to combine some of these picks!
Week 14 Record: 6-7 😢 / Season Record: 111-97 🧐
Without further ado, on to the Week 15 picks against the spread.
Skip Around to Any Week 15 Game Here:
Thursday Night Game
San Francisco 49ers (-3.5) @ Seattle Seahawks
Mr. Irrelevant; Brock Purdy, looked mighty relevant in Week 14 en route to a 35-7 dismantling of the Bucs. It's so very football to have the last pick of the draft (round 7, pick 262) jump into the limelight and act like they belong. In fact, it's not far off from the scenario which saw football fans introduced to his opponent in Week 14: Tom Brady. Brady, a sixth-round pick (199th overall) in the 2000 draft, famously came on in relief of then-star Patriots quarterback Drew Bledsoe, and the rest as they say, is history.
Am I saying that Purdy will go on to have a Brady-esque career? No.
What I am saying is there is a certain kind of magic that can take hold when someone who wasn't supposed to get a chance like this, does. The 49ers are a really good team and Purdy has been put in an ideal situation to succeed. A team with real championship aspirations having to rely on a quarterback that was miles away from getting the starter's job at the beginning of the season is the stuff of legend. Who am I to bet against that?
Pick: 49ers Cover
Saturday Games
Minnesota Vikings (-4.5) vs Indianapolis Colts
I think the line here has more to do with the 10-3 Vikings losing 34-23 to the Lions (everyone's new favourite team) than it has to do with Indy's ability to challenge them.
Indy is not very good, and the Jeff Saturday magic, or whatever it was (other teams getting food poisoning?), is long gone. Indy will limp out the remainder of the season and have some serious questions to ask themselves. Questions owner Jim Irsay will likely answer with "What if we put Tony Dungy at QB and hire Peyton Manning to sing the national anthem?"
The Vikes get right here and put the boots to the Colts, securing the NFC North title in the process.
Pick: Vikings Cover
Cleveland Browns (-2.5) vs Baltimore Ravens
Browns quarterback Deshaun Watson has led the charge for two games now and the reviews are … mixed. In his debut, Watson was uninspiring but the team rallied around him to beat the lowly Texans 27-14. Last week, Watson's individual stats were closer to what we're used to (276 yards passing, one touchdown, one interception, six rushes for 33 yards) but the team as a whole delivered a dud, losing 23-10 to its Ohio rival Bengals.
The Ravens, meanwhile, are in the midst of managing a quarterback conundrum. Likely down to their third string option this week with both Lamar Jackson and backup Tyler Huntley injured, Baltimore will have to rely heavily on the run game while limiting mistakes. It's hard to see the Ravens holding off Cincinnati for the division lead, but with a 9-4 record they're in a good position to damage control their way to a playoff berth, and hopefully by then, a healthy Jackson.
Sitting at 5-8, Cleveland has an outside shot at the playoffs, but realistically, it's not much of a shot at all. I see this team as vacillating between trying to win and perhaps laying down, sitting Watson and hoping for better draft position to ready for next year.
The Ravens have far more at stake and despite being on the road and with a less than ideal quarterback situation, have more motivation to come out on top.
Pick: Ravens Beat the Spread
Best NFL Sign Up Bonuses in Canada
If you're looking to sign up for a Canadian Sportsbook for the first time and put these picks to good use, check out these great sign up bonuses currently on offer:
New users at BetVictor can get a 100% deposit bonus up to $500! – Sign Up Now
New users on Bet99 will get a Matched Bonus of 100% on their first deposit, up to $600! – Check It Out
New users at PariMatch get a 100% deposit bonus of up to $500 with a minimum deposit of only $10. – Sign Up Today
Buffalo Bills (-7.5) vs Miami Dolphins
Pick: Bills Cover
Sunday Afternoon Games
New Orleans Saints (-4) vs Atlanta Falcons
Pick: Saints Cover
Detroit Lions (-1) @ New York Jets
The Lions' coming out party rolled on in Week 14, with a 34-23 win over the visiting Vikings. Detroit has won two straight games and five of its last six to bolster its playoff chances. The Lions won't catch the aforementioned Vikings for the NFC North lead, but the two teams they're currently chasing for a spot (the Commanders and Giants) both sit at 7-5-1 and are within striking distance. There is a scenario where the Lions have simply left it too late, but who wants to cheer for that? Unless you hold a grudge against Detroit sports, this is absolutely the most fun story going this year. I continue to root for them to pull it off and sneak into the postseason at the death. Plus, a $100 bet on the Lions to win the Super Bowl would potentially net you $10,000 right now. Just saying.
Pick: Lions Cover
Kansas City Chiefs (-14) @ Houston Texans
Houston made me look the fool last week as it played the Cowboys close all day. I'm not making the same mistake again. A two-score line is too rich for my blood, here's hoping the Texans still have some fumes left in the tank.
Pick: Texans Beat the Spread
Philadelphia Eagles (-9) @ Chicago Bears
The Bears are a bit of an enigma coming off their bye week. A week's worth of rest and scheming for the Eagles makes this one feel like a trap for Philly. Not saying the Bears will come out and win this one, but will likely keep it closer than the line implies behind the play of Justin Fields. Bears, Beets, Battlestar Galactica.
Pick: Bears Beat the Spread
Carolina Panthers (-2.5) vs Pittsburgh Steelers
Pick: Panthers Cover
Panthers 20 – Steelers 13
Dallas Cowboys (-4.5) @ Jacksonville Jaguars
Pick: Cowboys Cover
Denver Broncos (-2.5) vs Arizona Cardinals
Colt McCoy vs. Brett Rypien. How does that sound football fans!?
Oof, what a gross one. Kyler Murray's season was unceremoniously ended on Sunday on a play where he was untouched. He knew it when it happened, scrambling towards the sideline, juking to get an extra yard or two (something he's done thousands of times), his ACL gave out. A really sad end to a bitterly disappointing season for the Cardinals.
Meanwhile, the Broncos are living a nightmare of their own. The Russell Wilson gambit has been an abject failure and Wilson himself should be absent for this week at least with a concussion.
The only motivated parties here are the two backup quarterbacks trying to justify their backup salaries, and the two coaches trying to justify their jobs. It's a stinker, but I'll take McCoy over Rypien if forced to make the call.
Pick: Cardinals Beat the Spread
Cardinals 23 – Broncos 17
New England Patriots (-1.5) @ Las Vegas Raiders
Pick: Patriots Cover
Los Angeles Chargers (-3) vs Tennessee Titans
I absolutely CAN NOT anymore with the Titans. I can't win. Pick them and they look like the Lions from any year other than 2022. Pick against them and they look like this year's Lions!
I'm not gonna base my picks on anything the Titans do anymore, cause it doesn't seem to make a difference. What I will base my decision on is the play of their opponents this week, and namely, the play of Justin Herbert.
The Chargers proved me right last week and beat the Dolphins in primetime. Not one pundit on the Sunday Night Football broadcast picked the Chargers to win, and Justin took that personally. I owe LA some loyalty after that, and if it covers here and undoes the Titans' curse, I might have to go out and buy a shirt.
Pick: Chargers Cover
Cincinnati Bengals (-3.5) @ Tampa Bay Buccaneers
I think fleeting respect for Tom Brady is keeping this line low. Of course the injuries suffered by Bengals receivers Tee Higgins and Tyler Boyd moves the needle closer to Tampa, but let's face it, these teams are mismatched regardless. Joe Burrow continues on an MVP campaign and still has enough weapons without his No. 2 and 3 receivers to put up points.
The Bucs have not gelled this year and I think it's safe to say it won't happen. Put this one, and the Bucs to bed, and we can look forward to next year when Brady signs a new deal with the Patriots.
Pick: Bengals Cover
Bengals 30 – Buccaneers 20
Sunday Primetime Game
Washington Commanders (-4.5) vs New York Giants
The Giants' whole plan of "Try to score a bunch of points using only Saquon Barkley and hope that the other team allows us do that before realizing" is failing. Sure it was fun early in the season when the Giants were a happy surprise, but they've gradually been exposed having none of the weapons needed to complement Barkley and quarterback Daniel Jones.
Washington possesses a well-rounded offence and more importantly a high tier run defence. The Giants hit another speed bump this week, dealing a major blow to their playoff aspirations and majorly helping the Commanders in the process.
Pick: Commanders Cover
Commanders 24 – Giants 17
Monday Night Football
Green Bay Packers (-7) vs Los Angeles Rams
The Rams may well be the hottest pick this week. Off the heels of a late comeback victory orchestrated by newly arrived QB1 Baker Mayfield, LA brings its vibes and a long week of rest into Lambeau. That's where I'm gonna stop using positive superlatives about the Rams.
Let's face it folks, Baker has pulled this trick on us before. In fact, this was the whole schtick his entire time in Cleveland. Play really poorly until you are on the precipice of obsolescence and then pull a rabbit out of a hat to make everyone love you again. I'm not fooled. The Rams are decimated by injuries from top to bottom and even when they weren't they were a shade of their Super Bowl champion selves.
Coming off a bye week, the Packers know what's at stake. It's basically win out or you're out for Aaron and the boys, and if there's any hope for the Pack to salvage this season, it starts with beating the Rams.
Pick: Packers Cover
---
Missed a week? Get caught up here:
---
2022 NFL Season FAQ
What NFL Teams Have a Bye Week in Week 15?
No Byes in Week 15
What is the 2022 NFL Bye Week Schedule?
Week 6: Detroit Lions, Houston Texans, Las Vegas Raiders, Tennessee Titans
Week 7: Buffalo Bills, Los Angeles Rams, Minnesota Vikings, Philadelphia Eagles
Week 8: Kansas City Chiefs, Los Angeles Chargers
Week 9: Cleveland Browns, Dallas Cowboys, Denver Broncos, New York Giants, Pittsburgh Steelers, San Francisco 49ers
Week 10: Baltimore Ravens, Cincinnati Bengals, New England Patriots, New York Jets
Week 11: Jacksonville Jaguars, Miami Dolphins, Seattle Seahawks, Tampa Bay Buccaneers
Week 13: Arizona Cardinals, Carolina Panthers
Week 14: Atlanta Falcons, Chicago Bears, Green Bay Packers, Indianapolis Colts, New Orleans Saints, Washington Commanders
What are the Week 15 NFL Power Rankings?

Dallas Cowboys
Kansas City Chiefs
Philadelphia Eagles
Buffalo Bills
Cincinnati Bengals
Baltimore Ravens
New England Patriots
Las Vegas Raiders
Green Bay Packers
Miami Dolphins
Jacksonville Jaguars
Minnesota Vikings
Los Angeles Chargers
Tennessee Titans
Tampa Bay Buccaneers
San Francisco 49ers
Washington Commanders
New Orleans Saints
Pittsburgh Steelers
Cleveland Browns
Seattle Seahawks
Detroit Lions
Carolina Panthers
New York Jets
New York Giants
Indianapolis Colts
Denver Broncos
Atlanta Falcons
Chicago Bears
Los Angeles Rams
Houston Texans
Arizona Cardinals

(Per ESPN Power Index)
What is the Week 15 NFL Schedule?

Thursday, December 15, 2022
San Francisco @ Seattle 20:15

Saturday, December 17, 2022
Indianapolis @ Minnesota 13:00
Baltimore @ Cleveland 16:30
Miami @ Buffalo 20:15

Sunday, December 18, 2022
Philadelphia @ Chicago 13:00
Atlanta @ New Orleans 13:00
Detroit @ New York 13:00
Pittsburgh @ Carolina 13:00
Dallas @ Jacksonville 13:00
Kansas City @ Houston 13:00
Arizona @ Denver 16:05
New England @ Las Vegas 16:05
Tennessee @ Los Angeles 16:25
Cincinnati @ Tampa Bay 16:25
New York @ Washington 20:20

Monday, December 19, 2022
Los Angeles @ Green Bay 20:15

What are CSB's Week 15 Picks Against the Spread?

49ers (-3.5)
Vikings (-4.5)
Ravens (+2.5)
Bills (-7.5)
Saints (-4)
Lions (-1)
Texans (+14)
Bears (+9)
Panthers (-2.5)
Cowboys (-4.5)
Cardinals (+2.5)
Patriots (-1.5)
Chargers (-3)
Bengals (-3.5)
Commanders (-4.5)
Packers (-7)

When are the next week's NFL Lines set?
Typically oddsmakers will set the next week's Game Lines after the Sunday slate of games. NFL Odds will evolve as bets are made throughout the week and NFL Picks made too early may lack vital information. The NFL Point Spreads are set with a somewhat unclear picture and NFL predictions become more informed as the games get closer.