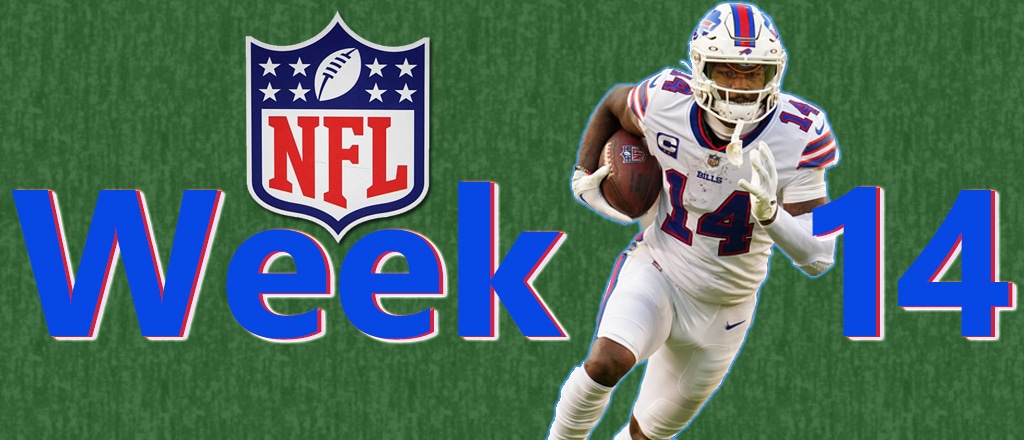 Another big week! We can officially say we're on fire at CSB, or as the kids say; en fuego (I'll show myself out).
As temperatures plummet around the country, the spiciness quotient of the picks keeps rising. Coach Dennis Green's famous quote comes to mind at this point of the season, "They are who we thought they were." There's not much hiding going on in the NFL by Week 14. Contenders have stood up tall and pretenders have skulked away to hibernate until the draft. Our metrics for making picks make more sense, we have cold, hard stats to rely on, and we don't have to dig too deep for clues.
All that being said, none of it matters if you don't stick the landing. We have five more weeks to either pad our own stats or crash and burn. I intend to ride our record into the postseason and make us proud, so let's get to the dang numbers!
As always, if you're new to ATS betting in football, check out our convenient primer on Point Spread Betting and take a look at our new and improved Parlay Betting Guide should the mood strike to combine some of these picks!
Week 14 Record: 10-5 🚒 / Season Record: 105-90 🔥
Without further ado, on to the Week 14 picks against the spread.
Skip Around to Any Week 14 Game Here:
Thursday Night Game
Las Vegas Raiders (-6.5) @ Los Angeles Rams
Things happen fast in the NFL, and if you don't stop and look around once in a while, you might miss something. For example, did you know that the Las Vegas Raiders have won three straight games? The same Raiders, who on Nov. 13 had just lost to Jeff Saturday in his coaching debut, sat at 2-7, and had about as much hope to get into the playoffs as my beer league softball team has of winning the World Series. Now, those same Raiders sit at 5-7, one game behind the Chargers and Patriots in the "realistically-have-a-shot" zone. Wacky.
Did you also know that Baker Mayfield is now the Rams quarterback? Seriously. Mayfield was waived on Monday, claimed on Tuesday and could very well play on Thursday. Blink and you'll miss it.
What does it all mean for this particular game? Not all that much really. The Raiders are (currently) good, the Rams are (still) bad. LA has given up 400 yards of offence in two straight contests now, Aaron Donald is suffering from a high ankle sprain and is most likely out this week (if not for the rest of the season). Matt Stafford is out for the year. Cooper Kupp is out for the year. The Rams are out for the year.
Whatever Mayfield brings to the table is hindered in large part by the absences listed above. If Mayfield was stepping into last year's Rams team? Maybe I could see a redemption ark materializing, but that's simply not the case. A few flashes, a few dashes, but ultimately not much substance, it's hard to see the Rams being the team to stop Las Vegas' current momentum.
Pick: Raiders Cover
Sunday Afternoon Games
Detroit Lions (-2.5) vs Minnesota Vikings
The collective NFL world is rubbing its eyes this morning. Are we really reading this right? The Detroit Lions are FAVOURED over the 10-2 Minnesota Vikings?
What can I say, I've been in love with this year's edition of the Lions and it warms my heart to see them succeed. I've got no skin in the game, I just like seeing perennially downtrodden teams turn things around.
These two met in Week 3, with the Vikings eking out a four-point win. The Lions led that game in passing yards, rushing yards, total yards, and had nearly 10 minutes more possession than Minnesota, all in a losing cause.
Now in Week 14, at home, the Lions seem to possess that little bit extra. They're actually playing team defence, they're playing with confidence, and measurable success is in the picture for the first time in who knows how long (I'm sure someone knows, it just sounds better).
Earlier in the season it would be reasonable to assume the Lions put up a good effort and ultimately lose by a field goal to a playoff-bound team, but now? I believe the inverse is true. The Lions will aim to prove to us, and to themselves, that they might very well BE that playoff-bound team. Imagine that.
Pick: Lions Cover
Buffalo Bills (-9.5) vs New York Jets
It seems like just yesterday that Zach Wilson and the Jets upset the Bills and were on the upswing. Since that day in Week 9, Wilson has lost his job and Mike White has emerged as a pretty capable replacement for New York. Throwing for a combined 684 yards, three touchdowns and two interceptions in the two games since his promotion, White has given the Jets a downfield element that was lacking with Wilson at the helm.
But Buffalo has rebounded well from the two-game slide precipitated by said Jets. Josh Allen seems to have recovered from whatever lingering injuries were bothering him and has returned to the all-world talent we all know.
There's something to be said for revenge in this tilt, however, it really doesn't feel like a game the Bills win by 10-plus points. White and the Jets' defence will give New York a chance and it will at the very least require a complete effort on Buffalo's part. Bills win this one at home and get their revenge, but not in blowout fashion.
Pick: Jets Beat the Spread
Best NFL Sign Up Bonuses in Canada
If you're looking to sign up for a Canadian Sportsbook for the first time and put these picks to good use, check out these great sign up bonuses currently on offer:
New users at BetVictor can get a 100% deposit bonus up to $500! – Sign Up Now
New users on Bet99 will get a Matched Bonus of 100% on their first deposit, up to $600! – Check It Out
New users at PariMatch get a 100% deposit bonus of up to $500 with a minimum deposit of only $10. – Sign Up Today
Pittsburgh Steelers (-2.5) vs Baltimore Ravens
Pick: Steelers Cover
Philadelphia Eagles (-6.5) @ New York Giants
Pick: Eagles Cover
Cincinnati Bengals (-6.5) vs Cleveland Browns
The Bengals proved me right last week and I salute them for that. Joe Burrow has planted himself firmly in the MVP leaderboard and may very well be the best quarterback in the league to this point in the season. Burrow and the Bengals are acutely aware of their recent struggles to beat their Ohio rival. Cleveland has won the last five matchups and smacked Cincinnati, 32-13, in the most recent encounter.
The Bengals are also aware that they were deprived of receiver Ja'Marr Chase in that game and we're still figuring out what they had in running back Samaje Perine. Since that loss in Week 8, Perine has emerged as a potent double-threat back, contributing on the ground as much as in the pass game. With Burrow's full arsenal available to him, Cinci poses a mammoth challenge to any team right now. The Bengals will buck the trend and win this edition of the Battle of Ohio in a big way.
Pick: Bengals Cover
Tennessee Titans (-3.5) vs Jacksonville Jaguars
The Titans are this year's Falcons for me, which is to say, I'm damned if I do and damned if I don't. Put my faith in them, they let me down, shade them and they'll look like world beaters.
The Jaguars present a similar quandary. Which version of the team, and more importantly, which version of Trevor Lawrence will show up on any given Sunday?
This one may be clarified by the fact that the aforementioned Lawrence is dealing with a foot injury. At the time of publish, his status for this one remains uncertain, and even if he is to go, you'd have to believe the chances of seeing peak Lawrence are slim to none.
Therefore I will put my faith in the Titans and hope that the roll of the dice comes good. Though the dice may well be cursed.
Pick: Titans Cover
Dallas Cowboys (-16.5) vs Houston Texans
This is a terrifying line and normally I wouldn't go anywhere near it. Add to that the presumed extra motivation of the Battle of Texas and everything is telling me to play it safe and pick the Texans.
However.
The Cowboys are averaging an obscene 37 points per game with Dak Prescott under centre. They are a powerhouse team that can win in every conceivable way. This line does not show up from nothing, it has slowly and steadily gotten ready for this matchup. Feeding on the Cowboys' past performances and the lack thereof for the Texans.
This line is a monster in the same way the Cowboys are. Embrace the monster.
Pick: Cowboys Cover
Kansas City Chiefs (-9.5) @ Denver Broncos
Patrick Mahomes is 9-0 against the Broncos. He's mad that he still can't beat the Bengals. He'll see another orange team across from him, and like a bull seeing red, will exercise his frustrations. Don't overthink it.
Pick: Chiefs Cover
Seattle Seahawks (-3.5) vs Carolina Panthers
Pick: Seahawks Cover
Seahawks 27 – Panthers 16
San Francisco 49ers (-3.5) vs Tampa Bay Buccaneers
Pick: 49ers Cover
Sunday Primetime Game
Miami Dolphins (-3) @ Los Angeles Chargers
The Dolphins travel back to California for the second weekend in a row, aiming to keep hold of their faltering playoff position. The Chargers will be aiming to exploit their travel weary opponents from Miami and keep their slim playoff hopes alive.
Very tough one to call and it feels a little like a trap. My faith in Miami as the superior team here was certainly shaken by last week's defeat at the hands of the 49ers. The Fins did not look good and more importantly Tua Tagovailoa looked flat out bad.
As inconsistent as the Chargers have been and both teams aside, who wouldn't take Justin Herbert over Tua if given the choice? Herbert inspires more confidence in me at this stage and while it's been hard to peg LA this year, I'll roll with Herbert at home, especially with a healthy Keenan Allen to throw to.
Pick: Chargers Beat the Spread
Chargers 30 – Dolphins 27
Monday Night Football
New England Patriots (-1.5) @ Arizona Cardinals
Had you asked me a few weeks ago, this would have been a slam dunk pick for the Patriots. Now things seem a little murkier. The Cards are coming off a much needed bye and will be fielding possibly the healthiest lineup they've had. Kyler Murray returns at quarterback and coach Kliff Kingsbury is fighting for his job. Arizona will be as motivated as it can be, and in front of its home fans to boot.
On the other hand, there's a stink around the Patriots at the moment, and the toughness of their remaining schedule does not bode well. Matchups with the surging Raiders, the Dolphins, Bengals, and Bills may have already sealed New England's fate.
A loss here may very well send the Pats into a tailspin and create some serious questions about the future make-up of the team and coaching staff.
Pick: Cardinals Beat the Spread
Cardinals 24 – Patriots 21
---
Missed a week? Get caught up here:
---
2022 NFL Season FAQ
What NFL Teams Have a Bye Week in Week 14?
Week 14: Atlanta Falcons, Chicago Bears, Green Bay Packers, Indianapolis Colts, New Orleans Saints, Washington Commanders
What is the 2022 NFL Bye Week Schedule?
Week 6: Detroit Lions, Houston Texans, Las Vegas Raiders, Tennessee Titans
Week 7: Buffalo Bills, Los Angeles Rams, Minnesota Vikings, Philadelphia Eagles
Week 8: Kansas City Chiefs, Los Angeles Chargers
Week 9: Cleveland Browns, Dallas Cowboys, Denver Broncos, New York Giants, Pittsburgh Steelers, San Francisco 49ers
Week 10: Baltimore Ravens, Cincinnati Bengals, New England Patriots, New York Jets
Week 11: Jacksonville Jaguars, Miami Dolphins, Seattle Seahawks, Tampa Bay Buccaneers
Week 13: Arizona Cardinals, Carolina Panthers
Week 14: Atlanta Falcons, Chicago Bears, Green Bay Packers, Indianapolis Colts, New Orleans Saints, Washington Commanders
What are the Week 14 NFL Power Rankings?

Dallas Cowboys
Kansas City Chiefs
Buffalo Bills
Cincinnati Bengals
Philadelphia Eagles
Tampa Bay Buccaneers
Cleveland Browns
Miami Dolphins
Las Vegas Raiders
Minnesota Vikings
Green Bay Packers
Baltimore Ravens
Arizona Cardinals
Jacksonville Jaguars
Los Angeles Chargers
Tennessee Titans
New Orleans Saints
New England Patriots
Washington Commanders
San Francisco 49ers
Seattle Seahawks
Pittsburgh Steelers
Atlanta Falcons
Detroit Lions
New York Jets
New York Giants
Indianapolis Colts
Denver Broncos
Chicago Bears
Carolina Panthers
Los Angeles Rams
Houston Texans

(Per ESPN Power Index)
What is the Week 14 NFL Schedule?

Thursday, December 8, 2022
Las Vegas @ Los Angeles 20:15

Sunday, December 11, 2022
New York @ Buffalo 13:00
Cleveland @ Cincinnati 13:00
Houston @ Dallas 13:00
Minnesota @ Detroit 13:00
Jacksonville @ Tennessee 13:00
Philadelphia @ New York 13:00
Baltimore @ Pittsburgh 13:00
Kansas City @ Denver 16:05
Tampa Bay @ San Francisco 16:25
Carolina @ Seattle 16:25
Miami @ Los Angeles 20:20

Monday, December 12, 2022
New England @ Arizona 20:15

What are CSB's Week 14 Picks Against the Spread?

Raiders (-6.5)
Lions (-2.5)
Jets (+9.5)
Steelers (-2.5)
Eagles (-6.5)
Bengals (-6.5)
Titans (-3.5)
Cowboys (-16.5)
Chiefs (-9.5)
Seahawks (-3.5)
49ers (-3.5)
Chargers (+3)
Cardinals (+1.5)

When are the next week's NFL Lines set?
Typically oddsmakers will set the next week's Game Lines after the Sunday slate of games. NFL Odds will evolve as bets are made throughout the week and NFL Picks made too early may lack vital information. The NFL Point Spreads are set with a somewhat unclear picture and NFL predictions become more informed as the games get closer.