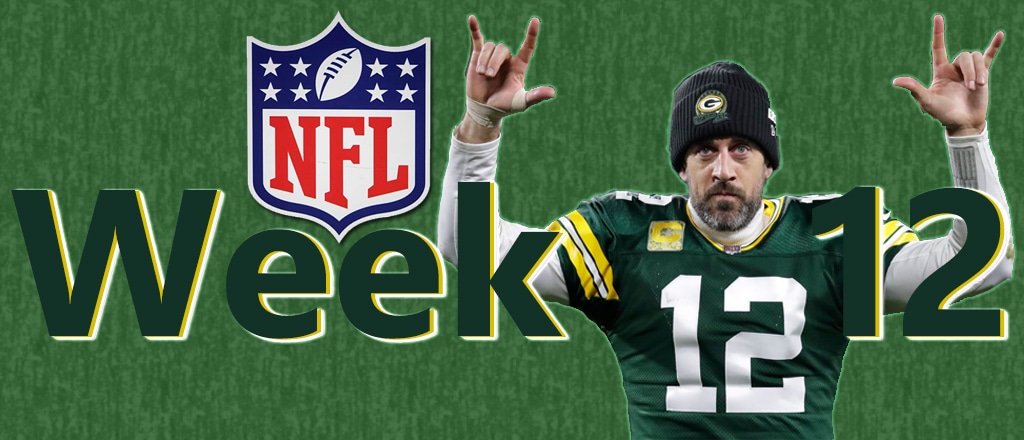 American Thanksgiving is here and while Week 11 wasn't historically bad, I still feel like a bit of a turkey. I should have known when the Bills were snowed out of their own city, things were about to go sideways. Our record isn't buried though, and I'm thankful for that.
A full slate of games is on tap for Week 12 as no teams have a bye. Our normal Thursday game is instead replaced by a fully stuffed Thanksgiving lineup.
As folks around here dig out of the snow and prepare to watch Canada compete in an entirely different kind of football, we take a crack at predicting some NFL games starting with three matchups for turkey day.
As always if you're new to ATS betting in football, check out our convenient primer on Point Spread Betting.
Week 11 Record: 6-8 🦃 / Season Record: 84-80 🥧
Without further ado, on to the Week 12 picks against the spread.
Skip Around to Any Week 12 Game Here:
Thanksgiving Thursday Games
Buffalo Bills (-9.5) @ Detroit Lions
The Bills got back to their winning ways in Week 11 (though they missed the cover by one point 😣) despite the city of Buffalo itself being buried in a historically high amount of November snow. With their barn unable to host the game, where did they turn? Why it just so happened to be Detroit.
Does that make Buffalo the home team here? In a highly improbable two-week stint inside Ford Field, the Bills will try to continue rolling against the Lions.
But we aren't here to determine who wins this game, no, we're here to take advantage of a way too healthy of a line being granted to the Ford Field squatters.
As I correctly predicted in Week 11's victory over the Giants, Detroit possesses a special kind of offensive magic this year. The 4-6 Lions have scored 30 or more points five times this year and average 31.6 points at home. Despite Buffalo's recent familiarity with Detroit's home ground, the Lions are still the home team and will have the crowd powering them on.
If you've read my predictions all year you know that I've backed Detroit a lot and love its mix of high powered offence and total defensive apathy. I see no reason not to roll with the Lions again here. Turkey legs up!
Pick: Lions Beat the Spread
Dallas Cowboys (-9.5) vs New York Giants
Our second 9.5-point spread in a row and this one comes with good reason.
The Cowboys dismantled the team of the moment Vikings in Week 11. After blowing a two-touchdown lead to Green Bay the week prior, Dallas was out to make a statement, and make one it did.
Meanwhile, the Giants seem to be heading in the other direction. The New York secondary is bruised and battered and its front line made even the Detroit pass rush look good. Saquon Barkley was rendered completely ineffective on the day and should have a much tougher time against Dallas. With the run game neutralized, Daniel Jones threw for a surprising 341 yards and a score, however, he never looked comfortable, ultimately getting sacked twice and throwing two picks.
The Cowboys are going to prove too tough a test for the Giants, especially in their current state. Dallas made a statement in Week 11, look for it to punctuate it with a big win again this week.
Pick: Cowboys Cover
Minnesota Vikings (-2.5) vs New England Patriots
On to the team the Cowboys trounced in Week 11.
The Vikings host the Patriots on Thursday night, around the same time families in the U.S. will host political arguments in their living rooms.
There was zero argument to be made for Minnesota in Week 11. The Vikings were well and truly dominated at the hands of the Cowboys. Now they aim to get right in front of their home crowd.
New England will pose an altogether different threat than the Cowboys did. Its grind you down to dust game plan is something the Vikings haven't really encountered thus far. The Pats rank fourth in yards allowed per game and are first in the last three weeks. They are second in opponent pass completions allowed, third in touchdowns allowed, and second in points allowed per game. Their plan has simply been to plod though a low-scoring game, keep the ball on the ground, and win.
The Vikings haven't encountered such a beast thus far. They played a superior defence in Dallas, however, Dallas also put up 40 points and that combo was simply demoralizing for Minny. In Week 12 they face off against a defensive juggernaut that lags in the offence department, meaning though there will be frustrating moments, the Vikings should never be totally out of the game. Having to win this one by only a field goal, I have faith that in front of their fans, the Vikes can triumph on the day (if only on the last play of the game).
Pick: Vikings Cover
Best NFL Sign Up Bonuses in Canada
If you're looking to sign up for a Canadian Sportsbook for the first time and put these picks to good use, check out these great sign up bonuses currently on offer:
New Users at BetVictor can get a 100% deposit bonus up to $500! – Sign Up Now
New users on Bet99 will get a Matched Bonus of 100% on their first deposit, up to $600! – Check It Out
New Users at PariMatch get a 100% deposit bonus of up to $500, with a minimum deposit of only $10. – Sign Up Today
Sunday Afternoon Games
Baltimore Ravens (-4) @ Jacksonville Jaguars
Pick: Ravens Cover
Ravens 24 – Jacksonville 17
Denver Broncos (-2.5) @ Carolina Panthers
Pick: Panthers Beat the Spread
Washington Commanders (-4) vs Atlanta Falcons
Pick: Commanders Cover
Commanders 24 – Falcons 17
Tampa Bay Buccaneers (-3.5) @ Cleveland Browns
It's been awfully hard to peg the Bucs this year and memory can be awfully short in football. Coming off a bye, we quickly forget that Tampa put in what may have been its best performance of the year in Week 10 against Seattle. The Bucs combined for 419 yards of offence, 26 first downs, and held on to the ball a full 14 minutes longer than their opponents. Tom Brady had the pass protection he needs to be at his best and that performance, combined with the much-needed rest and practice a bye week provides, spells doom for the Browns.
As for those Browns, this will be their final week in the pre-Watson era, and to me it just feels like it will end with a loss.
Pick: Buccaneers Cover
Buccaneers 30 – Browns 20
Cincinnati Bengals (-1.5) @ Tennessee Titans
The Titans are a very sexy pick here at home. In fact 71% of experts and fans alike are picking them to beat the spread this week. Well, I'm not one of them.
Tennessee has burned me a few times this season so I wade into this one with a little apprehension for sure. Derrick Henry is his normal, healthy self this season which is a completely different scenario from when the Bengals upset the Titans in last year's Wild Card game. That has most people backing Tennessee here, as adding the x-factor of a Derrick Henry at 100% should be enough to tip the scales.
I don't buy it, and the reason I don't buy it is Joe Burrow's continued growth as a premier quarterback. A couple of years ago there was a sense of inevitability about Josh Allen in Buffalo. Despite occasional blips in performance his pros outweighed any cons by a wide margin and we all knew he'd become what he is today. That is the sense I have with Burrow. He's casually putting up video game numbers and may even have the added benefit of returning wide receiver (and Burrow Bestie) Ja'Marr Chase. Chase is practicing but still not 100% confirmed to start, but even without Chase, Burrow has thrown for a combined 793 yards and seven touchdowns in three games.
Burrow is getting to a place where he can win games by himself. In the rarified air of Mahomes and Allen. I'll continue to bet with that.
Pick: Bengals Cover
Miami Dolphins (-13) vs Houston Texans
Pick: Dolphins Cover
New York Jets (-4) vs Chicago Bears
This is a really weird game to call. On the one hand, the favored Jets have officially given up on Zach Wilson and will start Mike White in his stead. If last week was truly Wilson's last game as the Jets starting quarterback then he can blame Bill Belichick for torpedoing his career. Wilson is 5-2 this season with both losses coming at the hands of the New England Patriots. Week 11's loss was especially bad, as Wilson managed only nine complete passes for 77 total yards on the day. This is the Zach Wilson who beat the Bills just two weeks ago. Is his benching harsh? Maybe, but this is New York we're talking about.
Meanwhile Chicago has quarterback problems of its own, but not in the stats department. Justin Fields, who had come alive in recent weeks, suffered a shoulder injury in Week 11 and the severity has remained mysterious. There are reports ranging from day-to-day to season-ending.
If Fields does suit up, he'll be playing wounded, so I don't expect him to be capable of shouldering the load alone (pun intended). The Jets are a talented team, and provided they get steady quarterbacking at the very least, will be able to handle the Bears at home.
Pick: Jets Cover
Seattle Seahawks (-3.5) vs Las Vegas Raiders
Pick: Seahawks Cover
Los Angeles Chargers (-4) @ Arizona Cardinals
The Chargers had more fight in them than I expected in Week 11. Pushing the Chiefs all the way to the brink before dropping the game in the end, LA looked good and resurgent with the return of Keenan Allen bolstering the attack. Still not 100%, the Chargers showed us that even banged up they are a dangerous opponent not to be trifled with.
The Cardinals. meanwhile, are anything but dangerous. In what seems to be a lame duck year for Kliff Kingsbury and GM Steve Keim, the Cards are reeling down the stretch. Add to the misery an injured Kyler Murray and a truly dreadful record at home (1-5 this season, 4-10 over the last two) and this just doesn't look like a contest at all.
Stranger things have happened but I think you can pick LA here with the utmost confidence.
Pick: Chargers Cover
Chargers 34 – Cardinals 23
Kansas City Chiefs (-14.5) vs Los Angeles Rams
All the chips are stacked for a blowout here. The Rams are in a death spiral and will be without Matt Stafford in addition to the already-lost Cooper Kupp.
I know what you're thinking. KC will go up by three scores, sit everyone relevant, and allow the backdoor cover to materialize. Hey, I'm thinking it too, but think about this instead: The Rams are the defending Super Bowl champs and you don't miss the opportunity to crush the defending champs. Chiefs run up the score in what ends up being a joke of a game.
Pick: Chiefs Cover
San Francisco 49ers (-9.5) vs New Orleans Saints
Pick: 49ers Cover
Sunday Primetime Game
Philadelphia Eagles (-7) vs Green Bay Packers
What the heck to make of this game now?
A few weeks ago this would have been an easy pick the Eagles way. Now, after dropping their first game of the year to Washington and narrowly avoiding a second consecutive loss at the hands of the Colts, Philly suddenly looks shaky.
The Packers, meanwhile, had seemingly saved their season with an improbable comeback victory against the Cowboys, before dropping last week's tilt against the Titans. A win here would keep their playoff hopes alive, while a loss could spoil any postseason aspirations.
Both teams will be desperate to get right. The Eagles from a complete performance standpoint, the Packers from a save the season one.
This does not feel like a game that's settled by more than a touchdown.
Pick: Packers Beat the Spread
Monday Night Football
Indianapolis Colts (-2.5) vs Pittsburgh Steelers
The Colts are an attractive pick on Monday due to the return of Matt Ryan, Jonathan Taylor, and the boost provided by rookie head coach Jeff Saturday. However the uptick in performance a team experiences when a new coach enters the room is dictated by the innate talent in that room. Indy sits middle of the road in just about every offensive and defensive category. It doesn't really have an identity to cling to and eventually the new voice in the room just becomes another voice.
Meanwhile, the 3-7 Steelers look to be heading for their first losing season in coach Mike Tomlin's tenure. However, they have a ton of positives to rally around recently. Rookie quarterback Kenny Pickett has emerged as an exciting weapon of late. After being set up to fail earlier in the season, Pickett has Pickett'd himself up and dusted himself off. He's produced two straight games without an interception and combined for 465 yards passing over that stretch. A rejuvenated Najee Harris has spelled Pickett well and given him room to work.
In what very well looks like a losing cause this year, the Steelers have more to be excited about going into next season than the Colts do. Look for the new coach shine to dull in Indy and for Pickett to continue to improve.
Pick: Steelers Beat the Spread
---
Missed a week? Get caught up here:
---
2022 NFL Season FAQ
What NFL Teams Have a Bye Week in Week 12?
No Byes in Week 12
What is the 2022 NFL Bye Week Schedule?
Week 6: Detroit Lions, Houston Texans, Las Vegas Raiders, Tennessee Titans
Week 7: Buffalo Bills, Los Angeles Rams, Minnesota Vikings, Philadelphia Eagles
Week 8: Kansas City Chiefs, Los Angeles Chargers
Week 9: Cleveland Browns, Dallas Cowboys, Denver Broncos, New York Giants, Pittsburgh Steelers, San Francisco 49ers
Week 10: Baltimore Ravens, Cincinnati Bengals, New England Patriots, New York Jets
Week 11: Jacksonville Jaguars, Miami Dolphins, Seattle Seahawks, Tampa Bay Buccaneers
Week 13: Arizona Cardinals, Carolina Panthers
Week 14: Atlanta Falcons, Chicago Bears, Green Bay Packers, Indianapolis Colts, New Orleans Saints, Washington Commanders
What are the Week 12 NFL Power Rankings?

Kansas City Chiefs
Buffalo Bills
Dallas Cowboys
Cincinnati Bengals
Baltimore Ravens
Philadelphia Eagles
San Francisco 49ers
Miami Dolphins
Tampa Bay Buccaneers
Cleveland Browns
Jacksonville Jaguars
Las Vegas Raiders
Tennessee Titans
Green Bay Packers
Minnesota Vikings
Arizona Cardinals
New York Jets
Washington Commanders
New Orleans Saints
Atlanta Falcons
New England Patriots
Los Angeles Chargers
Indianapolis Colts
Seattle Seahawks
Los Angeles Rams
Chicago Bears
Detroit Lions
New York Giants
Denver Broncos
Pittsburgh Steelers
Carolina Panthers
Houston Texans

(Per ESPN Power Index)
What is the Week 12 NFL Schedule?

Thursday, November 24, 2022
Buffalo @ Detroit 12:30
New York @ Dallas 16:30
New England @ Minnesota 20:20

Sunday, November 27, 2022
Tampa Bay @ Cleveland 13:00
Cincinnati @ Tennessee 13:00
Houston @ Miami 13:00
Chicago @ New York 13:00
Atlanta @ Washington 13:00
Denver @ Carolina 13:00
Baltimore @ Jacksonville 13:00
Los Angeles @ Arizona 16:05
Las Vegas @ Seattle 16:05
Los Angeles @ Kansas City 16:25
New Orleans @ San Francisco 16:25
Green Bay @ Philadelphia 20:20

Monday, November 28, 2022
Pittsburgh @ Indianapolis 20:15

What are CSB's Week 12 Picks Against the Spread?

Detroit Lions (+9.5)
Dallas Cowboys (-9.5)
Minnesota Vikings (-2.5)
Baltimore Ravens (-4)
Carolina Panthers (+2.5)
Washington Commanders (-4)
Tampa Bay Buccaneers (-3.5)
Cincinnati Bengals (-1.5)
Miami Dolphins (-13)
New York Jets (-4)
Seattle Seahawks (-3.5)
Los Angeles Chargers (-4)
Kansas City Chiefs (-14.5)
San Francisco 49ers (-9.5)
Green Bay Packers (+7)
Pittsburgh Steelers (+2.5)
When are the next week's NFL Lines set?
Typically oddsmakers will set the next week's Game Lines after the Sunday slate of games. NFL Odds will evolve as bets are made throughout the week and NFL Picks made too early may lack vital information. The NFL Point Spreads are set with a somewhat unclear picture and NFL predictions become more informed as the games get closer.