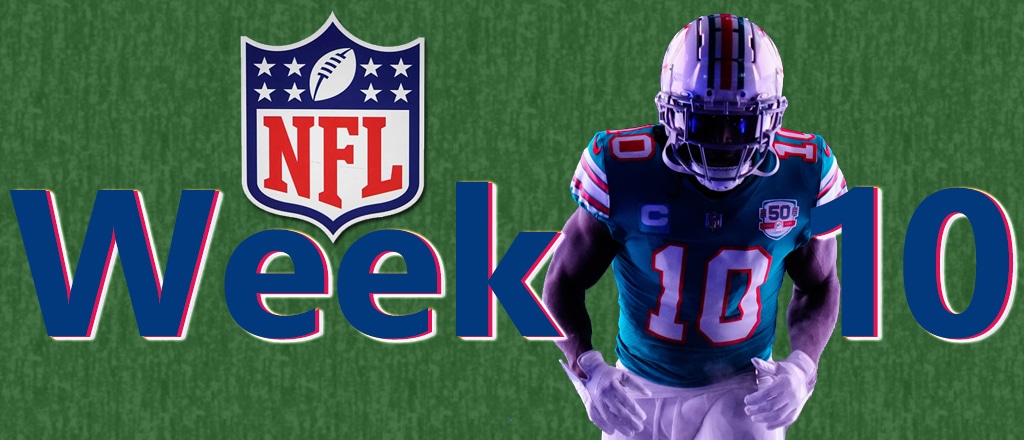 Sweet fancy Moses! Our total record is lookin' fine and I'm aiming to keep it that way.
Week 9 was the story of sensible picks coming good and not so sensible picks on double-digit spreads that were not as good.
Result of the week was no doubt the Jets beating the Bills and sending power ranking debaters into a tailspin, but we didn't lose, we kept on rolling. So let's keep that momentum going as we dive into Week 10 and keep the vibes up!
As always if you're new to ATS betting in football, check out our convenient primer on Point Spread Betting.
Week 9 Record: 9-4 😎 / Season Record: 71-65 🤩
Without further ado, on to the Week 10 picks against the spread.
Skip Around to Any Week 10 Game Here:
Thursday Night Game
Atlanta Falcons (-3) @ Carolina Panthers
Just two weeks ago these teams met in an entertaining matchup which was ultimately settled by a field goal, 37-34, in favour of the Falcons. Do I think both these teams are voodoo this season? I sure do (do), but despite that I think this game is again won by Atlanta and by a thin margin.
Atlanta is 6-3 against the spread this year and is in the upper echelon of the NFL in ATS. Meanwhile, the Panthers are 3-6 ATS, even though it really feels like they've been a fly in the ointment this season. I'll hang my hat on the Falcons' ATS success without much else to go on here. I like the line where it is, but anything more than a field goal and I start thinking about picking Carolina.
Pick: Falcons Cover
Sunday Morning Game
Tampa Bay Buccaneers (-2.5) vs Seattle Seahawks
As I predicted, Tampa Bay emerged victorious in Week 9's Sad Sack Bowl. That being said, where I come from winning a bowl of sadness should not then make you favourites over a team that's won four straight non-sadness games.
Yes, this game is in Germany. Yes, maybe the players will gorge themselves on Schnitzel, Käsespätzle, and Sauerbraten and be bloated shadows of their true selves. Euro-food comas aside, I'm not gonna try to overthink this one. I'm gonna say it, despite the GOAT-ness of it all, Geno Smith is currently a better quarterback than Tom Brady.
Throw in another factoid if you're not convinced; Seattle running back Kenneth Walker III has seven touchdowns in his last five games and is on a Rookie of the Year track. Tampa Bay is 23rd in opponent rushing yards per game and is fourth worst in the league over its last three. I don't think this is too complicated, don't turn your brain into a Zwiebelkuchen.
Pick: Seahawks Beat the Spread
Seahawks 24 – Buccaneers 20
Sunday Afternoon Games
Kansas City Chiefs (-9.5) vs Jacksonville Jaguars
The Chiefs won an unexpectedly tight matchup against the Titans in Week 9 and that's gonna make a lot of folks nervous about a 9.5-point line. I'm hoping I can alleviate some of those nerves.
Tennessee is 6-3 ATS, while Jacksonville sits at 3-6. Tennessee boasts a +3 turnover differential while Jacksonville sits at -2, due in large part to Trevor Lawrence's 11 combined turnovers. Tennessee has Derrick Henry, Jacksonville does not.
No disrespect to the Jags (well maybe a little), they're an improving young team with complementary parts to build with, but KC won't have nearly as much trouble putting up points (and keeping Jacksonville's points down) as it did against the Titans. Roll with the Chiefs.
Pick: Chiefs Cover
Best NFL Sign Up Bonuses in Canada
If you're looking to sign up for a Canadian Sportsbook for the first time and put these picks to good use, check out these great sign up bonuses currently on offer:
New users at BetVictor can get a 100% deposit bonus up to $500! – Sign Up Now
New users on Bet99 will get a Matched Bonus of 100% on their first deposit, up to $500! – Check It Out
New users at PariMatch get a 100% deposit bonus of up to $500 with a minimum deposit of only $10. – Sign Up Today
New York Giants (-4.5) vs Houston Texans
Pick: Giants Cover
New Orleans Saints (-2.5) @ Pittsburgh Steelers
Pick: Steelers Beat the Spread
Chicago Bears (-3) vs Detroit Lions
I would honestly love to pick the Lions here. I felt great about picking them last week and it paid off, but that speaks more to how dysfunctional the Packers are than anything else.
The Bears showed off their ever-elusive potential in Week 9. Justin Fields threw three touchdowns and added 15 carries for 178 yards (🤯) on the ground. That's an average of 11.9 yards per carry and just so happens to be the new regular season record for rushing yards by a quarterback. Not a bad day at the office.
The Bears have to be feeling themselves. They are the Week 10 media darlings and have fans in Chi-Town buzzing. I don't see a home tilt against the Lions slowing down that momentum.
Pick: Bears Cover
Miami Dolphins (-3.5) vs Cleveland Browns
Pick: Dolphins Cover
Buffalo Bills (-4) vs Minnesota Vikings
Well heck, what to do with this one. As recently as Tuesday afternoon this line was over seven points in favour of the Bills. Nerves have taken over and the unease that's set in after the Jets improbable win and Josh Allen's elbow injury has anyone picking games shouting into the void.
Meanwhile, the Vikings at 7-1, very quietly have a better record than the now 6-2 Bills. Doing things very quietly suits Kirk Cousins perfectly fine and I'm afraid this game is gonna be loud. With Buffalo fresh off a loss and hosting a surging Minnesota team, the football world's collective eyeballs will be fixed on this game. I know it's cliché but Cousins does not perform well in these situations. The term shrinking violet comes to mind and trying to grow a violet in Buffalo in November is not a worthwhile proposition.
Had the line stayed as high as it was I'd be less confident, but I see the Bills winning this one at home and muddying the "best team in the league" waters a little bit more.
Pick: Bills Cover
Tennessee Titans (-3) vs Denver Broncos
Provided Derrick Henry can continue Derrick Henry'ing all over the NFL then this line should not be much of an overthinker.
Denver boasts a superior secondary able to stifle even the best passing attacks but the Titans will most likely have zero issues with that, cause they just won't pass. Whether it's Ryan Tannehill under centre or not, Tennessee's game plan has been, and will continue to be, to hand the ball to Henry and cross your fingers that he doesn't get hurt. Henry accounts for 46% of the Titans' total offence this year, which is a truly mind-blowing stat when you think about how many parts a given NFL offence has.
To reiterate, if Henry can stay healthy, then he will singlehandedly win games against all but the staunchest run defences and Denver's is decidedly un-staunch.
Pick: Titans Cover
Las Vegas Raiders (-6) vs Indianapolis Colts
Does the term "Dead Cat Bounce" mean anything to you?
Pick: Colts Beat the Spread
Los Angeles Rams (-3) vs Arizona Cardinals
Pick: Rams Cover
Dallas Cowboys (-5) @ Green Bay Packers
A rested and revitalized Dallas squad rides into Lambeau to face a Packers team that wouldn't know revitalization if Joe Rogan recommended it to them personally. Mike McCarthy's revenge tilt on his former home turf could not come at a better time for the Cowboys. Dak Prescott is 100% and the entire team has gotten to heal up alongside him.
Aaron Rodgers cannot save this team right now, and quite frankly, he might be the biggest issue of all. I see zero indications of a ship-righting game here for Green Bay and I predict Dallas rolls through like a wintery storm and puts a hurting on the Pack, for cripes sakes.
Pick: Cowboys Cover
Sunday Primetime Game
San Francisco 49ers (-7) vs Los Angeles Chargers
Rested and at home, the 49ers are primed to dominate the latter half of their schedule. Even before acquiring Christian McCaffrey, San Francisco was a force to be reckoned with, but after getting CMC, the 49ers are legitimate world beaters. Throw in the imminent return of Deebo Samuel to further solidify the offence, and you have to expect the 49ers to roll straight on through to the playoffs.
Meanwhile, their California neighbours to the south have not been able to contend with the lofty expectations placed upon them. The Chargers' defence has been hit hard by the injury bug and has never been at full strength this season. Justin Herbert is a legit talent but we may have to wait another year or two to see him and LA ascend to the upper echelons. This week will be a tough task for them.
Pick: 49ers Cover
Monday Night Football
Philadelphia Eagles (-10.5) vs Washington Commanders
Bettors will undoubtedly be a little nervous with this one. After seeing the Texans hang around with the Eagles way longer than expected in the Week 9 World Series mirror match, a double-digit line is once again a frightening proposition.
The Eagles are one of the best home teams in the league (4-0) so there's reason to believe that won't happen again against Washington.
Reason to believe it will? Taylor Heinicke. While the Commanders defence continues to be chiefly responsible for losses, Heinicke has been keeping the Commanders at least somewhat competitive. Double-digit favourites burned me in Week 9 and I'll be damned if I put my hand to the burner again this week. Time to sit back and crack open a nice, cold can of Heinicke.
Pick: Commanders Beat the Spread
Eagles 30 – Commanders 24
---
---
2022 NFL Season FAQ
What NFL Teams Have a Bye Week in Week 10?
Week 10: Baltimore Ravens, Cincinnati Bengals, New England Patriots, New York Jets
What is the 2022 NFL Bye Week Schedule?
Week 6: Detroit Lions, Houston Texans, Las Vegas Raiders, Tennessee Titans
Week 7: Buffalo Bills, Los Angeles Rams, Minnesota Vikings, Philadelphia Eagles
Week 8: Kansas City Chiefs, Los Angeles Chargers
Week 9: Cleveland Browns, Dallas Cowboys, Denver Broncos, New York Giants, Pittsburgh Steelers, San Francisco 49ers
Week 10: Baltimore Ravens, Cincinnati Bengals, New England Patriots, New York Jets
Week 11: Jacksonville Jaguars, Miami Dolphins, Seattle Seahawks, Tampa Bay Buccaneers
Week 13: Arizona Cardinals, Carolina Panthers
Week 14: Atlanta Falcons, Chicago Bears, Green Bay Packers, Indianapolis Colts, New Orleans Saints, Washington Commanders
What are the Week 10 NFL Power Rankings?

Kansas City Chiefs
Buffalo Bills
Philadelphia Eagles
Dallas Cowboys
Baltimore Ravens
Cincinnati Bengals
San Francisco 49ers
Tampa Bay Buccaneers
Miami Dolphins
Cleveland Browns
New York Jets
Minnesota Vikings
Jacksonville Jaguars
Las Vegas Raiders
New England Patriots
New Orleans Saints
Green Bay Packers
Los Angeles Rams
Arizona Cardinals
Tennessee Titans
Atlanta Falcons
Los Angeles Chargers
Seattle Seahawks
Denver Broncos
New York Giants
Washington Commanders
Chicago Bears
Pittsburgh Steelers
Detroit Lions
Houston Texans
Carolina Panthers
Indianapolis Colts

(Per ESPN Power Index)
What is the Week 10 NFL Schedule?

Thursday, November 10, 2022
Atlanta @ Carolina 20:15

Sunday, November 13, 2022
Seattle @ Tampa Bay 09:30
Minnesota @ Buffalo 13:00
Detroit @ Chicago 13:00
Denver @ Tennessee 13:00
Jacksonville @ Kansas City 13:00
Cleveland @ Miami 13:00
Houston @ New York 13:00
New Orleans @ Pittsburgh 13:00
Indianapolis @ Las Vegas 16:05
Dallas @ Green Bay 16:25
Arizona @ Los Angeles 16:25
Los Angeles @ San Francisco 20:20

Monday, November 14, 2022
Washington @ Philadelphia 20:15

What are CSB's Week 10 Picks Against the Spread?

Falcons (-3)
Seahawks (+2.5)
Chiefs (-9.5)
Giants (-4.5)
Steelers (+2.5)
Bears (-3)
Dolphins (-3.5)
Bills (-4)
Titans (-3)
Colts (+6)
Rams (-3)
Cowboys (-5)
49ers (-7)
Commanders (+10.5)

When are the next week's NFL Lines set?
Typically oddsmakers will set the next week's Game Lines after the Sunday slate of games. NFL Odds will evolve as bets are made throughout the week and NFL Picks made too early may lack vital information. The NFL Point Spreads are set with a somewhat unclear picture and NFL predictions become more informed as the games get closer.