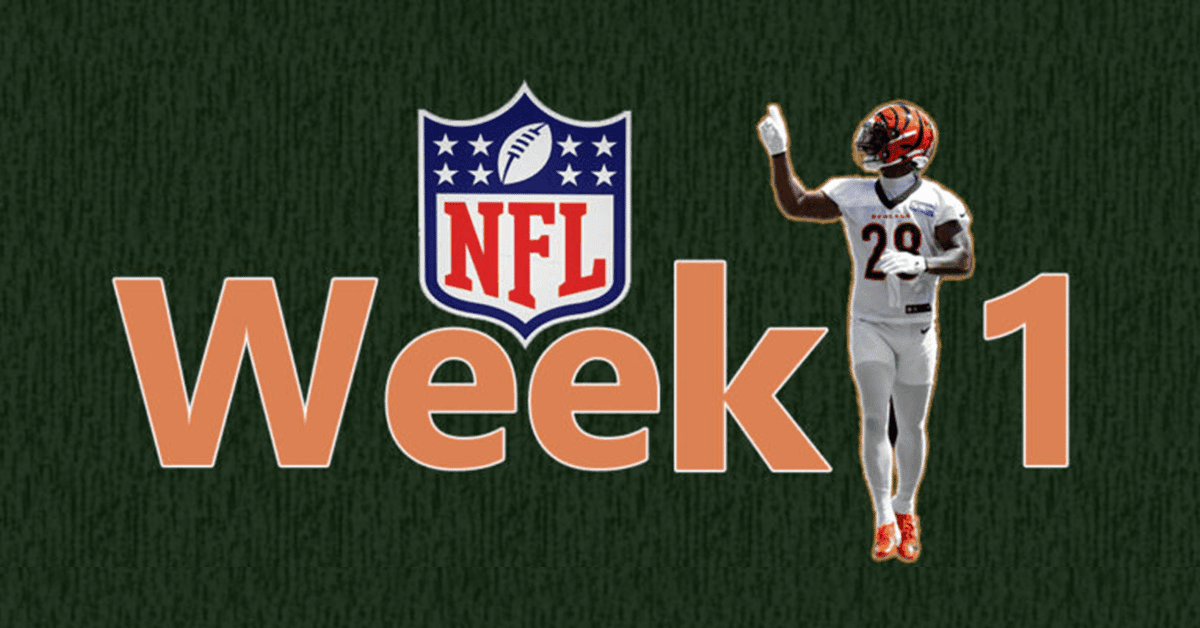 As Joe Mixon has kindly pointed out above, Week 1 of the NFL season is nearly upon us. To celebrate we thought we'd try something a little different at Canada Sports Betting. Each week, we will present a breakdown of all the upcoming games, try our best to analyze their key factors and make weekly picks against the spread.
Before we dive in let's examine what "against the spread" actually means. After all, the point spread betting in football is a very key component to the most wagered upon sport in North America.
Imagine a scenario if you will; Team 1 is a juggernaut. A squad with championship aspirations and a record to match.
Team 2 is a minnow. A squad in full rebuild mode hell bent on drafting themselves out of a terrible hole. They haven't won all season.
As bettors, finding ourselves in this scenario is a pretty dull affair. No one likes an overwhelming favorite in the betting world, sure you may consider them a lock but the return will be paltry. The point spread aims to rectify this problem and make betting on the NFL far more interesting and nuanced.
Lines will be placed on each game at the start of the week. These lines indicate how many points the odds makers reasonably expect the favorited team to win by.
Using the scenario above as an example; Team 1 is a 13 point favorite over Team 2 (this will be represented by a -13 Line for Team 1 on a bet slip or site). So we'll see: Team 1 (-13) vs. Team 2
Now as a bettor we know with nigh certainty that Team 1 will win the game outright but what becomes a little murkier, a little more interesting when considering the spread is; can/will Team 1 win by at least 13 points?
A whole host of factors now come into play. What time of year is this occurring? Is there bad blood between these teams? Does Team 1's coach tend to run up the score or coast and rest his starters late in the game?
Sure Team 2 will lose but picking them to beat the spread by losing by less than 13 points results in a winning bet for you.
Picking against the spread is a fun and rewarding way to bet on the NFL. You can analyze a bunch of factors or just go with your gut, there's no completely right or wrong way to pick winners.
As far as CSB's picks are concerned, I, Jake will be your maestro this season. Am I an expert of note? Nope. Am I former NFLer with inside knowledge on locker room upheavals? Not at all, I grew up playing baseball. What I am is a NFL fan who has picked every week's games against the spread for many years now and always had fun doing it. I will take in as much info as I can and make the most informed picks for you the CSB reader.
My win loss record will be proudly (or shamefully) displayed all season long. Let's hope it makes me look good.
On to the picks!
Thursday Night Kick Off
Buffalo Bills (-2.5) at LA Rams
Normally it would be a touch disrespectful for the defending champion LA Rams to come into week 1 as underdogs, especially at home. "Normally" doesn't account for playing this year's Super Bowl favourites in the Buffalo Bills.
A tough one to pick for sure and you can't even rely on your favorite coach name to settle it for you, as they're both named Sean.
On paper the Rams have lost some talent from last year and the Bills have made gains. Notably finding some of LA's lost talent in the form of Von Miller. Both offensive lines can be shaky, which most likely results in a testy affair rather than a shootout.
LA's defense will give Buffalo's all world offence a run for their money but in a dome, under the bright lights, I see MVP favourite Josh Allen coming out the victor. I predict Buffalo eking it out by a field goal.
Pick: Bills Cover
Sunday Early Games
Baltimore Ravens (-7) at New York Jets
Ok I'll say it, things might kinda, sorta be looking up for the Jets? Ok, I know, it's crazy and I'm crazy for saying it but I think it might actually be happening.
That being said, this game is not where we start to see it.
Joe Flacco could start this one against his former team if Zach Wilson (knee) is unable to go. That would add a little revenge spice to the affair but not enough to convince me that New York can beat the spread. The Jets have noticeably improved on offence and in pass protection but will continue to struggle with the run and that unfortunately spells doom against the Ravens.
With an offence that will keep the ball on the ground through JK Dobbins and Lamar Jackson, New York are gonna be in tough. They might surprise and put on a bit more of a show than can normally be expected from the J-E-T-S-JETS but will still lose this one by over a touchdown.
Pick: Ravens Cover
New Orleans Saints (-5.5) at Atlanta Falcons
Never pick the damn Falcons. Words I (tend to) stick by.
Putting my faith and money behind Atlanta has brought me a lot of pain in recent years. Sure you could argue that Matt Ryan has departed and the reclamation project of Marcus Mariota will be aided by exciting rookie RB Drake London (awesome name) and yet to reach his full potential, unicorn TE Kyle Pitts. Sure you could also argue that the Saints are embarking on the post Sean Peyton era and might be feeling around in the dark for the first few weeks of the season. You could argue all those things but you'd still have a Falcons team with a dreadful secondary trying to manage a healthy Michael Thomas and about as pass happy a QB as we've ever seen in Jameis Winston.
Oh, did I forget to mention that they can just hand the ball to Alvin Kamara and watch him pinball his way to chunk yardage whenever they get bored of throwing bombs?
Don't ever pick the Falcons. Until of course they prove me wrong and we have to pick them again…
Pick: Saints Cover
Miami Dolphins (-3.5) vs. New England Patriots
The math is fairly simple on this one. The Pats have lost a fair amount of talent both on the field (Dont'a Hightower and J.C. Jackson) and on the sidelines (OC Josh McDaniels) and the Dolphins in turn, have gained a significant amount.
Framed by March's shock acquisition of superstar wideout Tyreek Hill, Miami has been bolstered up and down the squad. Add a healthy Tua Tagovailoa at the helm and the punishing heat of South Florida and you get a recipe for disaster for Bill Belichick's squad.
New England will try to win a defensive battle but it just won't fly in week 1.
Pick: Dolphins Cover
Dolphins 27 – Patriots 21
Carolina Panthers (-1.5) vs. Cleveland Browns
Hey, we all love a revenge picture. The scorned and battered hero fights his way through minion after minion until finally exacting vengeance on his mortal enemy.
But what if the bad guy died right at the start of the movie, like right after the opening credits. Would that be a movie worth watching?
That's what Baker Mayfield has to ask himself this Sunday afternoon. Is he ready for revenge so soon after being scorned by the team that drafted him. Oddsmakers barely making the home team Panthers favourites tells me they don't know what to make of this matchup either. On the one hand you've got the out for blood Mayfield, who recently told a reporter he would "**** them up", referring to his former squad. That kind of passion and vitriol can produce outstanding performances and outstanding Baker is a tough guy to beat. Add in a healthy Christian McCaffrey and you'd be remiss to not give the Panthers a slight edge here.
That is of course if we completely forget that the Browns are a pretty damn good team, even without suspended QB Deshaun Watson. Starting pivot Jacoby Brissett really just has to be average and manage not to screw up handing the ball to Nick Chubb. On the defensive side, I imagine Myles Garrett has some choice ideas about what to do with Mayfield.
Pick: Browns Beat the Spread
Cincinnati Bengals (-6.5) vs Pittsburgh Steelers
Being "tough to beat" is sports cliché royalty but it's hard not to see the Steelers epitomizing the adage. Their first season without Big Ben will be one of transition. Right out of the gate they've chosen Mitchell Trubisky to not only step into the big shoes but captain the team as well. Please ask anyone in Chicago if they think that's a smart move, I'll wait. Pittsburgh have a first rounder waiting in the wings named Kenny Pickett who will almost assuredly be starting by week 3.
Trubisky must be an awesome locker room DJ or something. Moving on.
The Steelers still have plenty of talent up and down the line-up. A defense that will give QBs fits, an exciting rookie RB and a talented, if steady receiver corps. They lack true x-factor talent and that brings me back to the tough to beat moniker. Not to sound too folksy here but the Steelers will make you work for it.
Now for their opponents in Cincinnati. Joe Burrow and the rest of the Bengals will be extra cautious early in the season to avoid being written off as a one year Cinderella. The miles long Burrow/Ja'Marr Chase link ups will come, the scoring will start to rise but count on them to take the careful approach in week 1.
Pick: Steelers Beat the Spread
San Francisco 49ers (-7) at Chicago Bears
There isn't much to dissect here. Two young guns enter the 2022 season with the hopes of their fan bases behind them, with one minor (read: Major) difference though. In San Fran Trey Lance inherits a legitimate championship squad primed to utilize his skills, while Justin Fields is a bright spot in an otherwise moribund Bears team.
Don't overthink this one, 49ers win and cover comfortably.
Pick: 49ers Cover
Philadelphia Eagles (-4) at Detroit Lions
The Lions are on the upswing, I'm sure we've heard that before, right? I'm serious though, head coach "Motor City" Dan Campbell has had a positive effect and the gloom is perhaps not as gloomy these days. Steady, if unspectacular QB Jared Goff has weapons to utilize and Detroit will be able to put up points. Running back D'Andre Swift is coming off a strong campaign and will continue to turn heads. Pass catchers TJ Hockenson, Amon-Ra St. Brown (a legend on name strength alone) and new addition DJ Chark will give Goff the outlets he needs to run a potent offence.
The Lions will score, but also get scored on, a ton.
Philly comes into the 2022 season riding a wave of dark horse hype. Jalen Hurts, once cast off from Alabama for current Miami QB Tua Tagovailoa, is playing with a chip on his shoulder and what better city to do it in. Newly acquired WR A.J. Brown should help open up the field and allow for Miles Sanders to chew the dang thing up on the ground.
Two teams, two stages of cooking. The Lions seem to be gathering the ingredients for something tasty in the future, the Eagles are on your plate right now.
Pick: Eagles Cover
Indianapolis Colts (-7) at Houston Texans
Man, what a trap game.
Sure the Colts have probably the best running back in the league in Jonathan Taylor. Sure a 37 year old Matt Ryan is still by far the best QB this team has put at center since their world was rocked by Andrew Luck's retirement. This is the team that was ultimately meant for Luck, the team they tried to build for him faster but just couldn't do it in time. This is it. Stacked defense, killer RB and finally a gunslinger in Matty Ice to bring it all together.
So they're gonna cream the Texans right? RIGHT?
I am ever so cautiously going to say yes, but if Houston beats the spread, which it kinda feels like they will, I'm gonna kick my own butt on down the line.
This has a "way closer game than it should be" vibe all over it. Houston is rebuilding but is getting an injection of young talent right from the jump in QB Davis Mills and pre-season standout RB Dameon Pierce. This is a game you hate to pick. One way or the other, I'm closing my eyes on this one.
Pick: Colts Cover
Washington Commanders (-2.5) vs. Jacksonville Jaguars
Now see this is a line I like. The stink of the Urban Meyer debacle in Jacksonville still resonates with bettors and is giving us an opportunity to flip the script.
The Jags have made key improvements in not only coaching but have gotten injections of talent on defence (first rounders Travon Walker and Devin Lloyd) and in the receiving corps (Christian Kirk and Zay Jones). Throw in a healthy Travis Etienne behind an improved front line and that spells success for wonderboy Trevor Lawrence's second season in the NFL.
While not world beaters, the Jags have improved enough to beat the odds and the Commanders on Sunday. Especially considering Washington will be without star pass rusher Chase Young for this tilt.
Pick: Jaguars Beat the Spread
Jaguars 21 – Commanders 17
Sunday Afternoon Games
Kansas City Chiefs (-6) at Arizona Cardinals
This is a tough nut to crack. What was once a 4.5 point line in favor of KC has jumped up to 6. It may not seem like much but as we creep closer to the Chiefs having to win by a touchdown my doubt also starts to creep.
Two teams with premiere QBs who will flirt with the MVP this year (provided Kyler does all his homework and doesn't play too many video games). Two teams that have lost key receivers in the offseason, Christian Kirk (free agency) and DeAndre Hopkins (Suspension) for the Cards and a certain Tyreek Hill (forced trade, temper tantrum kinda thing) for KC.
Two teams that think offence first. Two teams that love to get into shootouts. On paper the Chiefs still have the edge on talent and Travis Kelce papers over a lot of things but I still don't see them winning this by 6 plus, especially in Arizona.
Pick: Cardinals Beat the Spread
Los Angeles Chargers (-3.5) vs Las Vegas Raiders
San Diego takes on Oakland in this.. sorry, Oakland and LA clash in what is.. wait, one more time, the Los Angeles Chargers and the Las Vegas Raiders go head to head in this one.
Despite their new homes continuing to do my head in and despite the line being relatively low here, this one is not an overthinker.
The Josh McDaniels hype has the Raiders feeling like they have a shot, which they don't. Don't get me wrong the Raiders are fine but Justin Herbert and the Chargers are straight up better and will prove it on Sunday at home in San Diego… I mean Los Angeles.
Pick: Chargers Cover
Green Bay Packers (-1.5) at Minnesota Vikings
Wow, only a 1.5 point advantage given to Aaron Rodgers against the hated Vikings? What does Joe Rogan make of this?
In what will be the first installment of a feisty, season long NFC North battle, the Vikes will aim to use home field advantage to take the first round. You know the drill here, the Packers will lose 2 of their first 3 games. Football pundits will say that they can't win without Devante Adams and then lo and behold, the Pack will be a well oiled machine come playoff time. Such is the Rodgers way.
Take advantage of the script we're all familiar with and back Minnesota.
Pick: Minnesota Beats the Spread
Tennesee Titans (-5.5) vs New York Giants
There is no team this year that screams "will fail to meet expectations" to me more than the Titans. Tennessee has squeezed a lot out of Ryan Tannehill in 3 seasons but has done little to help him with any significant addition of talent. In fact, they managed to subtract from his arsenal with the loss of A.J. Brown. A healthy Derrick Henry obviously raises the bar significantly for the Titans but I think the Giants are gonna manage to keep this one close.
They've made improvements to the O-Line which should, in theory, limit Daniel Jones' propensity for turnovers and keep Saquon Barkely healthy (I'm not making any promises). Encouraging signs on that front lead me to believe that we might see an improved and motivated Big Blue under the tutelage of Brian Daboll. As Buffalo's OC, Daboll (born in Welland, Ontario. Woo!) helped turn Josh Allen into the Man-beast we know today, maybe a little of that can work on Jones.
Take the Giants at home in this one. I'm sure the fans in New York won't overreact at all.
Pick: Giants Beat the Spread
Sunday Primetime Game
Tampa Bay Buccaneers (-2.5) at Dallas Cowboys
Hoo-wee! This is what prime time is for! Is it too early for Cowboys nation to panic? Is it too early for the rest of the collective NFL fan base to meme dem boys into oblivion? No on both counts, the timing is just right.
I've learned my lesson time and time again not to bet against Tom Brady, even though it pains me. Brady will be his efficient self in this one, even without Gronk, but it'll be the defence under new HC Todd Bowles that will run riot all over the Dallas MegaSuperDome (brought to you by Brawndo).
Dallas will have moments but not nearly enough to come out of this one unscathed. Bet on papa Tom.
Pick: Buccaneers Cover
Buccaneers 30 – Dallas 21
Monday Night Football
Denver Broncos (-6.5) at Seattle Seahawks
This one hits a little different than the Baker Mayfield revenge drama. Were it up to Russel Wilson he probably would have been a Seahawk for life, but Seattle used their best asset to set themselves up for a rebuild and it's hard to blame them.
As such revenge won't exactly be on anyone's mind here, rather Wilson will do his damndest to justify to himself and his new compatriots in Denver that they made the right choice in acquiring him.
The Broncos should run away and hide in this one, easily outpacing the Seahawks by over a touchdown. Let Russ cook.
Pick: Broncos Cover