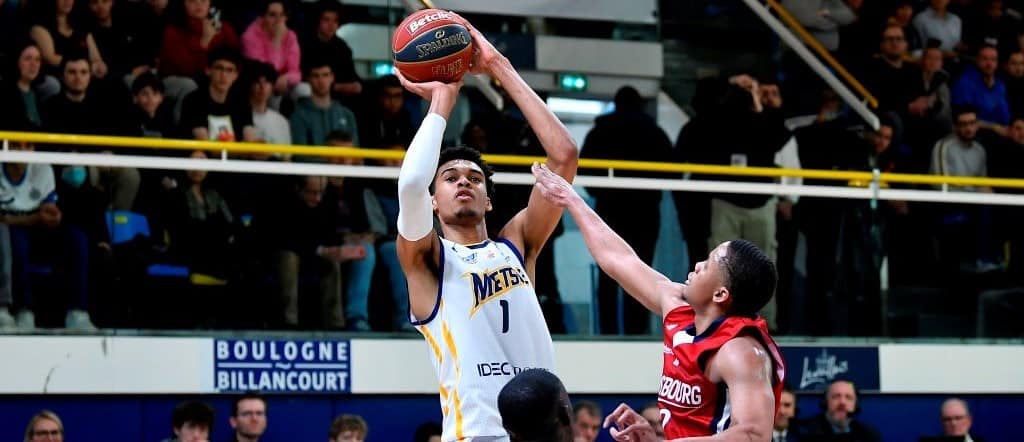 Although just four teams remain in the NBA Playoffs, the league's other 26 franchises will be paying more attention to the future — a future that begins with the NBA Draft Lottery. It has the potential to change the course of the next few years for several teams, all of whom will be looking to inject youth and talent into their rosters.
You can bet on the NBA Draft Lottery and make predictions about who will end up where. The event will take place live on ESPN (TSN in Canada) on May 16, 2023, at 8 p.m. ET. We'll explain what all the hype is about, what (or who) the big prize is for the team that is awarded the first pick, and what can be expected from the Toronto Raptors.
Team lottery probabilities
The NBA Draft Lottery has changed exponentially since 2019. In that landscape, the worst team in the league had the highest percentage — 25% — of winning the lottery. That has since changed. Now, the bottom three teams all have an equal 14% probability in the lottery.
The probability drops the further down the list you go. Detroit, which was the worst team in the NBA at 17-65, can drop no further than the fifth overall pick. When the first four picks have been chosen, the remaining lottery teams will continue to pick in reverse order based on their regular-season records. Here are the draft lottery odds for each of the 14 lottery teams:
| | | | |
| --- | --- | --- | --- |
| Team | Record | Probability | Odds |
| Detroit Pistons | 17-65 | 14% | +550 |
| Houston Rockets | 22-60 | 14% | +550 |
| San Antonio Spurs | 22-60 | 14% | +550 |
| Charlotte Hornets | 27-55 | 12.5% | +650 |
| Portland Trail Blazers | 33-49 | 10.5% | +800 |
| Orlando Magic | 34-48 | 9% | +900 |
| Indiana Pacers | 35-57 | 6.8% | +1200 |
| Washington Wizards | 35-47 | 6.7% | +1200 |
| Utah Jazz | 37-45 | 4.5% | +1700 |
| Dallas Mavericks | 38-44 | 3% | +2700 |
| Chicago Bulls | 40-42 | 1.8% | +4400 |
| Oklahoma City Thunder | 40-42 | 1.7% | +4400 |
| Toronto Raptors | 41-41 | 1% | +7900 |
| New Orleans Pelicans | 42-40 | 0.5% | +10000 |
Odds courtesy of FanDuel.
Of the top four teams, the three with 14% probability — Detroit, Houston, and San Antonio — are the favourites at +550 to land the first overall pick. They are also overwhelming favourites at +135 each to land in the top three picks.
There isn't much variance between the first four teams as far as landing the top pick or even in the top three. You really start to see a difference by the time you get to the sixth and seventh picks, where winning the top selection becomes even more difficult.
The jackpot – Victor Wembanyama
Getting the No. 1 pick in any year is critical. For lottery hopefuls in the 2023 NBA Draft, there is even more at stake than there has been in recent years. The top pick in this draft is almost certainly going to be Victor Wembanyama, from France.
How significant an opportunity is it for an NBA team to draft Wembanyama? It's estimated, according to Michael Scotto of HoopsHype, that Wembanyama could add as much as $500 million in value to a franchise just by being selected. He's the kind of prospect that doesn't come along often, and whoever chooses him will dramatically improve their outlook for the coming seasons.
As for the player himself, he's nothing short of incredible. He stands 7-foot-3 and has an almost 8-foot wingspan, similar to Rudy Gobert. What's more fascinating, though, is that he also has great mobility, timing, and incredible guarding instincts despite his massive frame.
His agility, in particular, helps him to recover defensively when someone does get past him. He has also shown himself to be a blocking machine, even against American competition in the 2021 World Cup — a tournament with future first-round draft picks throughout the lineup.
His huge frame makes him an obvious choice, but the appeal doesn't end there. He also can catch-and-finish in a single motion, but possesses a second jump that's impressive even considering his size. With great footwork and bags of talent, he has a level of finesse that big men generally lack.
With that said, there are concerns about his durability. He's long and skinny, which tends to mean a higher risk of injuries. Even still, Wembanyama appears to be a super-skilled, and he boasts elite IQ, and the physical abilities to be a franchise player in every way at the next level.
What about the Raptors?
As it stands, the odds of the Raptors moving up to the top of the draft are slim to none. As a matter of fact, they have the second-worst probability of getting the top pick in the draft at just 1%. While it still means that they have a chance, it isn't likely to play out that way. They are a whopping +7900 to be drawn as the top pick, making them one of the biggest longshots.
Things aren't much rosier when it comes to landing a top-3 pick. The Raptors have the second-worst odds according to FanDuel at +2300 (New Orleans is +3400). In all likelihood, the Raptors are going to remain right around pick No. 13.
With that being somewhat certain, it's worth looking at who the Raptors may see fall to them at 13. Could this still be a pick that helps bolster the future and make the present team more competitive? Here are a few names they might be able to select when the 13th overall pick comes around.
Keyonte George, SG, Baylor. Just about every mock draft has the Raptors choosing a guard of some sort. A scoring guard with a lot of talent, George has a lot of upside, especially at pick No. 13.
While his production can be inconsistent, he's tough to stop when he gets moving downhill, combining physical ability with underrated passing skills. This makes him a potentially impactful offensive player wherever he goes. Nonetheless, there's still a lot of time left before the draft and a good combine could even see him push his way into the top 10.
Cason Wallace, PG, Kentucky. Wallace is considered to be a high-level prospect that has very good, potentially even great, defensive instincts. There are many who consider him to be the best overall defensive prospect in the draft, making him instantly valuable to any team.
In addition to being a solid defensive player, he has shown the ability to contribute offensively as well. He can hit a three and has a nice scoring touch from the lane. If he can develop his offensive game at the next level, Wallace could wind up being the kind of value pick that is talked about for years.
Jordan Hawkins, SG, UConn. Hawkins is a hair bigger than George, standing 6-foot-5 and weighing 195 pounds. Hawkins really put his name on the map during the NCAA Tournament, becoming a fixture for a UConn team that steamrolled its way through the competition en route to a national championship.
He was on fire from three during the tournament, hitting nearly 40% of his shots from long range. His shooting and off-ball movement gives him a versatility that many other prospects simply do not possess. He could be a very exciting wing prospect, potentially lacking in "wow" factor, but virtually guaranteed to be a regular contributor to whichever team picks him.