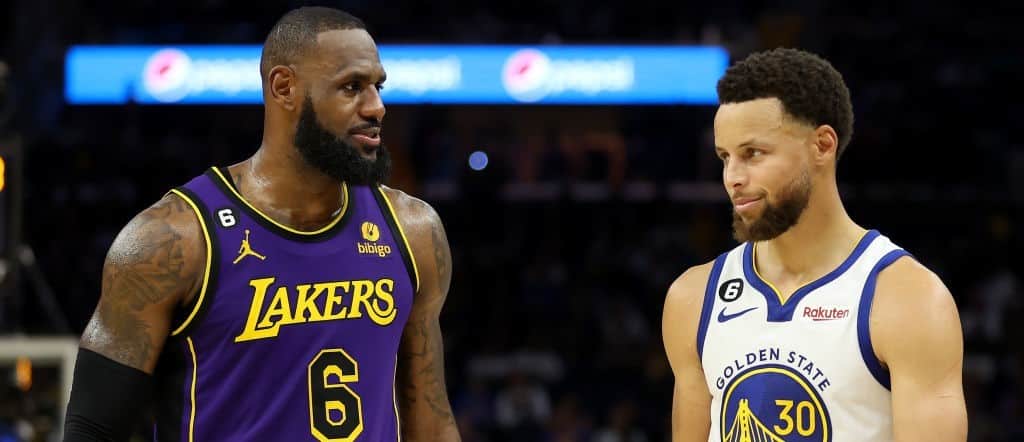 The basketball world got its wish over the weekend and Tuesday night we get to see LeBron-Curry V, quite possibly the last time Steph Curry and LeBron James will face off in the NBA Playoffs. Their first four playoff meetings famously all took place during The Finals from 2015 to 2018 while James was still a member of the Cleveland Cavaliers. Since that last showdown, a Warriors sweep, both players have won another title and come into the series with them both chasing a fifth ring.
Lakers vs. Warriors odds
Previous meetings
The two teams played each other four times in the regular season with the Lakers winning three of those games. Those three Lakers victories also happened after this season's trade deadline when the Lakers roster was completely revamped and reshaped after trading away Russell Westbrook. James was even out for two of those victories.
The Warriors, missing Curry in two of those losses, have struggled all year to be completely healthy, though they finally look to be at their best. In other words, although the Lakers won the season series 3-1, don't count on those results being very indicative of what might happen this time of year.
About the Lakers (4-2 SU, 4-2 ATS, 1-5 o/u)
Five of their six playoff games having the under is a testament to a strong Lakers defence, anchored by the devastating Anthony Davis in the middle — plus, it should be noted, some serious issues with the Memphis offence. Unlike against the Grizzlies, however, the Lakers won't be able to rely on Golden State faltering offensively, given the Warriors are armed with the Splash Brothers.
The story for the Lakers this year is one of two seasons. Prior to the trade deadline, the Lakers were languishing in 13th place in the West, and in serious danger of missing the playoffs. They were saddled by Westbrook's contract, and seemed in trouble without much depth behind him. However, after successfully trading Westbrook and others days before the deadline, L.A. has boasted the second-best record in the Western Conference and the second-best defensive rating in all the league.
All this with extensive injuries to James and Davis, and it's plain to see how the depth of the new Lakers team really has people excited. In the Memphis series, they had five different leading scorers in their six wins and not once was that individual LeBron James. So with their role players already taking on bigger roles in these playoffs, the Lakers become an even taller order behind AD and The King.
About the Warriors (4-3 SU, 3-4 ATS, 3-4 o/u)
The Warriors also struggled during the regular season, notably with injuries and winning on the road. After starting the season as one of the favourites in the West, the Warriors couldn't even get home-court advantage in the playoffs. But heading into this series, after a 50-point eruption by Curry on Sunday, the most ever in a Game 7, very few are doubting them now.
The Warriors are playing at the fastest pace of any team in the playoffs, and have the fifth best defensive rating. They didn't dominate the Kings series like some expected, but won big when it mattered, and they appear to be getting it together at the perfect time. Their core remains Curry, Klay Thompson, and Draymond Green, helmed by long-time coach Steve Kerr, a group that has won four titles.
Against the Lakers, they're going to be counting on their other players, hoping big man Kevon Looney can continue to excel, Andrew Wiggins can get back up to speed quickly, and young star Jordan Poole can be more consistent. As usual with the Warriors, however, it all comes down to one man: Curry is coming into this series averaging 33.7 ppg and 4.9 assists, 4.9 rebounds, and five threes per game. In other words, the chef is cooking.
Injury concerns
There are no key injury concerns for either team. But both teams have had key players battle injuries all year, including recently.
Betting trends
Lakers games have hit the under in five of the last six games, Warriors in four of last six (all post-season).
Lakers are 8-3 ATS versus winning teams in last 11 games.
Warriors head coach Steve Kerr is 19-0 in Western Conference playoff series.
Warriors are 8-2 ATS in their last 10 home games against teams with losing records on the road.
Player prop trends
Anthony Davis is prone to erupt on any given day, and with the stars likely to play in Game 1, taking Anthony Davis over on points at 25.5 and over on blocks at 2.5 is certainly appealing. On a similar note, LeBron over on points + rebounds + assists at 42.5 is worth serious consideration.
Regardless of who wins, Steph Curry should have a big series. Even the Lakers defence isn't going to be able to stifle him, and going up against LeBron he has a lot to prove. Nonetheless, he averages 26.8 points per game in Game 1s in his career, and might still be feeling out the Lakers defence. That's a reasonable case for the under on Curry at 31.5 points. However, bettors would do well to consider Curry over on assists at 5.5.
Wagers to consider
The Warriors' guard play and shooting are going to create serious challenges for the Lakers, who struggle sometimes defensively, but overall the Lakers seem to match up well with Golden State. The current spread of -5 for Game 1 seems a little much for two teams that will likely be battling down to the wire. The Lakers against the spread of five or higher is a tasty proposition. Best odds: NorthStar Bets (Lakers +5, -111)
Both these teams have shown a lot of improvement on defence, and three of their four regular season matchups hit the under. At 227.5, the under on Game 1 is a more than valid play. Best odds: PointsBet (under 227.5, +100)