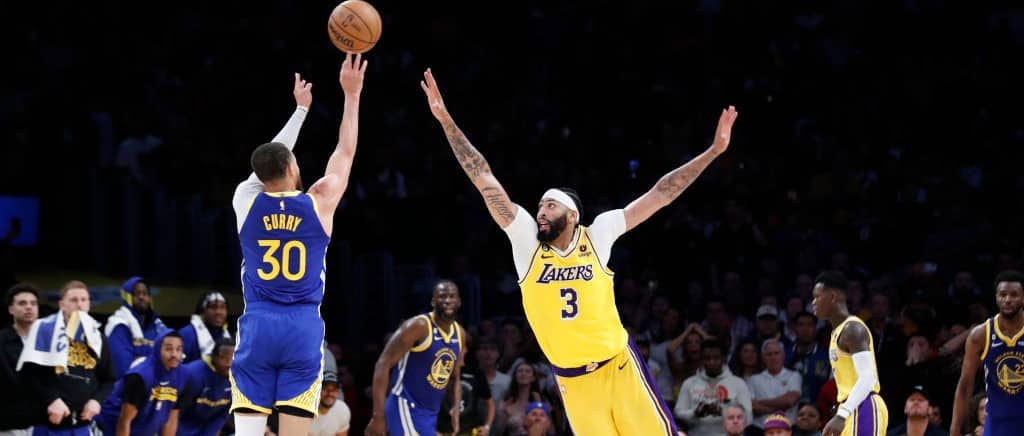 We have reached the first elimination game of this highly anticipated Lakers vs. Warriors series. Los Angeles took a commanding 3-1 series lead after escaping from L.A. with a 104-101 victory on Monday night. The series now shifts to Golden State's home court where the Warriors must win Wednesday night or their season is over.
Here's a more in-depth look into this possibly final series of the LeBron-Curry saga with some keen analysis on trends and picks.
Lakers vs. Warriors odds
Series history
Game 4 was the most exciting game of the series to date. The buzz started hours before tipoff when it was leaked that Golden State was going to make yet another starting lineup adjustment and start 6-foot-2 Gary Payton II over 6-foot-9 JaMychal Green.
The purpose of this strategy was made obvious early on as Golden State attacked Anthony Davis on pick-and-rolls to move him out of the paint before subsequently attacking the basket. The strategy played out fantastically as the Warriors led by as many as 12 points in the third quarter and enjoyed a 40-24 advantage in points in the paint. But in the end, the Lakers' clever counter worked, switching AD over to Andrew Wiggins to disrupt the Warriors advance and bringing Lonnie Walker IV off the bench for an offensive boost.
Out of the four games played in this series so far, two have been blowouts, one by each team, and two have been close with the Lakers taking both of those. That indicates anything can happen in Game 5 with the Warriors backed into a corner facing elimination.
| | | | | |
| --- | --- | --- | --- | --- |
| Date | Home Team | Spread Odds | Result | Total |
| May 8 | Los Angeles | Lakers -2.5 | 104-101 Lakers | 228 (under) |
| May 6 | Los Angeles | Lakers -3 | 127-97 Lakers | 229.5 (under) |
| May 4 | Golden State | Warriors -7 | 127-100 Warriors | 226.5 (over) |
| May 2 | Golden State | Warriors -4.5 | 117-112 Lakers | 227 (over) |
About the Lakers (7-3 SU, 7-3 ATS, 3-7 o/u)
The Lakers have reached roughly the midway point of the postseason and are currently one of only two teams holding a 3-1 series edge. That means the Lakers are doing well and in control of their destiny. A far, far cry from the team that started 2-10 and was in 13th place in the West before the trade deadline.
GM Rob Pelinka must be given some credit for the dynamic roster improvements he engineered ahead of the trade deadline, completely changing the arc of this Lakers season. Los Angeles roared back to life as one of the hottest teams in the league coming into the playoffs as a popular dark horse pick. Ironically, those roster moves placed Game 4 star Walker IV out of the picture and out of the rotation.
Going into Game 5, Davis is finally putting together excellent back-to-back games, LeBron is showing he still has it when he needs it, plus we're seeing the emergence of the Lakers role players like Walker, whose 15 clutch fourth-quarter points made all the difference on Monday. It's all happening at the right time for the Lakers, and that's what's getting people whispering about championship rings.
About the Warriors (5-6 SU, 4-7 ATS, 5-6 o/u)
This could be the last run for this Warriors dynasty. Steph Curry isn't going anywhere, but Draymond Green has a player option next year amidst reports his relationship with the Warriors organization has soured recently, while a struggling Klay Thompson has one year left on his max deal. Thompson has also struggled to return to his best after suffering multiple serious injuries over the last few years, leading many to think this particular Warriors core may soon disband.
They certainly will not go out without a fight, however. All year, the Warriors have struggled with the Lakers. Including both the regular season and playoffs, they have a 2-6 overall record against them this year. They have tried multiple adjustments at this point and the Lakers have met the challenge with each one of them. Are they running out of things to try? Will they go out true to form with shots blazing as they try to shoot their way to the top?
For some reason, the Warriors only attacked Davis in the pick-and-roll six times in the second half — and that was after 24 largely successful attempts in the first half. The Lakers did make an adjustment, but it's possible Curry and Thompson were themselves tired out defensively. They did go a combined 6-for-25 from distance. After a day's rest, perhaps a bounceback is inevitable in Game 5.
Injury concerns
Both Mo Bamba of the Lakers and Andre Iguodola of the Warriors missed Game 4 with injuries and are questionable for Game 5.
Betting trends
The under has hit in the last two games of this series. Lakers games have hit the under in seven of their last 10 contests, all in the playoffs. 
The Warriors have hit the under in six of their last 10 playoff contests this year.
The Lakers are 7-3 ATS this postseason.
The Warriors are 4-7 ATS this postseason.
Player prop trends
After four games in this series, it's important to look at trends when deciding what player props to bet on in Game 5. Experienced superstars bounce back from bad games. Younger stars usually don't, so this is a reminder to stay away from Jordan Poole player props.
Curry and Thompson could be playing for their final playoff legacies here. Look for both to hit the over on number of threes at 4.5 and for Curry to hit the over for points + assists + rebounds. Best odds: Curry over 4.5 threes (-142, FanDuel), Thompson over 4.5 threes (+100, BetMGM), Curry over 43.5 points + assists + rebounds (-115, BetMGM).
If the game is going well for either the Lakers or the Warriors in the third quarter, expect L.A. to rest its superstar duo of James and Davis. This also means look elsewhere for the best player prop plays on the Lakers side of things. Like Walker hitting the over for points + assists + rebounds (11.5, -120, BetMGM).
Wagers to consider
The Warriors are currently favoured by 7.5 points to win Wednesday night and the o/u is 226, the lowest it's been this series. This seems like a good game to look at some less traditional wagers that show promise.
The Lakers and Warriors have alternated pretty much every quarter this series except the Lakers have won the last three fourth quarters. Based on current trends, this means Golden State should win the first and fourth quarters while the Lakers should outscore them in the second and third. Also, with the exception of Game 3, the fourth quarter has been the lowest-scoring quarter each game so the under, currently at 55 (-115) at bet365, would be an enticing choice.
Other NBA games on Wednesday