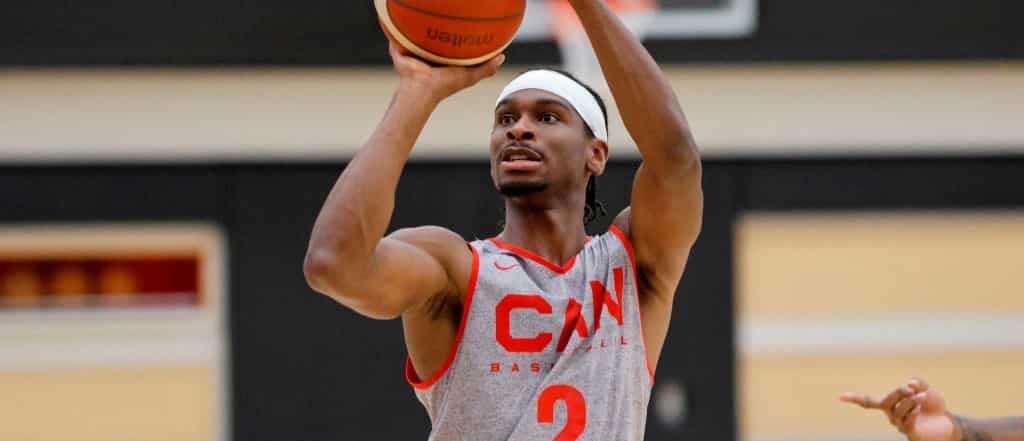 The start of the 2023 FIBA Basketball World Cup is just a few short weeks away. That means each country is in the process of formalizing its rosters. Canada, which finished a disappointing 21st in 2019, is looking to have a big rebound in the coming tournament.
Things look different this time thanks largely to a talented group of young NBA players. With Jamal Murray, RJ Barrett, and Shai Gilgeous-Alexander leading the way, there is a hope that not only will things be better this time around, but that Canada may even have a shot at winning it all.
The FIBA Basketball World Cup will take place in the Philippines, Japan, and Indonesia from August 25th to September 10th and will be hosted by three nations for the first time.
In this early preview, we'll take a look at the tournament schedule, Team Canada's roster, and what we should expect from the team up north.
Tournament Schedule/Format
The tournament begins with the first round of the group phase, happening August 25-30. Each team will play three games with the top two from each group moving on to the second group phase (August 31-September 4).
From there, Groups A and B, C and D, E and F, and G and H will be grouped into Groups I, J, K, and L, respectively. Each team plays against the two teams in their group they didn't face in round one. The top two from each group will then advance to the quarterfinals for a bracket-style finish.
The tournament will culminate with the third place and championship games on September 10.
| | |
| --- | --- |
| Group Phase – 1st round | Aug. 25-30 |
| Group Phase – 2nd round | Aug. 31- Sept. 1 |
| Quarterfinals | Sept. 5-6 |
| Semifinals | Sept. 8 |
| Final/Third-Place Game | Sept. 10 |
| | |
| --- | --- |
| Canada's Group H Schedule | Date |
| Canada vs. France | Aug. 25 |
| Canada vs. Lebanon | Aug. 27 |
| Canada vs. Latvia | Aug. 29 |
Team Canada Roster
Canada's roster will look a little different than it did in 2019, as training camp is now open in Toronto this week. Canada brings a star-studded group to the table this time thanks to All-NBA First Team guard Alexander, Barrett, and the newly crowned NBA Champion Murray.
In addition to the three stars mentioned above, there will be seven others that played on NBA rosters last season. That includes Dillon Brooks, Oshae Brissett, Luguentz Dort, Nickeil Alexander-Walker, Cory Joseph, Kelly Olynyk, and Dwight Powell. This is Canada's most loaded roster to date, and there are big expectations heading into the tournament.
The roster will need to be trimmed to 12 players by the start of the event.
| | |
| --- | --- |
| Canada's 18-man WC Camp Roster | Professional Team |
| Kyle Alexander | Valencia |
| Nickeil-Alexander Walker | Minnesota Timberwolves |
| RJ Barrett | New York Knicks |
| Trae Bell-Haynes | Casademont Zaragoza |
| Oshae Brissett | Boston Celtics |
| Dillon Brooks | Houston Rockets |
| Luguentz Dort | Oklahoma City Thunder |
| Zach Edey | Purdue Boilermakers |
| Melvin Ejim | Unicaja |
| Shai Gilgeous-Alexander | Oklahoma City Thunder |
| Cory Joseph | Golden State Warriors |
| Jamal Murray | Denver Nuggets |
| Kelly Olynyk | Utah Jazz |
| Kevin Pangos | Olimpia Milano |
| Dwight Powell | Dallas Mavericks |
| Kassius Robertson | Scarborough Shooting Stars |
| Phil Scrubb | Niagara River Lions |
| Thomas Scrubb | Ottawa BlackJacks |
What are Team Canada's chances heading into the FIBA World Cup?
As mentioned above, Canada looks substantially different from the 21st-place group that they fielded in 2019. The roster has seen a major influx not only of NBA talent but high-quality NBA talent. The outlook and expectations are much different going into the 2023 edition.
We're a long way away from the championship game on Sept.10, so let's take a look at Canada's chances for the entire tournament, starting with its bet365 odds of winning the group, followed by its odds of taking home the hardware.
To Win Group H
Group H has been labeled the group of death by some analysts. It includes Canada, France, Latvia, and Lebanon. France (+135) is the likeliest competitor to Canada (-154) to walk away as the group winner. The competition is stiff compared to other groups like C (USA -1200 to win), F (Slovenia -3300 to win), and G (Spain -1000 to win).
Canada was 11-1 in the Americas Qualifiers and has a lot of momentum coming into tournament play. What is interesting is that they also have the highest number of active NBA players aside from the United States. While being in a loaded group in 2019 was their undoing, it may not be the death knell it was back then.
France is the biggest threat in group play. They have the same core that had a great run two years ago at the Tokyo Summer Games. There is a ton of experience and medals on the French team and Canada will need to make good use of its newfound star power to come out on top.
To Win the World Cup
Despite its current draw in Group H, Canada is second (+400) behind only the United States (+100) to win it all. Having the second-largest number of active NBA players certainly helps — though that has proven in the past to be anything but a sure thing.
The focus will, of course, be on the big three of Gilgeous-Alexander, Murray, and Barrett. Barrett is coming off of an exceptional 2022-23 season, helping lead the New York Knicks to the fifth seed in the Eastern Conference. He averaged 19.6 points per game and five rebounds as a focal point for the team.
Murray had a solid season with the Denver Nuggets, but it would be his playoff performance that garnered the most attention. Combining with two-time MVP Nikola Jokic, Murray would become a focal point for the Nuggets. He contributed incredible performance after incredible performance, including an average of 32.5 points per game in the Western Conference Final. He was a huge reason behind Denver capturing its first NBA Championship.
And finally, there is Gilgeous-Alexander. Selected 11th overall in the 2018 NBA Draft by the Charlotte Hornets, Gilgeous-Alexander has since become a star with the Oklahoma City Thunder. His exceptional play earned him First-Team All-NBA honors, averaging more than 31 points per game, while adding nearly five rebounds and five assists per game.
If Canada is to make the final and win it all, their big three will need to be at their best. Things already look very different for Canada going into the 2023 FIBA Basketball World Cup. Whether or not they can live up to their potential is another matter entirely.