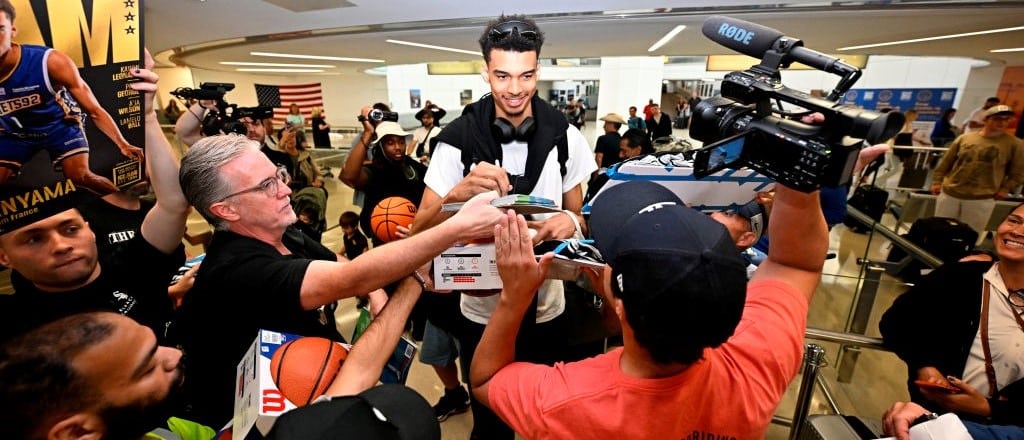 Now that the Denver Nuggets have been crowned NBA champions, it's time to look ahead to the next big event on the basketball schedule: The NBA Draft. It's the time when teams can look to the future with hope, aiming to choose the next star that can take them to the promised land.
2023 NBA Draft
Date: June 22, 2023
Location: Barclays Center, Brooklyn, New York
Time: 8:00 p.m. ET
Watch on: TSN4 / TSN app
There are also some interesting NBA Draft betting props to keep an eye on. Let's take a look at not only the prop bets worth watching at bet365, but what the Toronto Raptors are likely to do with their pick as well.
Where do the Raptors pick?
Gradey Dick, Kobe Bufkin, Keyonte George, Nick Smith Jr., and Jordan Hawkins are all names that could go at the tail end of the top 10 or could fall to the Raptors at No. 13.
Barring trades, the Raptors will likely go with the best player available and see what things look like. The team isn't in a full rebuild, but Fred VanVleet potentially leaving after declining his player option certainly makes it possible.
Toronto could shop some of its other key players, like Pascal Siakam or OG Anunoby, for draft capital as well. It should be a very interesting couple of days leading up to draft night for the Raptors with plenty of trade rumours flying around.
Victor Wembanyama (First Overall, -100000)
The hype train on Wembanyama is chugging along at full steam. Depending on who you listen to, he's the best draft prospect ever, even better than 18-year-old LeBron James. Wembanyama has all the physical tools that you could want out of a prospect as well as incredible size (7-foot-4, with an 8-foot wingspan) to go along with it.
To really underscore how valuable Wembanyama will be at the NBA level, you have to look at the franchise as a whole. It's estimated that the San Antonio Spurs will make $500 million or more just this season by adding him to their roster. Season ticket sales and merchandise will go through the roof, and he's attempting to continue the team's line of outstanding big men that David Robinson and Tim Duncan set before him.
From a betting perspective, his odds of going first overall are absurd. He's currently at -100000 at bet365. The return is basically non-existent, so don't expect a ton of action on Wemby to go first overall because it's practically a foregone conclusion.
Five prop bets for the 2023 NBA Draft
Here are five interesting prop bet markets that present some value for the 2023 NBA Draft. You can find all of these betting markets at bet365.
Third Overall Pick – Brandon Miller (-225)
The top of this draft has everyone excited. Wembanyama has the chance to be an all-time great according to scouts and pundits, which would make this draft a special one as it is. But when you consider that the second overall pick, more than likely Scoot Henderson, has the chance to be a franchise quality pick, things are even more exciting.
If you want to start to find a little bit of value in the draft, though, start with the third overall pick that belongs to the Portland Trail Blazers. While there is a chance that Henderson could fall to third (+175 at bet365), the more likely outcome is Alabama's Brandon Miller winding up third overall (-225).
Miller isn't nearly as guaranteed as both Wembanyama and Henderson, but the pieces all look like they are going to fall in a particular way. Of the top three picks, only Miller looks like he would be worth betting on at all, and even then, the return is relatively pedestrian.
Jarace Walker to be Drafted Top Five (+200)
Four of the top five picks seem to be set in stone. We previously talked about the top three and it's a near certainty that those three picks are already determined. There is also a very good chance that Amen Thompson will go either fourth or fifth overall (-1600 to go in top five), which leaves just one more spot up for grabs in the top five.
Where it gets interesting is when you mention the names Cam Whitmore (-400) and Jarace Walker (+210). Many of the mock drafts you will read have Whitmore in the top five, usually falling right into the fifth spot.
That said, don't overlook the potential of Walker to entice the Detroit Pistons at fifth overall. He's one of the better guards in the draft and his flashes of high-level scoring combined with elite defence in college make him enticing. If you want to take a shot at a serious value pick, Walker cracking the top five may be the best way to go.
Gradey Dick to be Drafted Top 10 (+180)
Every year, there's a name that has a lot of discussion leading up to the draft and this year it's Gradey Dick. Depending on which mock draft you read, he could be as high as ninth overall to Utah or in the second half of the lottery, falling to around 15th or 16th.
Dick could be a serious value play if he can entice one of the teams at the tail end of the top 10. There are some that even think he could go as high as sixth, but that's being a little too optimistic. Still, Dick is the kind of well-rounded wing that teams covet, earning All-Big 12 First Team honours and a nod on the conference All-Freshman team last year in the NCAA.
He's a high-level shooter and NBA teams are constantly looking for guys who can drain the open shot. He's great at knocking down shots in catch-and-shoot situations while also doing well on shots off screens, off the dribble jumpers, pick-and-rolls, and in transition.
Don't be surprised if he lands in the top 10 for just that reason. And who knows? Maybe he can be the first big surprise of the night by climbing even higher than ninth overall to Utah.
Jordan Hawkins to be drafted before Keyonte George (-150)
Jordan Hawkins caught the attention of many fans and professional scouts as he played a big role on the Connecticut team that dominated the most recent edition of March Madness. Hawkins can shoot the lights out of the ball, routinely hitting NBA-level three-pointers, and is projected to go in the middle of the first round.
To give George credit, he's also a good shooter that can put up points quickly. However, Hawkins has a slightly longer frame and looks to be a bit more projectable as an off-ball shooter at the next level.
Dereck Lively to be Drafted Top 10 (+225)
Like Dick, there are those who are big fans of Lively and those who see somewhat more of a project. The Duke product is the second-rated centre in the draft only behind Wembanyama. He's long and has good mobility for a big man, a valuable trait in this version of the NBA.
He doesn't have the scoring touch of other big men in the draft, let alone an elite prospect like Wembanyama. With a little offensive polish, he could become the type of well-rounded forward that becomes a difference-maker at the next level. Many expect a run on guards in the top 10, but that doesn't mean that Lively couldn't sneak in as well.
He' currently +225 to land in the top 10 of the draft. Depending on where you look, he's right around the early teens on the big board, but specific team needs could see him go earlier. While he might be a longshot to crack the top 10, there's enough interest around him that it wouldn't be out of the realm of possibility to see him come off the board.