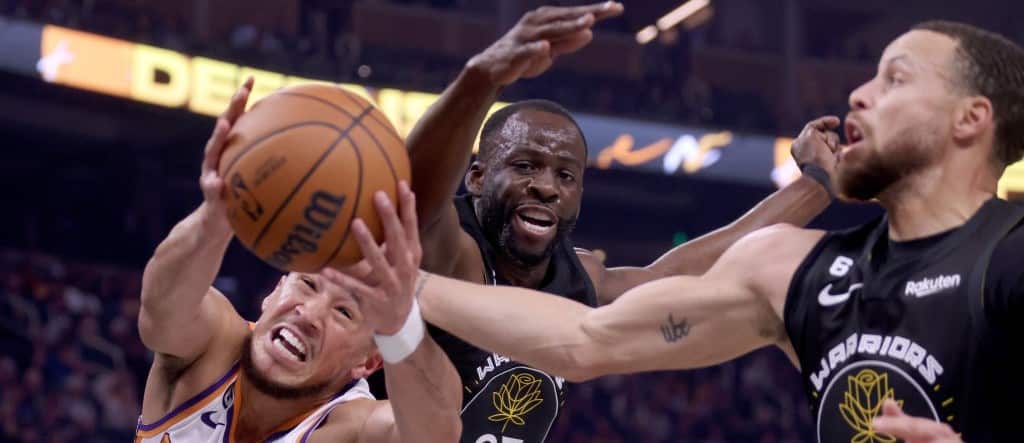 The NBA postseason is upon us and it's time to get ready to analyze and discuss the major factors at play over the next couple weeks. Join us as we break down all the first-round matchups and what you need to be aware of before you make any wagers on these NBA playoffs.
There are some compelling storylines as always but the games are won on the court and this preview will give you all the insight you need. Here's your first-round NBA playoffs preview with odds courtesy of Betway.
Eastern Conference
(1) Milwaukee Bucks vs. (8) Miami Heat/Chicago Bulls
Championship odds: Bucks +250, Heat +20000, Bulls +50000
Series odds: N/A
Offensive/defensive ratings and rankings (regular season records in parentheses)
Milwaukee Bucks (58-24 SU, 44-36-2 ATS) Off. Rating – 114.3 (15th) ,Def. Rating – 110.9 (4th)
Miami Heat (44-38 SU, 31-49-2 ATS) Off. Rating – 112.3 (25th), Def. Rating – 112.8 (9th)
Chicago Bulls (40-42, 40-39-3 ATS) Off. Rating – 112.8 (24th), Def. Rating – 111.5 (5th)
The No. 8 seeds for both conferences will be determined Friday evening when the Bulls visit Miami and Oklahoma City goes to Minnesota.
The Bucks had the best overall record in the NBA this year, and no matter who their first-round opponent ends up being, they'll be facing a team that surely fell short of expectations.
This may be the least exciting first-round matchup of all as neither Miami nor Chicago inspires much confidence when it comes to proving a challenge for the impressive Bucks, who should cruise to a quick series victory over either opponent.
Series prediction: Bucks 4-1 – odds n/a
(2) Boston Celtics vs. (7) Atlanta Hawks
Championship odds: Celtics +300, Hawks +20000
Series odds: Celtics -1000, Hawks +650
Boston Celtics (57-25 SU, 45-36-1 ATS) Off. Rating – 117.3 (2nd), Def. Rating – 110.6 (2nd)
Atlanta Hawks (41-41 SU, 36-46 ATS) Off. Rating – 115.5 (7th) Def. Rating – 115.4 (22nd)
The Hawks replaced head coach Nate McMillan with Quin Snyder less than two months ago, after middling to eighth place and a game below .500. They didn't fare much better with Snyder, just reaching .500 for the year. The defending conference champion Celtics were forced to remove their rising star head coach Ime Udoka in the offseason and replaced him with interim, later permanent, first-time NBA head coach Joe Mazzulla. They didn't fare much worse than they did under Udoka, reaching the second seed for a second year in a row while battling Milwaukee for Eastern Conference supremacy the entire time.
There isn't much to this series in my eyes. Boston should find it relatively easy to take care of business with its second-ranked offence and defence. Unless Trae Young and Dejounte Murray simply become unstoppable playmakers and scorers in every game, the Celtics should have enough to defeat Atlanta convincingly.
Series prediction: Celtics 4-1 (+210)
(3) Philadelphia 76ers vs. (6) Brooklyn Nets
Championship odds: 76ers +900, Nets +50000
Series odds: 76ers +900, Nets +600
Philadelphia 76ers (54-28 SU, 48-34 ATS) Off. Rating – 117.0 (3rd), Def. Rating – 112.7 (8th)
Brooklyn Nets (45-37 SU, 41-39-2 ATS) Off. Rating – 114.6 (12th), Def. Rating – 113.5 (16th)
Philadelphia native Mikal Bridges led Villanova University, based in Philadelphia, to the 2018 NCAA Men's Title and was then drafted 10th overall by his hometown 76ers. It was a dream come true for him. Minutes later, he had been traded. A devastating blow. The most interesting thing about this series will be watching the potential superstar-in-the-making Bridges take revenge on the team that traded him in a move they both likely regret.
The Nets might be able to steal a few games in this series, but overall, the Sixers should easily head on to the next round. Joel Embiid is playing on another level and should dominate the inside.
Series prediction: Sixers 4-2 (+400)
(4) Cleveland Cavaliers vs. (5) New York Knicks
Championship odds: Cavaliers +4000, Knicks +10000
Series odds: Cavaliers -223, Knicks +180
Cleveland Cavs (51-31 SU, 42-36-4 ATS) Off. Rating – 115.5 (8th), Def. Rating – 109.9 (1st)
New York Knicks (47-35, SU, 44-34-4 ATS) Off. Rating – 117.0 (4th) Def. Rating – 114.2 (19th)
This is the one. This is the series everyone's pointing to as the one really worth watching in the East and it's going to be a good one. These teams have firepower for days with two top-10 offences and multiple highly-skilled playmakers on each squad.
The Cavs come in with the top-rated defence in the Association, but they'll have their hands full with a Knicks team riding a lot of momentum with star Julius Randle possibly returning soon.
The Knicks are brimming with confidence and the Cavs may be feeling the nerves of heightened expectations in this series that could go the distance. I think on more than one occasion, viewers will walk away thinking Donovan Mitchell was the best player on the court that game, which gives Cleveland the edge.
Series prediction: Cavs 4-3 (+400)
Western Conference
(1) Denver Nuggets vs. (8) Minnesota Timberwolves/ Oklahoma City Thunder
Championship odds: Nuggets +1000, Timberwolves +20000, Thunder +50000
Series odds: N/A
Denver Nuggets (53-29 SU, 45-37 ATS) Off. Rating – 116.8 (5th), Def. Rating – 113.5 (15th)
Minnesota Timberwolves (42-40 SU, 40-42 ATS) Off. Rating – 113.3 (23rd), Def. Rating – 113.1 (10th)
OKC Thunder (40-42 SU, 45-34-3 ATS) Off. Rating – 114.2 (16th), Def. Rating – 113.2 (13th)
The Denver Nuggets are another top seed that shouldn't have much to worry about no matter who their opening-round matchup is with. It doesn't matter whether it's a questionable Timberwolves team with a troubling future, or the young upstart Thunder with an exceedingly bright outlook, the Nuggets should take care of business. This is going to be the biggest postseason of star Nikola Jokic's career thus far. The main and perhaps only criticism of the two-time back-to-back MVP is never taking the Nuggets to at least the Finals.
Jokic seems to be the quiet leader and a well-liked guy in the locker room that will have his team hungry with a lot to prove. The Nuggets should dominate this first round and neither of these teams will stand in their way.
Series prediction: Nuggets 4-1 – odds n/a
(2) Memphis Grizzlies vs. (7) Los Angeles Lakers
Championship odds: Grizzlies +1800, Lakers +1200
Series odds: Grizzlies -143, Lakers +120
Memphis Grizzlies (51-31 SU, 37-43-2 ATS) Off. Rating – 114.7 (11th), Def. Rating – 110.7 (3rd)
Los Angeles Lakers (43-39 SU, 40-41-1 ATS) Off. Rating – 113.9 (19th), Def. Rating – 113.2 (12th)
Both of these teams have had a season within a season so to speak. The Lakers started out 2-10 and were in danger of missing the playoffs, but a blockbuster Russell Westbrook trade two days before the trade deadline completely changed the trajectory of their season. Meanwhile, in Memphis, personal controversy surrounding young superstar Ja Morant dominated headlines and has left the Grizzlies hoping they can get their season back on track.
This is going to be a fantastic series with loads of scoring outbursts, impressive defensive action, and the occasional bad basketball. Memphis will be without solid big man Steven Adams, however, and unless they can really toughen up, the Lakers should find enough support among their extras to take this series. Even if they don't, this really seems like one of LeBron's last runs and it's always a good idea to bet on that guy.
Series prediction: Lakers 4-2 (+400)
(3) Sacramento Kings vs. (6) Golden State Warriors
Championship odds: Kings +5000, Warriors +750
Series odds: Warriors -275, Kings +220
Sacramento Kings (48-34 SU, 45-36-1 ATS) Off. Rating – 118.6 (1st), Def. Rating – 116.0 (24th)
Golden State Warriors (44-38 SU, 39-41-2 ATS) Off. Rating – 115.1 (10th), Def. Rating – 113.4 (14th)
The Sacramento Kings are one of the best stories of the season, rewarding a forlorn fanbase by making the playoffs for the first time in 16 years and ending the longest playoff drought in North American major professional sports. The Golden State Warriors, widely expected to win the West in the preseason, struggled with team health and road games before stumbling to the sixth seed on the last day of the regular season. The Kings have the best offence in the league but it's their 24th-ranked defence that will be tested in the playoffs. Against a top-ten offensive team still led by a core of four-time world champions, the Kings will have their hands full.
While it would be a welcome continuation of a wonderful story for the Kings to extend their special season, I think the playoff experience of the Warriors, and the return of Andrew Wiggins, will be too much for such a young team seeing their first signs of success in a long time.
Series prediction: Warriors 4-2 (+225)
(4) Phoenix Suns vs. (5) Los Angeles Clippers
Championship odds: Suns +450, Clippers +4000
Series odds: Suns -500, Clippers +375
Phoenix Suns (47-35 SU, 43-38-1 ATS) Off. Rating – 114.5 (14th), Def. Rating – 112.3 (7th)
Los Angeles Clippers (44-38 SU, 40-42 ATS) Off. Rating – 114.0 (17th), Def. Rating – 113.6 (17th)
The rest of the Western Conference contenders will be smiling gleefully watching two of their biggest threats battling to elimination. Both of these teams have talent enough to win the whole thing. The big question mark in this series is how soon Paul George can come back from a knee sprain that's sidelined him for weeks.
With George, excellent depth and shooting, plus, of course, the superstar talents of one Kawhi Leonard, the Clippers might make for Phoenix's most formidable matchup. But when PG13 can return is currently unknown and the Suns have literally still not lost with Kevin Durant in the lineup. I think even if George returns, it won't be enough and the Clippers will not be able to stop or match the Suns' offensive firepower.
Series prediction: Suns 4-2 (+350)