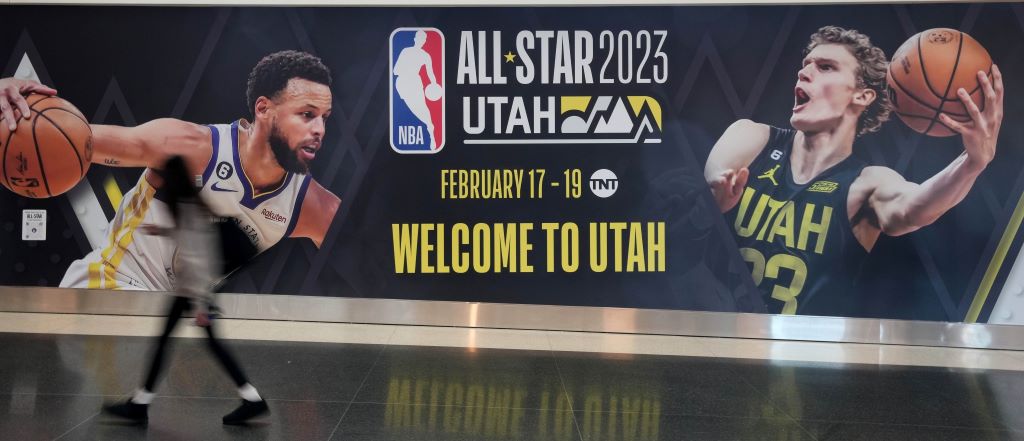 With the Super Bowl finished it's now time to turn our attention to the next spectacle coming up in the sports calendar, the NBA All-Star Weekend. While definitely less of an event than the Super Bowl, the NBA All-Star Weekend is still a very exciting event for sports bettors.
Whether you are a hardcore sports bettor, a newbie wanting to get in on the action, or someone in between, NBA All-Star Weekend has something for you. The NBA All-Star Weekend is comprised of so much more than just the game itself. Other competitions include the famous Slam Dunk and Three-Point contests, as well as the less-heralded but equally exciting Skills Contest and Rising Stars Game.
Here's everything you need to know about the NBA All-Star Weekend's big events and our picks for who should come out on top of every contest.
Dunk Contest
The 2023 NBA Slam Dunk Contest will be a unique one for a number of reasons. First and foremost is the inclusion of the Delaware Blue Coats' Mac McClung. The Blue Coats are the 76ers' G-League affiliate. Mac McClung is on a two-way contract with the 76ers and the Blue Coats, meaning he is technically a player for both teams. He'll be the first G-League player to ever take part in an NBA Slam Dunk Contest.
McClung's competitors have experience playing in the G-League as well. Kenyon Martin Jr. (Rockets), Trey Murphy III (Pelicans), and Jericho Sims (Knicks) each spent a significant amount of their young careers in the G-League prior to becoming established players at their respective NBA teams.
Don't let the fact that these contestants aren't household names fool you into thinking the Dunk Contest won't be must-see-TV. McClung (+195 at Sports Interaction), Martin (+175), Murphy (+305), and Sims (+250) are all high-flyers who should put on a great show.
Another high-flyer who could've been in the D Slam Dunk Contest is the Trail Blazers' Shaedon Sharpe. Sharpe pulled out of the event earlier this month in order to stay in Portland and focus on the second half of the season.
If Sharpe had still been in the competition, he would've been our clear favourite. Without Sharpe, Martin Jr. is our pick to win. Martin is the betting favourite with odds of +175 but we find it hard to believe that anyone will beat him.
Pick: Kenyon Martin Jr. +175
Three-Point Contest
With the explosion of the three-point shot over the past decade, some people say the Three-Point Contest has become a bigger event than the dunk contest. We don't know how true that is, but what is certainly true is that this year's Three-Point Contest has far bigger stars than the dunkers.
Damian Lillard (Trail Blazers), Jayson Tatum (Celtics), and Tyler Herro (Heat) headline this year's contest along with the Pacers' Tyrese Haliburton and Buddy Hield, Lauri Markkanen (Jazz), Kevin Huerter (Kings), and Julius Randle (Knicks).
Money will definitely be on the big names, like Lillard (+425) and Tatum (+550), but we think the winner will actually be one of the lesser-known names. Lauri Markkanen (+650) is in the middle of a career renaissance right now with the Jazz and Buddy Hield (+400) continues to put up respectable numbers for the Pacers, but they are still far from being household names among non-hardcore NBA fans.
Both Hield and Markkanen are the only players in Three-Point Contest currently shooting greater than 40% from three-point range this season. Additionally, both players are shooting greater than 50% on corner threes, which could be crucial in the Three-Point Contest when moneyballs are in play.
It's honestly hard to separate the two, but our pick is Hield. He was the 2020 Three-Point Contest Champion, so he's done it before. We're counting on this experience to be the tiebreaker between him and Markkanen.
Pick: Buddy Hield +400
Skills Contest
Compared to the Three-Point Contest and Slam Dunk Contest, the Skills Contest is admittedly not very prestigious, but that doesn't mean it can't be very entertaining. The team dynamics, flashy obstacles, and potential for buzzer-beaters makes the Skills Contest a very underrated event.
Team Antetokounmpos (Giannis Antetokounmpo, Alex Antetokounmpo, Thanasis Antetokounmpo at +475), Team Jazz (Jordan Clarkson, Walker Kessler, Collin Sexton at -125), and Team Rooks (Paolo Banchero, Jaden Ivey, Jabari Smith Jr. at +140) will be competing for the prestigious honour of being Skills Contest champions.
While Antetokounmpo is without a doubt the best player in this competition, we think his brothers will let him down. Our pick to win is Team Rooks. They are the most well-rounded team, but it's worth remembering that anything can happen in a competition like the Skills Contest.
Pick: Team Rooks +140
Rising Stars Game
The 2023 Rising Stars Challenge represents the second year of the new four-team tournament that was introduced last year. There is a slight twist compared to last year, though. Instead of G-League players being sprinkled out through the four teams, they will all be on one team.
Jason Terry will be coaching this elite G-League team (+425). Meanwhile Pau Gasol (+175), Joakim Noah (+275) and Deron Williams (+190) will lead seven-man squads of NBA rookies and sophomores. Besides Jason Terry's G-League all-stars, we think every team has a chance of coming out on top.
Pau Gasol's squad gets the nod from us though. Even though Williams' team may be more experienced with five sophomore players, Gasol's team has stars that can make a difference when the format is first to 40 points.
The Toronto Raptors' Scottie Barnes and Orlando Magic's Paolo Banchero should lead Team Gasol to victory in the Rising Stars Challenge. Barnes has evolved into a young star for the Raptors and should be a key player in this mini tournament.
Pick: Team Pau +175
All-Star Game
Unlike the Rising Stars Challenge, we don't yet know the teams for the 2023 NBA All-Star Game, so we can't make our pick for this one. The draft for the NBA's marquee exhibition event will take place at 7:30 p.m. ET on Sunday, Feb. 19, which is just before the All-Star Game tip-off.
This is the first time the league has tried doing the draft so close to tip-off, so it should definitely be an intriguing event. Like always, the All-Star Game draft comes with lots of drama, but this year, players will have to get over any perceived slights quickly and get ready for the game.
LeBron James and Giannis Antetokounmpo received the most All-Star votes, so they will be picking the teams. Picks are separated among starters and reserves.
First, LeBron and Giannis will pick from the eight starters:
Joel Embiid (76ers)
Jayson Tatum (Celtics)
Donovan Mitchell (Cavaliers)
Kyrie Irving (Nets/Mavericks)
Nikola Jokic (Nuggets)
Lauri Markkanen (Jazz)
Ja Morant (Grizzlies)
Luka Doncic (Mavericks)
Once the starters are allocated, LeBron and Giannis get to pick from the reserve players, including the Raptors' Pascal Siakam who was included as an injury replacement. The full list of reserves includes:
Anthony Edwards (Timberwolves)
De'Aaron Fox (Kings)
Paul George (Clippers)
Shai Gilgeous-Alexander (Thunder)
Jaren Jackson Jr. (Grizzlies)
Damian Lillard (Trail Blazers)
Domantas Sabonis (Kings)
Bam Adebayo (Heat)
Jaylen Brown (Celtics)
DeMar DeRozan (Bulls)
Tyrese Haliburton (Pacers)
Jrue Holiday (Bucks)
Julius Randle (Knicks)
Pascal Siakam (Raptors)
The Boston Celtics' Joe Mazzulla will coach Team Giannis and the Denver Nuggets' Michael Malone will coach Team LeBron.