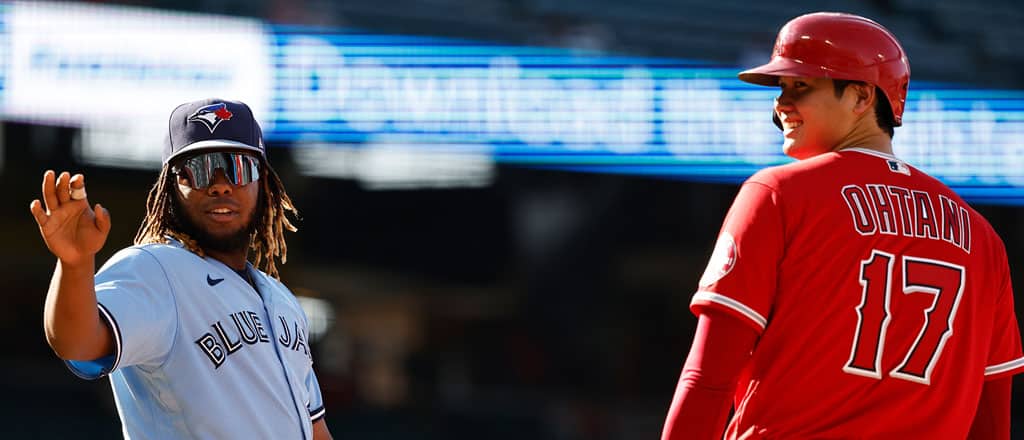 Shohei Ohtani is having his best season yet. As a pitcher, he's giving up fewer hits per nine innings than any player in in the majors and is putting up the best ERA+ of his career, and as a hitter he's leading the majors in home runs, triples, total bases, slugging, OPS, and OPS+. He's the frontrunner for the American League MVP by a mile (-800), has the eighth-shortest odds for the American League Cy Young (+4000), and he's removed all doubt about him being the single most unique talent in the modern history of Major League Baseball, if not all the major North American pro sports.
Despite this, the 28-year-old Japanese dual-threat, the man dominating games in all facets and helping bring baseball back from the dead in cultural relevance, might be on the move in the next few days. Ohtani becomes an unrestricted free agent this winter and, despite his success and playing with a fellow generational talent in outfielder Mike Trout, the Los Angeles Angels aren't very good, posting a 52-49 record so far this season. In Angels terms, this is actually extremely good – it's their best record since Ohtani joined the team in 2018 and pacing towards their first over-.500 season since 2015. But it's 6 1/2 games back of the AL West division leaders (Texas Rangers), and with the AL East being what it is, it's 3 1/2 games out of a wild-card spot as well entering play on Wednesday.
This puts Los Angeles in an unenviable position. Ohtani, who has total control of his future, probably won't want to stick with a team that has played three playoff games since 2009 despite generational top-end talent for most of those years. So they are reportedly listening to trade offers, not committing to anything, but leaving themselves open to the possibility of pulling in a haul of prospects and young talent to repeat the cycle.
As such, our friends at bet365 have opened up a special market for bettors to guess what team he'll be playing for a week from today, with the MLB trade deadline set for 6:00 p.m. ET on August 1.
UPDATE: Market Closed, Shohei Is Staying
The Angels are keeping their man. Late yesterday afternoon, Tom Verducci of Sports Illustrated reported that Los Angeles has decided to keep their superstar and build on him by buying instead of selling, approaching this as closer to a "Last Dance" scenario rather than an asset recouperation one. The Halos then put their money where their mouth is a few hours later, acquiring Lucas Giolito and Reynaldo Lopez from the Chicago White Sox for two prospects. We've kept the odds and rationales from the original version of this piece below – ultimately, him staying in Los Angeles isn't shocking, though the decision coming before the weekend is of slight surprise.
All odds courtesy of

Several factors go into selecting the teams with the best odds of landing the phenom.
For the Angels, the path is the most obvious one – either he commits to an extension in the next few days (extremely unlikely), they win enough this week to make them think the playoff run is worth chasing (they have six games on the schedule prior to the deadline), or they don't receive offers that are worth the tradeoff in revenue and in fanbase morale (very likely). Them still being the favourites for his services easily makes the most sense – you're never going to get enough back for him to feel good about it, and even if the Angels' push doesn't play out, it would be crippling to the fanbase to see them pull the plug on this era in the midst of their first decent season.
For the other teams, there's a lot that plays into it. The team's present competitiveness helps, especially if you're looking at Ohtani as a rental before you're looking at a long-term extension. The flexibility to offer up significant future assets helps – ascending teams with deep prospect pools have favour here.
Teams with the financial wherewithal to offer Ohtani an extension beyond the next few months (Ohtani is expected to break records in free agency and could command a contract upwards of $500 million) will benefit, and so will teams closer to the West Coast – proximity to Japan has long been thought to be important for Ohtani, not just for his own travel but for the time zone difference when it comes to communicating with friends and family, and for his many fans back home to follow along with him. Whether that's still a must isn't known, but it's been a factor for him in the past, and that's why teams like Seattle, Arizona, San Diego, and the nearby Dodgers are so high up the ranks.
So where does this slot the Blue Jays? MLB insider Jeff Passan says that major league executives believe Toronto will be among the frontrunners for his services, along with AL East foes Tampa Bay and Baltimore. Toronto lacks the deep prospect pool to offer assets from, but could be a more attractive long-term market for him, potentially giving the Jays a reason to step up with a big offer. Concern is there about Rogers' willingness to blow up the budget, to which I say simply – it's Shohei Ohtani, you only get a chance like this once, who cares what it costs?
Easier said than done, I suppose. In the meantime, Jays fans will get to see him at the Rogers Centre no matter what in the next few days, as he's expected to play in Toronto during a three-game weekend series. Unsurprisingly, tickets are among the hottest in town.