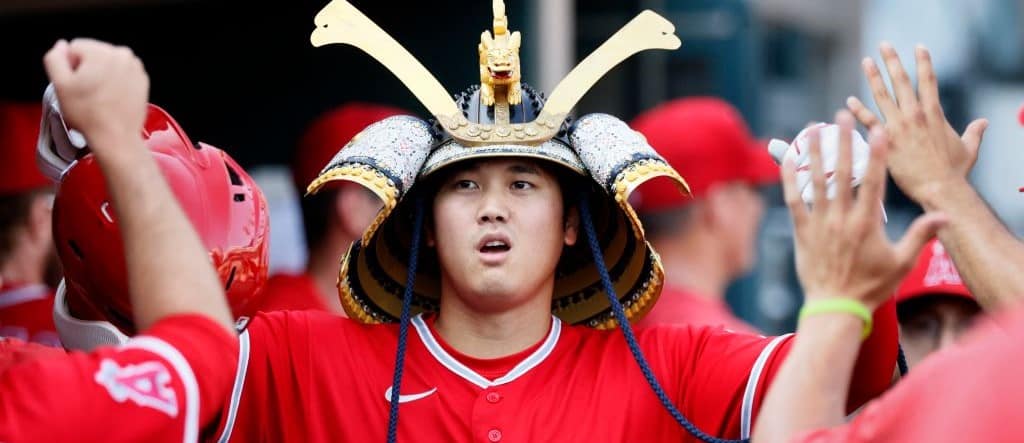 This year's MLB free agent class isn't loaded with superstar talent, but there is one crown jewel that every team with deep pockets will be courting this winter: Shohei Ohtani.
The two-way sensation has taken the league by storm since signing with the Los Angeles Angels in 2017, claiming two American League MVP Awards, two Silver Slugger Awards, and three All-Star nods since coming over from Japan. He's the modern-day reincarnation of Babe Ruth, an intimidating presence both at the plate and on the mound. And now he's the most coveted free agent to ever hit the open market.
Unfortunately, we won't be seeing Shohei on the mound next season, as he recently underwent elbow surgery for the second time in his professional career. However, this setback could actually allow more potential suitors for Ohtani as his projected contract value will surely take a hit because of his inability to pitch next season, and the uncertainty of how effective he'll be on the mound in 2025 and beyond. The 29-year-old will still likely command a record-breaking deal somewhere in the neighbourhood of 10 years and north of $500 million, even if he's solely used as a designated hitter for the remainder of his career. He's just that good.
The Los Angeles Dodgers, who are never shy to open up their purse strings to improve the team, are considered the frontrunners to land Ohtani with +120 odds. Staying in Los Angeles would allow Ohtani to play for a true World Series contender without another dramatic change in scenery. There's a widespread assumption across the league that Ohtani prefers to stay on the West Coast in order to remain in relatively close proximity to Japan, but money talks and that theory will be put to the test this winter.
Here's a look at the odds for his next potential team courtesy of bet365:
All odds courtesy of

Three potential sleeper teams to land Ohtani
Toronto Blue Jays (+1200): The Athletic's Ken Rosenthal recently reported that a rival executive views the Blue Jays as a sleeper to land Ohtani. And other reports this offseason have referenced the Jays as wanting to make a big move this offseason. Yes, there's no shortage of rumours this time of year, but luring Ohtani north of the border would certainly classify as a major move. Toronto is known for its multiculturalism and growing Asian community. And the ball club is pretty damn good, boasting the best starting rotation in the majors last season while featuring stars Vladimir Guerrero Jr. and Bo Bichette in the lineup. Owned by Rogers Communications, the Blue Jays do have the financial muscle to pull off the kind of deal that Ohtani will command on the open market. Adding Ohtani's bat could put this team over the top next season, and ensure the Jays are competitive in the AL East for several more years. But with so much cash potentially committed to Ohtani, would there still be enough to sign both Bichette and Guerrero Jr. to long-term extensions?
Texas Rangers (+1200): The Rangers have proven in recent winters that they're not afraid to make a big splash in the free agent pool, signing Jacob deGrom, Corey Seager, and Marcus Semien to contracts totalling almost $700 million! Well, those signings (aside from the oft-injured deGrom) paid off with the franchise's first World Series title in 2023. So, will the Rangers keep on spending and bolster their title defence by signing Ohtani? If Ohtani's true motive is to play for a contender, Texas is a logical fit. The Rangers are well-positioned for a title defence with many key players still under contract for 2024 and their offence would be deadly with the addition of Ohtani. Last year, Texas scored 881 runs during the regular season (third in the majors) and finished in the top five in many key offensive categories. The team already has roughly $187 million committed to its 2024 payroll, so potentially signing Ohtani would launch the team into the competitive balance tax realm ($237 million for 2024).
Boston Red Sox (+2000): The Red Sox have finished in the basement of the AL East in three of the past four seasons and that's just not acceptable in a market like Boston. Chaim Bloom is out in Boston and the team is now turning to Craig Breslow as the new Chief Baseball Officer of the club in an attempt to prioritize winning again. The team has been shedding payroll over the past few seasons, and with only roughly $137 million in payroll committed in 2024, the Red Sox are in a position to spend dramatically to improve the club this winter. ESPN's Jeff Passan recently wrote that Ohtani "loves visiting Boston and has a fondness for Fenway Park." Ohtani is also a brand ambassador for New Balance, which is headquartered in Boston. Imagine the damage the left-handed hitting Ohtani could do at Fenway Park, one of MLB's tiniest ballparks.