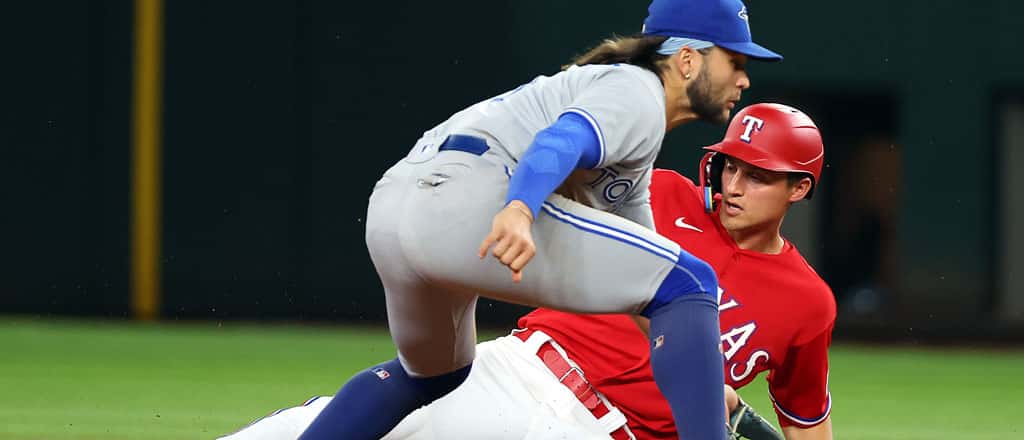 The Toronto Blue Jays have no greater enemy right now than the American League East Division. For one, the Jays' .543 winning percentage, which would put them first in the AL and National League Centrals and third in the NL East and West, looks a lot worse within it than it does as the 11th seed in the majors. But arguably more importantly, and playing into the first point as well, the games within it are killing them. Another tough series against the Baltimore Orioles puts Toronto's record against AL East opponents at 7-17, by far the worst in terms of inter-division play.
The good news is, they get to start fresh Friday, taking on their not so much rivals, but occasional exchangers of beef in the Texas Rangers. Texas is atop the AL West standings, but like the Jays, is in a bit of a slump and also like the Jays, don't do great against AL East opponents, so there's some opportunity here over the next few days.
The Blue Jays are -140 road favourites and the total is set at 8.5 runs.
Blue Jays vs. Rangers odds
All odds courtesy of

About the Blue Jays (38-32 SU, 32-38 ATS, 32-35-3 o/u)
On the plus side for the Blue Jays, Thursday was the day of the catcher. Specifically, Danny Jansen was unbelievable at the plate, going deep twice, adding a single, and driving in two runs in a 3-for-4 batting performance. On the minus side for the Jays, it was the day of the catcher, and shortly after Jansen's second bazooka, Adley Rutschman responded with a homer of his own. This tied the game for Baltimore, and two more runs would pull it away. It's not all on Toronto, though, as Tyer Wells was spectacular in 6 2/3 innings for the Orioles. Yusei Kikuchi was fine, but the Rutschman homer ended his day, and Yimi García ended up getting the eventual loss.
About the Rangers (42-26 SU, 42-26 ATS, 38-25-5 o/u)
CSB readers might already be familiar with the Rangers thanks to them being the subject of yesterday's bet365 Gameday, as they took on the Los Angeles Angels in a battle of early Cy Young candidates. The Shohei Ohtani – Nathan Eovaldi battle lived up to the hype, though in fitting fashion, they split the runline with a run in the bottom of the ninth inning on a bases-loaded walk with two outs. Could a pick get spoiled in a worse way?
Nevertheless, the Rangers put up just six hits in this one, with no homers, a 2-for-10 effort with runners in scoring position, and just two extra-base hits. The Jays will be very happy if they can keep them to similar tonight.
Probable pitchers
Rangers: LHP Martín Pérez (6-2, 4.67 ERA, 6.4 K/9, 1.56 WHIP)
Pérez has done a lot of winning this year, but hasn't exactly been worth a lot of wins. In fact, bWAR has his efforts throughout the season to date as below replacement, despite 80% of his decisions coming up victorious. When you see winning decisions such as seven runs allowed in a 16-8 game, or six allowed in a 10-6 game, you understand quickly how it gets there. Perez is in the midst of his lowest strikeout rate, highest WHIP, worst FIP, and highest hits allowed/9 since 2018 and his worst ERA+ since 2019. His last start, a 7-3 loss to the Rays on June 11, saw him give up seven runs on 10 hits in 3 1/3 innings. Ideally, Toronto can take advantage of this.
Toronto: RHP Kevin Gausman (5-3, 3.12 ERA, 12.2 K/9, 1.14 WHIP)
On the top side, you have Gausman in the midst of an incredible season despite the wins and losses not fully reflecting it. The second-year Blue Jay currently leads the AL in strikeouts and strikeouts per nine innings, and is having another spectacular year on metrics like ERA+ and Fielding-Independent Pitching. Gausman's season so far has been so good, in fact, that he finds himself with the fourth-shortest odds in the AL to win the Cy Young Award, currently at +800 on bet365.
With that said, he's coming off of one of his weaker games, also on June 11, conceding six runs on seven hits in 4 2/3 innings against the Twins. Hopefully that's the outlier and not the trend shift.
Weather
Forecasts are calling for no chance of showers with temperatures around 31C at first pitch. Winds will be light out of the north at 12 km/h. Definitely t-shirt weather if you're in the crowd!
Betting trends
Toronto is 7-3 on the moneyline against the Rangers over the last 10 meetings, though the runline and the total runs lines both sit at 5-5 in that span.
Even with the recent slump, the Blue Jays are a respectable 6-4 on the road in their last 10. This matches the Rangers' record at home in that span.
Speaking of matching, the Blue Jays are 2-3 in their last five as the favourite, and the Rangers are 2-3 in their last five as the underdog. Needless to say, the team trends are pretty even right now.
Player prop trends
Whit Merrifield has 21 hits in his last 16 games, only going without one in two of those appearances. His current hit streak is at seven games.
Daulton Varsho's hit streak ended Wednesday, but a base knock last night puts him back on track. He has 18 in 18, with hits in 14 of them.
Corey Seager also saw his hit streak end after a mention from me yesterday (oof), but he's been arguably the hottest player in the league beyond that. In the 25 games prior to Thursday, he had eight home runs, 10 doubles, and 32 RBIs. In the 12 before Thursday, he was batting .429 with a .491 on-base percentage. Yesterday being the wall would be great for the Jays, but for you, if you believe it's a blip you might get some good value.
Wagers to consider
Today, I want to focus on two boosted parlays, as they both speak to my personal feelings. The first one is a Jays win, a Bo Bichette hit, and a Vladimir Guerrero Jr. home run. Incredibly, the latter is the biggest barrier here by far, and what would normally be a safe-ish parlay is at +850 boosted from +750. Vladdy is without a home run in his last 10 games, and has just two in his last 35. He's too good of a player for this to not shake out at some point – maybe it's tonight?
The other looks towards the streaky and the strong. If you like Merrifield's hit streak to continue and you believe that Gausman has a rebound night hidden in that glove, you can get a boosted parlay that takes a Gausman win, an under 5.5-hit result for him, and Merrifield to bag over 1.5 bases at +600, up from +550.
For something a little safer, Gausman getting the win at +125 feels pretty good to me. He's been great all year and the Rangers offence hasn't been super potent over the past few weeks, so I like Toronto's odds and I like Gausman's specifically to bounce back.
Other MLB games on Friday
Today is a heavy schedule around the majors and bet365 has all the action! Some of our favourite matchups include: