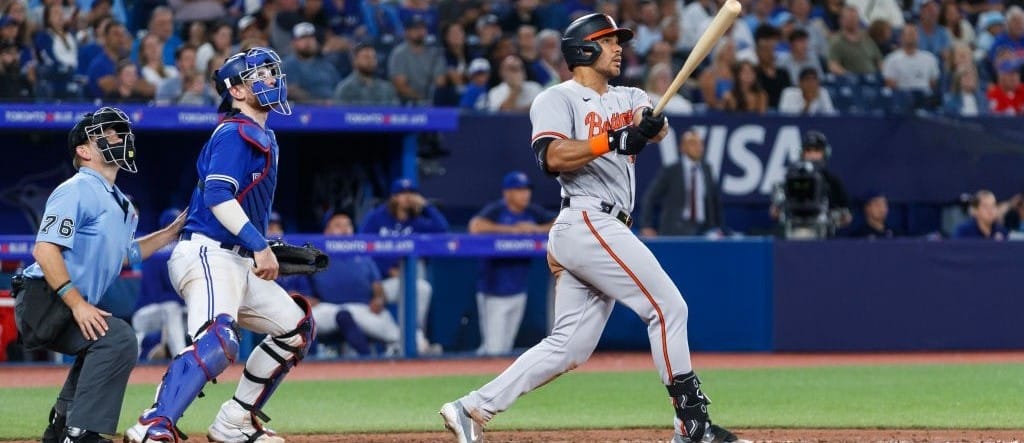 If the Blue Jays don't solve their AL East problem, their season may not be what they had hoped it could be.
After Tuesday night's 13-3 blowout loss to the Orioles in Hyun Jin Ryu's return from Tommy John surgery, the Blue Jays are 7-22 against their own division and 1-7 vs. the Orioles, who have been at the head of the division in recent weeks. Of Toronto's final 54 games, 22 come against AL East opponents, including three more in Baltimore.
Unless Toronto can improve its play against teams from its own neighbourhood, even a playoff berth might be a stretch. The Blue Jays are now 7 ½ games out of first place and clinging to the final wild-card spot, with the Red Sox, Angels, Yankees and Mariners all within four games of catching them.
Tuesday did contain its share of good news for Blue Jays fans. The team learned that doctors found no structural damage to the right knee of superstar shortstop Bo Bichette. And the team fortified its offence by adding another shortstop, Paul DeJong, to the roster in a trade with the Cardinals. While DeJong's .710 OPS might not wow people, his steady fielding and pop – with a 30-home run season on his resumé – could help more than many people think.
The issue is whether Toronto's deep well of offensive talent level ever begins to assert itself. Most sportsbooks seem to be betting it will. At bet365, for example, the Jays remain the No. 8 choice to win the World Series at +1600, not all that much longer than Baltimore's +1000 odds.
The Blue Jays are -125 home favourites and the total is set at 8.5 runs on Wednesday night.
Orioles vs. Blue Jays odds
All odds courtesy of

About the Orioles (66-41 SU, 66-41 ATS, 56-45-6 o/u)
The Orioles had another good day in what is beginning to resemble a charmed season. Two of their best young players, Adley Rutschman and Gunnar Henderson, had huge days at the plate Tuesday, combining to go 5-for-9 with a double, a home run and five RBIs. And they fortified their pitching staff by adding an erstwhile ace on the rebound, Jack Flaherty, in a trade with the Cardinals.
There's still plenty of time for another AL East team to run down the young Orioles, but there's scant sign of that happening at the moment.
Unlike the Jays, Baltimore has feasted against teams from the AL East. By winning Tuesday, the Orioles guaranteed they won't have lost a series to a division opponent in 10 straight. They're 21-9 against the AL East since that run began.
For Baltimore fans, simply seeing their team add at the trade deadline had to be a blast. The Orioles typically are sellers around the deadline, but general manager Mike Elias added for the first time since he was hired in 2018.
About the Blue Jays (59-49 SU, 49-58 ATS, 45-56-6 o/u)
Though he got hit hard at times, particularly by the first three batters in the game, Ryu actually steadied himself to keep the Jays in the game through five innings, giving the team hope he can be part of a strong pitching staff in the final months of this season. Considering he hadn't pitched in 13 ½ months, it was hard to expect much more.
Of course, pitching hasn't really been the problem for this squad. Off seasons for key hitters like George Springer (.694 OPS) and Vladimir Guerrero Jr. (.788 OPS) have been. Those two guys combined to go 0-for-7 with two more Springer strikeouts on Tuesday. Of all the frustrations for this team's front office, seeing a lineup this talented ranked 14th in MLB in runs scored must be maddening. It's not as if they could have fixed it via trade either, as few players were available with the track records to rival the Jays' hitters.
Probable pitchers
Baltimore: RHP Grayson Rodriguez (2-2, 6.21 ERA, 10.1 K/9, 1.57 WHIP)
The Blue Jays have to take advantage of the struggles of Baltimore's talented young pitcher while they can. Despite having elite stuff, Rodriguez has a 50.3% hard-hit rate this season, among the worst in MLB. Two of his finest starts have been his last two, however, when he held the Yankees and Rays to two earned runs combined on just six hits over 12 innings. This will be his second career start against the Jays, with the first coming on May 20, when he allowed two runs over five innings in Toronto.
Toronto: LHP Yusei Kikuchi (8-3, 3.79 ERA, 9.55 K/9, 1.28 WHIP)
Much like the rest of his team, the Blue Jays' lefty ace does not particularly like to see the Orioles come to town. In 10 career appearances against the O's, Kikuchi has allowed an .890 OPS to Baltimore hitters while going 3-5 with a 6.00 ERA. Of particular concern will be Baltimore's appointed lefty-masher, Ryan Mountcastle, who is 5-for-10 with four home runs off Kikuchi for his career.
Weather
There could be some scattered showers around during the game, but it doesn't appear as if getting it in is in jeopardy. First-pitch temperatures are expected to be around 22C with very light winds blowing out to right-center field.
Betting trends
The Blue Jays have actually held serve well as a stiff favourite. They've won 33 of the 59 games (55.8%) in which they've been a favourite of -125 or better this season.
On the other hand, The Orioles have relished the underdog role this season, going 31-25 in games in which they are getting odds.
When the Orioles have odds of +105 or better, they have gone 21-17.
Player prop trends
Mountcastle is a big problem for the Jays. He has an absurd 1.021 career OPS in 47 games against Toronto, including 12 doubles and 15 home runs.
He's also a big problem for lefties, which is a double whammy. He has a 1.056 OPS against left-handers, which includes nine doubles and eight home runs.
Rodriguez is averaging fewer than 15 outs per start, which would tend to suggest taking the under on his number of outs (15.5), but recent form suggests otherwise. He is looking to go at least five innings in his fifth straight game.
Kikuchi has shown the ability to strike out Orioles hitters, with 10 K's against them in 9 1/3 innings this season. He's -130 to record more than 6 ½ strikeouts in this game.
Wagers to consider
You could do worse than to take the over on just about any Mountcastle line offered, but the best might be taking over 0.5 doubles (+270) given his propensity to hit balls hard in the gaps against the Blue Jays and particularly their lefties. What about to hit a home run (+500)? Sure, why not given his performance against lefties this season.
Despite Tuesday's offensive outbreak, the Jays remain one of the steadiest under hitters in MLB, with the total coming in under the number in 58% of their games. Though Mountcastle mashes lefties, most Orioles' hitters do not. They are hitting .259 against lefties. Given the talent level of both pitchers, the under 4.5 runs in the first five innings is worth a long look.
Other MLB games on Wednesday