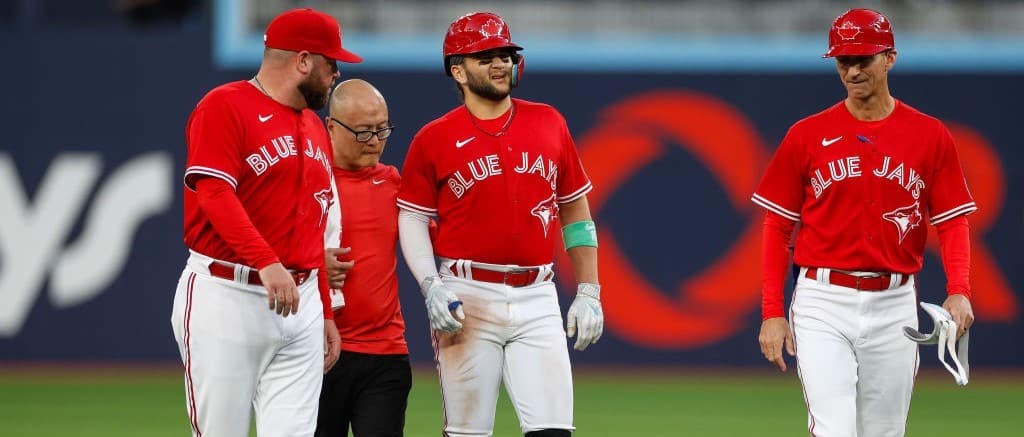 The Blue Jays went from losing an important game Monday night to worrying about the rest of their season after their best player went down with a scary-looking injury.
Bo Bichette left what became a 4-2 Baltimore Orioles win in the third inning after injuring his knee while slowing between first and second base following his second hit of the game. The Blue Jays are waiting to get further diagnostic results on Bichette's knee before discussing the extent of the injury, but this is a highly sensitive time to lose a player of Bichette's calibre for any length of time.
Bichette was, to put it succinctly, the only Jays player worthy of generating any MVP consideration in what has been a down season for the Jays' offence. Of the Jays, only Bichette (.846) ranks in the top 25 in MLB in OPS.
Further complicating the matter is the Tuesday 6 p.m. ET trade deadline. Should the Jays get bad medical news on Bichette early Tuesday, they might be forced into the arms of a team looking to offload a veteran shortstop (and his salary) to acquire prospects. Among those teams, the Chicago White Sox figure to discuss Tim Anderson, though he's having a brutal hitting season (.579 OPS), while the St. Louis Cardinals would consider parting with Paul DeJong (.709 OPS and excellent defensive metrics).
The injury and trade deadline combine to make this stretch of games feel like the crux of this Jays' season. With their next six games against the first-place Orioles and fourth-place Red Sox (who trail the Jays by just 2 ½ games in the wild-card standings), that statement is far from an overreaction.
This game is a pick'em at bet365 and the total is set at 8.5 runs.
Orioles vs. Blue Jays odds
All odds courtesy of

About the Orioles (65-41 SU, 65-41 ATS, 55-45-6 o/u)
Baltimore's front office Tuesday has a clear mandate as its team continues to lead the rugged AL East: add pitching. The Orioles somehow have walked the tightrope and stayed atop the standings despite a pitching staff that ranks smack-dab in the middle of MLB at 15th with a 4.15 ERA.
Baltimore already began the process by adding righty reliever Shintaro Fujinami in a trade with the A's on July 19, but it probably needs to reach for a higher-impact arm to make its fans feel confident about the coming two months and beyond.
One way the Orioles have maintained their position is by playing well in the games that count most. They are 22-13 against the rest of the AL East. They just finished their season series with the Yankees by going 7-6 and they have been largely responsible for keeping the Jays in the middle of the standings. Baltimore is 6-1 vs. Toronto this season. Baltimore's success in the division not only has helped it stay in front, but puts it in good position for the potential tiebreaker scenarios.
One area where the Orioles are susceptible comes into play tonight, with Jays lefty Hyun Jin Ryu scheduled to make his first start since undergoing ligament-replacement surgery in his left elbow last summer: they struggle against lefties. Baltimore hitters have struck out in 33% of their plate appearances against lefties, highest rate in the majors.
About the Blue Jays (59-48 SU, 49-57 ATS, 44-56-6 o/u)
Ryu is such a massive x-factor for this team. He hasn't pitched since June 1 of last season and the Jays are still looking to reap some value from the four-year, $80 million contract they gave him in December of 2019.
If Ryu can quickly regain his pinpoint command and return to his 2019 All-Star form, or even to the way he pitched in the pandemic-shortened 2020 season, the Jays could have enough pitching to make a deep run. But there are also plenty of examples of pitchers coming back from Tommy John surgery who require some time to dial in their command and feel comfortable with their surgically altered arm.
The Jays are easing Ryu in by going with a six-man rotation, at least in the short term.
Meanwhile, losing Bichette for the final two months would be a massive blow for a team that, surprisingly, ranks ninth in MLB with a .750 OPS and 13th with 124 home runs. Bichette's 17 home runs account for 13.6% of those Jays long balls. While DeJong's power (13 long balls) might be a tempting replacement, the Jays also would have to worry about DeJong falling into one of his lengthy slumps again. From 2020 through 2022, DeJong batted .196 with a .631 OPS.
The Blue Jays fortified their bullpen over the weekend by adding Jordan Hicks, one of the hardest-throwing pitchers in baseball, from the Cardinals.
Probable pitchers
Baltimore: RHP Kyle Bradish (6-6, 3.29 ERA, 8.22 K/9), 1.14 WHIP)
The Blue Jays are running into a very hot starting pitcher. Bradish's last four starts have produced a 1.07 ERA and 25 strikeouts in 25 1/3 innings. On the other hand, they've had good success against him in the past, batting .310 as a team against Bradish with an .824 OPS that includes four home runs. Bradish is 0-3 with a 5.59 ERA in six starts against Toronto. But bear in mind that the only time Bradish faced the Blue Jays this season, he held them to one run – a George Springer long ball – over seven innings. Oddly, he struck out just one batter in that June 14 game, a 3-1 Jays win.
Toronto: LHP Hyun Jin Ryu (first appearance of the season)
It's probably best that Blue Jays fans forget the early going of 2022, when Ryu's K/9 plummeted to a career-low 5.3 and his ERA ballooned to 5.67. There's no telling how much the elbow injury had been nagging him before he and the team made the decision to undergo surgery. But it's also unfair to expect Ryu to immediately regain the command and feel of his changeup and curveball that made him so tough when he first arrived from the Korean Baseball Organization. Getting him back to a semblance of the pitcher he was not very long ago could go a long way toward lengthening this team's postseason runway.
Weather
Forecasters are expecting a lovely evening in Toronto, with patchy clouds and first-pitch temperatures expected to be around 21C. Winds are forecast to be blowing lightly out to right-center field at 8-16 km/h.
Betting trends
The Blue Jays have been hitting unders all season long and that trend has accelerated lately. The under has hit in Toronto's last five games and in 34 of the team's past 51 games.
The Orioles have been tough on the road. They are 39-14 in road games against the spread.
Baltimore has hit the over in three of its last five games. Scoring on the road generally hasn't been a problem for this team, as it has hit the over in 28 of its last 53 games on the road.
They also tend to score early. The Orioles have hit the team total over for the first five innings in 16 of their last 24 games.
Meanwhile, the Jays have hit the team total under in 50 of their last 82 games.
Player prop trends
Austin Hays has failed to score a run in 14 of his last 15 games. He's -135 to record under 0.5 runs in this one.
Anthony Santander has hit the RBIs under in 20 of his last 26 away games. He's -200 to not drive in a run.
Matt Chapman has hit the RBIs under in 37 of his last 48 games.
Whit Merrifield, who homered Monday, has hit the total bases over in 14 of his last 19 games. He's riding a an eight-game hitting streak into play Tuesday after slashing an impressive .356/.375/.622 in July.
Wagers to consider
Bradish is looking to complete five innings in his 10th straight appearance, a rather impressive feat in this era of stacked bullpens and quick hooks. Given his recent form, including in his last start against Toronto, it's worth at least considering taking the over on outs recorded (over 17.5 -115)
Ryan Mountcastle has been crushing lefties all season, with a 1.016 OPS against them with eight home runs and a team-high 24 RBIs. This might be a spot to jump on his overs against Ryu, who might not have the command he typically enjoys after such a long layoff. Mountcastle is +550 to homer, +160 to drive in a run, and -105 to record over 1.5 total bases. He also drove in three runs with a pair of doubles on Monday.
Given Ryu's questionable status and Bradish's tendency not to miss bats as well as his previous struggles against Toronto, it's worth considering taking the game total over 8.5 runs (-115) despite the Jays' season-long tendency to go under.
Other MLB games on Tuesday