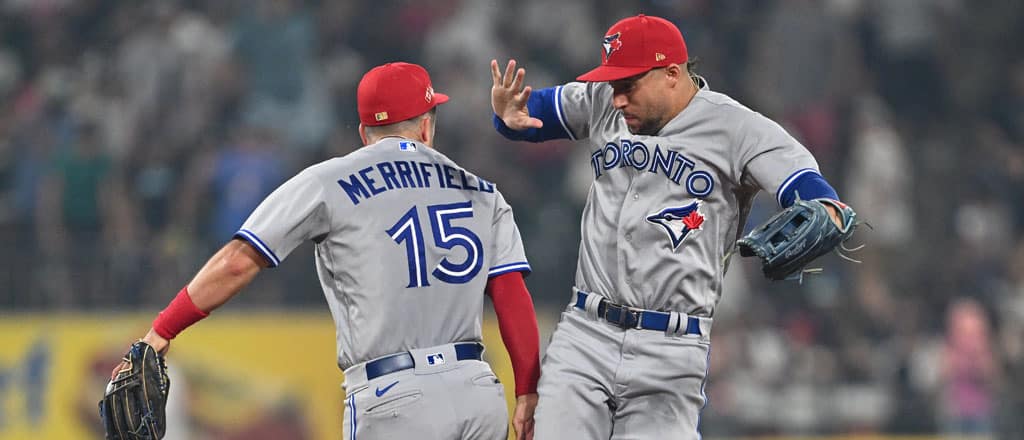 After successfully stealing the thunder of the Fourth of July in a win against the White Sox on Tuesday, the thunder fought right back. Severe rain postponed yesterday's game, meaning we now have a doubleheader on our hands today. Let's take a look at both games in today's bet365 MLB Preview!
In the first game, the Blue Jays are -125 road favourites and the total is set at 8.0 runs.
In the second game, the Blue Jays are -150 road favourites and the total is set at 9.5 runs.
White Sox vs. Blue Jays odds
All odds courtesy of

The Series So Far
White Sox: (37-50 SU, 43-38 ATS, 40-41-6 o/u)
Blue Jays: (46-40 SU, 34-43 ATS, 39-43-4 o/u)
Toronto kicked off this series with a narrow win on Tuesday. After three scoreless innings, the Jays opened things up in the fourth with a pair of runs. Chris Bassitt's strong outing was wiped out by a Luis Robert Jr. three-run homer in the sixth, ending his day, but Vladimir Guerrero Jr. came up clutch in the eighth with his own round-tripper to give Toronto the win, improving them to 4-0 on the year against the White Sox.
Probable pitchers
White Sox Game 1: RHP Lance Lynn (5-8, 6.47 ERA, 10.9 K/9, 1.5 WHIP)
White Sox Game 2: RHP Jesse Scholtens (1-2, 2.96 ERA, 5.3 K/9, 1.06 WHIP)
Lynn has had a pretty complicated year on the mound thus far. The 2021 Cy Young finalist has been blowing past his opponents at a career-high rate, but is also giving up more hits, and home runs than ever, and his largest walk rate since 2018. His ERA+ of 68 is, needless to say, the worst of his career. The 36-year-old still has the tools to fool opponents, but hasn't done so. Lynn has given up three or more runs in six consecutive games, dating back to May 31st.
Scholtens is pitching in just his tenth appearance, with 27.1 career innings under his belt in the majors. His most recent appearance was on June 30th, in a non-decision loss to the Oakland A's. Scholtens conceded three runs on five hits across four innings, including a home run.
Blue Jays Game 2: RHP José Berríos (8-6, 3.74 ERA, 8.5 K/9, 1.20 WHIP)
Blue Jays Game 3: LHP Yusei Kikuchi (7-3, 4.00 ERA, 9.4 K/9, 1.27 WHIP)
Berrios hops on the mound in the first game after a tough end to an outing against the Red Sox to kick off Toronto's previous series. In that game, he threw four scoreless innings before getting rocked for four runs in innings five and six. The positive sign here is that he's put up sixteen strikeouts in his last twelve innings of work.
Yusei Kikuchi is your second game pitcher, and while his overall body of work is a bit weaker, he's drawn more excitement this year since his 2022 season was so underwhelming. A return to decency, maybe even quality, has been a nice turn of events after a poor start to his Jays career. Nevertheless, he's also in need of a bounce-back game, maybe even more so than Berrios, after getting rocked for five runs in 4.1 innings on Canada Day.
Weather
Things appear to be calming down in Chicago after a night where the humidity let itself burst. Expect a reasonable 20-22C afternoon and evening, though the winds might be slightly perky at 16-18km/h south.
Betting trends
Toronto are 8-2 in their last ten games against the White Sox, to the tune of 5.27 units gained.
The Blue Jays have now won three in a row on the road, while the White Sox are 3-0 on the run line at home.
The White Sox have been covering well as an underdog of late, coming out ahead in each of their last three and 7 times in their last 10.
Player prop trends
Vladimir Guerrero Jr. is killing it right now, with 11 hits in his last 10 games, four home runs, three doubles, and 12 (!!) RBI. His 0.703 slugging and 1.084 OPS are by far the best on the Jays in the recent stretch. He already went yard on Tuesday, can he give us some magic again? Another Vlad homer would come in at +390.
Someone who feels unusually cold on the Chicago side is Tim Anderson. The shortstop is batting just 0.179 over his last 10 games, and 0.139 (!!!!) since June 10th. He's shown signs of heating up though, including hits in this last three and a triple against the Jays on Tuesday. Keep an eye on this to keep going, though his hit line at bet365 for the first game sits at 1.5, so maybe hedge a little with the -220 under over the +175 over if you're feeling steady improvement instead of an explosion.
Luis Robert Jr. had a home run that excited people on Tuesday, but he's been a general monster of late, with 15 hits and seven home runs in his last ten games. He sits at +425 to do it again.
Wagers to consider
If you want to spread some love across both teams in the first game, you can a boosted same-game parlay for Matt Chapman and Tim Anderson to both get 2+ bases, and for both teams to score two runs. It's sitting at +550 instead of the typical +475.
With an unexpected doubleheader, I'd expect a pretty low scoring Game 2. Doubleheaders can often be higher scoring and the line reflects that, but with no real notice on this one, routines are thrown off. The freshest and most on-schedule bodies on the field will be the pitchers, after all. Kikuchi and Scholtens aren't star talents, but both have been good enough across their appearances this year. The disruption to this would be if either or both teams go deep into their bullpen in the first game – maybe a decision made here is best saved for late in the first game.
Zach Remillard, who I mentioned on Tuesday as a stealth-hot call up that wasn't on the books for props, is available today in most of the majors. Looking at hits, he's -155 to clear 0.5, and +125 to go hitless in Game 1.
Other MLB games on Thursday
Today is a heavy schedule around the majors and bet365 has all the action! Some of our favourite matchups include: