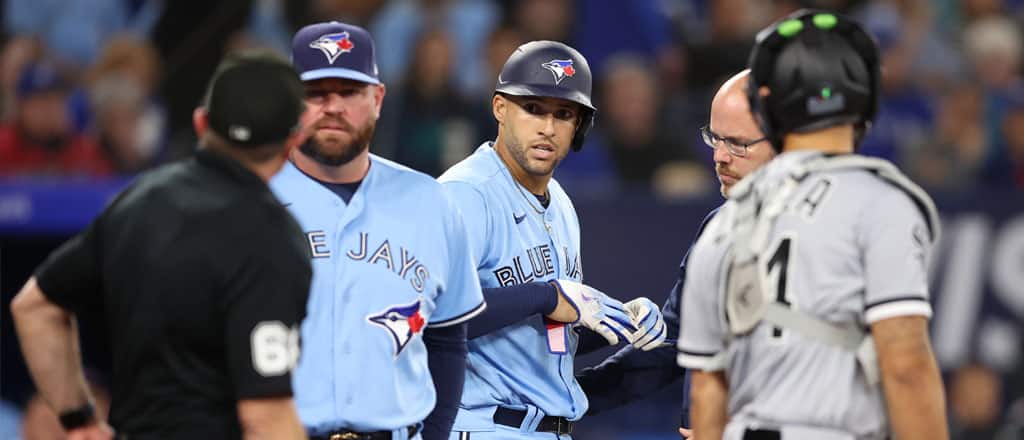 Happy Fourth of July! What better way to celebrate the United States of America by talking about Canada's baseball team? The Toronto Blue Jays are in Chicago this week to take on the White Sox, hoping to recover after getting swept in a weekend series against the Boston Red Sox. Yes, it's another war on the garments in today's bet365 Game Preview. Let's dive in!
The Blue Jays are -125 road favourites and the total is set at nine runs.
White Sox vs. Blue Jays odds
All odds courtesy of

About the White Sox (37-49 SU, 42-38 ATS, 40-40-6 o/u)
Things have been a little touch and go with the White Sox this year, going on big winning runs and bigger losing runs. Right now, they're kind of in the middle, winning 5 of their last nine and coming off of a series loss to the Oakland A's where they gave up a whopping 21 runs in three games. In fact, it's been six in a row where Chicago has given up at least four. That could be a good sign for the Jays' bats, but they still need to capitalize on it before the White Sox settle themselves down.
About the Blue Jays (45-40 SU, 34-42 ATS, 39-42-4 o/u)
Things had been going so well for the Jays before this weekend. The Canada Day-adjacent series is usually among the most hyped of the year on the Toronto schedule, and the Boston Red Sox, Chicago's foot-covering allies, really took the air out of them. The weekend started with a 5-0 shutout loss on Friday, followed by a barely-failed comeback on Sunday, followed once more by a blown lead on Sunday. Not great!
The good news, though, is that Toronto has had success against the White Sox this year, sweeping them back in late April by a combined 20-2 score over three games.
Probable pitchers
White Sox: RHP Lucas Giolito (6-5, 3.53 ERA, 9.8 K/9, 1.17 WHIP)
This is Giolioto's seventh season with the White Sox, and once again it's shaping up to being a pretty good one – not dominant by wins and losses, but very respectable in just about every per-nine metric, and a massive improvement to his ERA+ and WHIP over last season. His last appearance wasn't super hot, with four runs and six hits conceded on June 28th, though he did last seven innings and fanned nine batters.
Blue Jays: RHP Chris Bassitt (7-5, 4.32 ERA, 7.8 K/9, 1.20 WHIP)
It seems like every time I'm up to the previewer's mound, Bassitt is up to the pitcher's mound. That's okay, we make a pretty good battery – last game was a great bounce-back for the first-year Jay as he threw 12 strikeouts and gave up no runs in six innings of work against the Giants on June 29th. By Win Probability Added on Baseball Reference, it was his fourth-most valuable effort of the season, and most valuable in nearly a month. One hopes he can keep the momentum going.
Bassitt pitched 6.1 innings against Chicago on April 24th, giving up two runs and three hits in a win.
Weather
It might be the Windy City by nickname, but the gusts have taken a break. Instead, expect 28C, partly cloudy skies hovering over Guaranteed Rate field.
Betting trends
Toronto are 7-3 in their last ten games against the White Sox, to the tune of 3.36 units gained.
Both teams are 5-5 in their last 10 games. Toronto is 4-6 against the runline, while Chicago is 5-5.
The White Sox have been covering well as an underdog of late, coming out ahead 4 times in their last 5.
Player prop trends
George Springer just keeps going, sitting on 14 hits in his last 10, with two home runs. He was one of the only Jays to keep putting up numbers in the Sox series, though he's been so consistent that even the 1.5 bases prop sits at an even +100 right now. If you think it'll be a colder day for him in the hot Chicago sun, the under is -130.
One of the hottest bats in Chicago is a 29-year-old who has a whole 14 games to his name. Zach Remillard has appeared in 9 of the last 10 games for the White Sox and in that time, batted a hilarious 0.476, knocking 10 runs, and adding three doubles. Bet365 doesn't have a prop on him just yet, though I'd check back in before first pitch, or at least tuck that name into the back pocket.
Bo Bichette keeps on chugging, with 12 hits in his last 9 games, and six extra base hits. He's +145 to clear 1.5 hits, and -115 to clear 1.5 total bases.
Wagers to consider
Bassitt's strikeout line sits at 4.5. The White Sox have been blown by 93 times in their last 10 games, and rank T-11th over the full season in strikeouts against. If you feel confident in another decent 4-5 inning outing from him, that line should be clearable at -150.
Matt Chapman is Toronto's best batter that you can get at a 0.5 over today. He's had 9 hits in his last 10, with five of them being extra base hits. He's sitting at -190.
Let's just take the win here at -120. It's clean, it's straight up, and it's Canada taking away some of America's thunder on the 4th of July. They did it to us on Canada Day, so revenge sounds like a good dish.
Other MLB games on Tuesday
Today is a heavy schedule around the majors and bet365 has all the action! Some of our favourite matchups include: