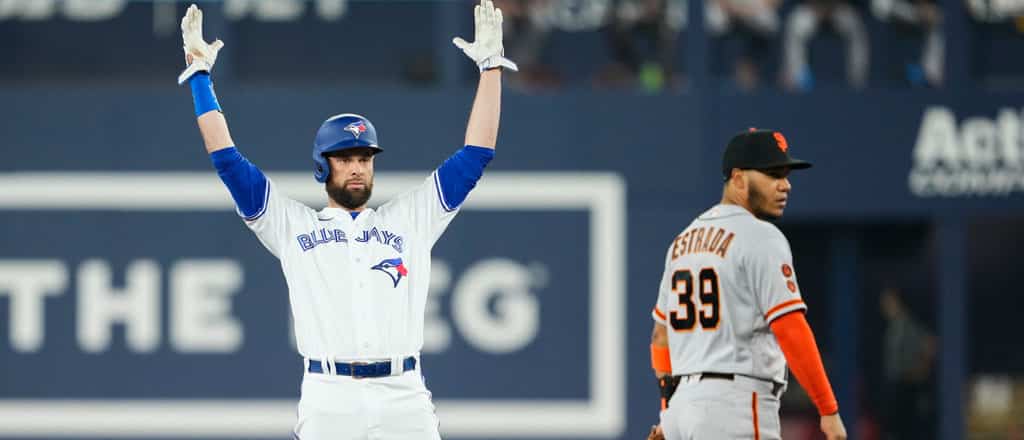 It all comes down to this. Well, not the whole Toronto Blue Jays season, but their series against the Giants, at least. An opportunity to secure Toronto's third series win in a row and the Blue Jays' sixth win in eight games is on the table tonight – let's take a look at how the two teams are doing, and the odds ahead in today's bet365 preview.
The Blue Jays are -145 home favourites and the total is set at nine runs.
Giants vs. Blue Jays odds
All odds courtesy of

About the Giants (45-35 SU, 42-38 ATS, 38-40-2 o/u)
Despite the similar record and the Jays' turning a corner, it was San Francisco that came into this interleague series with the greater momentum. The Giants came in with 12 wins in their previous 14 games, including a 10-game winning streak between June 11-21. Even the start of this series began in their favour, as they met Kevin Gausman's impressive six-inning performance with a 17-strikeout shutout across four of their arms. Yesterday was a pivot in the Jays' favour which they hope to carry into today.
The Giants' top players this season have included starting pitcher Logan Webb, second baseman Thiaro Estrada, and first baseman LaMonte Wade Jr., who put down three hits yesterday.
About the Blue Jays (44-37 SU, 34-42 ATS, 37-40-4 o/u)
Despite the aforementioned three-hit effort from Wade Jr., and the Giants having the game's only home run via pinch-hitter Austin Slater, yesterday belonged to the Jays. Bowden Francis earned the win, but Trevor Richards was the star on the mound last night with five of Toronto's nine strikeouts and only one hit conceded in three innings of work.
At the plate, it was another excellent effort for George Springer who had a double and two singles in a 3-for-4 effort. Cavan Biggio and Vladimir Guerrero Jr. also recorded extra-base hits.
Probable pitchers
Giants: RHP Randy Winn (0-0, 3.75 ERA, 6.8 K/9, 1.00 WHIP)
Toronto gets to face a little bit of inexperience here, taking on a 25-year-old in Winn who has just a dozen major-league innings to his name. Winn, who the Giants selected in the 20th round of the 2017 Amateur Draft, made his major-league debut on June 13 against St Louis, pitching four innings and giving up one hit and one run. His last appearance was a three-inning showing on the June 24 against Arizona, where he gave up five hits and three runs in three innings.
Toronto: RHP Chris Bassitt (7-5, 4.32 ERA, 7.8 K/9, 1.20 WHIP)
Not a ton has changed for Bassitt since the last time we spoke in a full-season sense, though his last outing wasn't his best. Over five innings against Oakland on the June 23, Bassitt conceded four runs on five hits. For a more positive perspective, three of the four came during the first inning, meaning that the rest of his appearance that followed went decently well.
Weather
Toronto is looking at 23C weather tonight, with a very slight chance of rain and mild winds from the northwest. It should be a nice night with an open dome!
Betting trends
Toronto is 2-1 in its last three at home, and 6-4 over its last 10.
The Giants have been road warriors of late, however – yesterday's loss was just their first in their last 10.
The Giants are also 8-2 in their last 10 as the underdog, including a 9-1 record against the runline.
Player prop trends
George Springer continues to be on a molten run. In his last 10 games, he's picked up 16 hits, battled .400, and posted an OPS of .957. He's got seven RBIs as well. For this reason, he's one of the few players with a line of 1.5 hits today, which you can get at +175 if you think he's got multiple to give. You could also look at -105 for 1.5 total bases if you want the security of an XBH potentially getting the job done.
Bo Bichette and Vlad Jr. have also cleared the 10-hits-in-10-game mark, with the former continuing the run he's been on for much of this year and the latter finally getting hot after months of waiting. They're also set at 1.5 hits, at +120 for Bichette and +170 for Guerrero, respectively.
On the Giants end, Patrick Bailey is a quieter name to keep an eye on, putting up a .357 BA in his last nine with 10 hits to match. He's set at -165 to clear 0.5 hits.
Wagers to consider
bet365 is offering a boosted Same Game Parlay for Bassitt if you like today's appearance to be more like the end of his last outing and less like the first inning. You can get him with over 4.5 strikeouts, under 5.5 hits conceded, and with a win for a boosted +450, instead of the usual +400.
I think the Jays have a pretty good chance to clear the 4.5 team total line at -130; they've been quite productive of late, and they're facing a combination of a team that has an inexperienced pitcher starting the game, while on a post-win streak wobble. There are no sure things in baseball, but there's a lot of opportunity here for them to pop off.
Lastly, Brandon Belt has hits in six consecutive games and 11 in his last 12, and seems to really enjoy playing against his former team of 12 years, so consider him at -170 for a knock.
Other MLB games on Thursday
Today is a heavy schedule around the majors and bet365 has all the action! Some of our favourite matchups include: