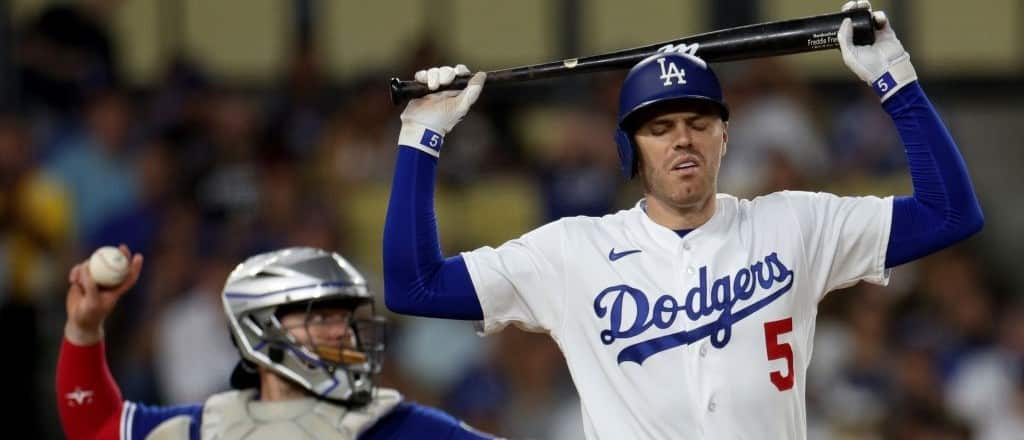 The relatively new Major League Baseball extra-innings rules make for heart-stopping moments late in games.
Consider the sinking line drive Daulton Varsho hit at Dodger Stadium in the 11th inning Monday night (or Tuesday morning if you live in the Eastern time zone). Had Jason Heyward been able to catch the ball rather than having it tick off his glove and roll toward the right-field wall, the Dodgers would have had one out and it's highly unlikely Cavan Biggio would have tested Heyward's big arm by trying to tag up and score. In today's high-strikeout environment, getting out of that inning would have been far from extraordinary.
Instead, the ball rolled safely on through the grass, two Blue Jays scored, the bullpen locked down the final innings, and Toronto got away with a 6-3 win in the important opening game of a challenging series. How huge was Varsho's hit? Toronto's win probability vaulted more than 20 percentage points, to 91.8%, after it fell.
Once again in this roller-coaster Blue Jays season, it was a matter of inches. Varsho's clutch hit kept the Blue Jays' momentum going with their sixth win in the last 10 games after the All-Star break.
Their tough crawl through the West Coast continues Tuesday night. The task remains difficult in L.A., where the Dodgers are favoured in large part based upon their 29-17 record at home, the best home winning percentage (63%) in the National League.
The Dodgers are -150 favourites on the moneyline at bet365 and the total is set at nine runs.
Blue Jays vs. Dodgers odds
All odds courtesy of

About the Blue Jays (56-45 SU, 46-55 ATS, 43-54-4 o/u)
While the Blue Jays remain in good position for a playoff berth, with a 2 1/2-game lead over the Boston Red Sox for the final AL wild-card, they've had a hard time breaking from the middle of the pack in the AL East.
Their opportunity could be approaching. Tampa Bay has slowed down after its torrid start and, while the Orioles continue to play well, the schedule could benefit Toronto down the stretch. The Rays have the third-toughest remaining schedule in baseball, while the Blue Jays (remaining opponents have a .507 average winning percentage) and Orioles (.497) have more forgiving paths.
What sets the Blue Jays apart, at least statistically, is their balance in all areas. They rank ninth in OPS at .746 and seventh in ERA at 3.83. They're roughly average defensively at -1 Outs Above Average and, according to FanGraphs, they're the seventh-best base running team in MLB. Everything is solid so far, but nothing has stood out to give this team a firm identity. That's what the coming weeks will produce, presumably.
About the Dodgers (57-42 SU, 54-45 ATS, 57-37-5 o/u)
The Dodgers are looking to the Aug. 1 trade deadline to try to restore the dominance of previous seasons. It's not that a .576 winning percentage is anything to be ashamed of, but without adding more pitching – and maybe an outfielder – this team doesn't have the same intimidating aura as in recent seasons.
The needs are probably more acute than most people realize. With veteran ace Clayton Kershaw on the injured list with a shoulder ailment and Julio Urías pitching nowhere near his form of recent seasons, the Dodgers need to add an innings eater or two to ensure they can protect the futures of young pitchers like Bobby Miller and Michael Grove by limiting their innings. Their team 4.41 ERA ranks 21st in baseball, hardly where they need it to be heading into the playoffs.
Meanwhile, they remain a difficult matchup. The Dodgers have hit more home runs (164) than any team other than the Atlanta Braves. Their .790 OPS is better than anybody other than the Braves and Texas Rangers. While the Dodgers are giving up more runs than most observers expected, they're scoring enough to keep their World Series aspirations robust.
Probable pitchers
Toronto: RHP Chris Bassitt (10-5, 3.92 ERA, 8.28 K/9), 1.21 WHIP)
Bassitt is coming off one of his finest starts of the season, six shutout innings over the San Diego Padres on Thursday. He doesn't get a lot of swings and misses (he's in just the 18th percentile of whiff rate), but he is as adept as just about anybody at inducing weak contact. The average exit velocity on balls off the bat when he's pitching ranks in the 69th percentile. He'll be looking to continue what he does, getting hitters to pound the ball relentlessly into the ground.
Los Angeles: LHP Julio Urías (7-6, 5.02 ERA, 8.6 K/9, 1.17 WHIP)
The primary culprit for Urías's struggles has been deep fly balls. Specifically, more of them are leaving the stadium than in previous seasons. Urías hasn't been a big swing-and-miss guy since 2018 and teams are making better contact in 2023. His home runs per nine innings has gone from 1.18 in 2022 to 1.79 this season, a significant jump. One would think that might be a significant problem against the Blue Jays, but oddly Toronto has slugged just .382 vs. lefties this season, 24th best in the majors.
Weather
Come on, it's L.A., right? Expect temperatures of about 27C at first pitch with clear skies. The mugginess that sometimes migrates up from Mexico usually doesn't hit Chavez Ravine until the middle of August or so, so that will be a comfortable 27 degrees. Winds be blowing out to centre field at 12 km/h.
Betting trends
The Blue Jays have hit the moneyline in 15 of their past 23 away games.
The Blue Jays have hit the team total under in 38 of their past 62 games.
The Dodgers have hit the team total over in 49 of their past 78 games.
The Blue Jays have hit the first five innings moneyline in six of their last nine games.
The Dodgers have hit the first five innings team total over in 22 of their last 37 games.
Los Angeles has played over the total in six of its last seven games (6-0-1 o/u).
Player prop trends
Bassitt is averaging 6.2 strikeouts per game over his last five starts and he's cleared at least five strikeouts in four of those outings. He's -155 to record over 4.5 strikeouts in this one.
Max Muncy has homered in three straight games and four of his last five. He's +290 to go deep on Tuesday and he has one home run in four career at-bats against Bassitt. Muncy has also driven in at least one run in six straight contests. He's +135 to record over 0.5 RBIs against the Jays.
Despite slashing .307/.340/.478 this season, Bo Bichette is hitless in five straight games. He's never faced Urías, but he has destroyed left-handed pitching this season as evidenced by his .353/.405/.574 slash line against southpaws. The Blue Jays shortstop is +105 to record over 1.5 total bases and -135 to record under 1.5 total bases.
Wagers to consider
The Blue Jays' offence has heated up early in recent games, allowing them to cover the first five innings runline in seven of their last 10 games. That could spell familiar trouble for Urías, who has failed to record an out as late as the sixth inning in three of his last five starts. However, it's worth noting this is Urías's first time facing Toronto and that often is an advantage for the pitcher. Toronto is +140 on the first five innings runline in this one.
The Dodgers lead MLB in winning percentage after a loss and their last 14 wins have come by multiple runs, so it makes sense to lay the -1.5 runs (+130) rather than take the Dodgers' moneyline at worse odds.
The under is 30-20-4 in Blue Jays games this season when they're coming off a win. Urías, meanwhile, has been much tougher at home than on the road and hasn't allowed more than two earned runs at Dodger Stadium all season. You total for this game is nine runs, and the under is available at -105.
Other MLB games on Tuesday