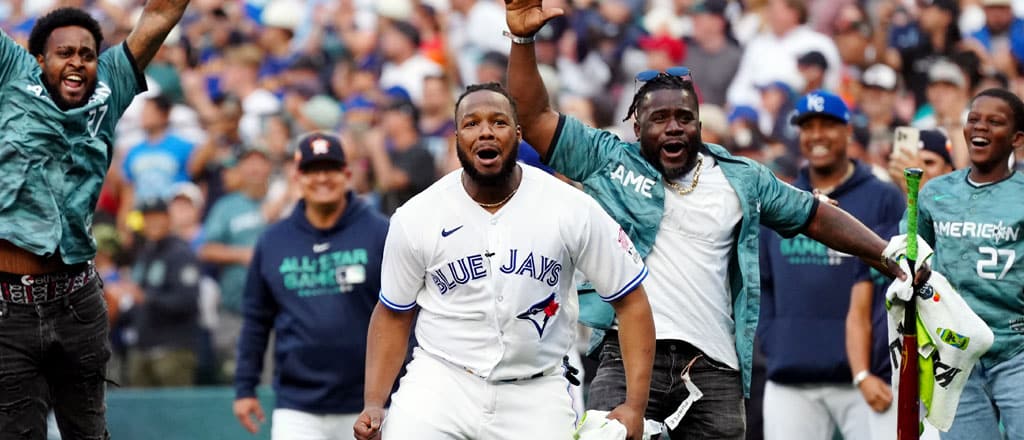 Welcome back! Major League Baseball, and by extension, the Toronto Blue Jays are back from the 2023 MLB All-Star break. Lots of fun was had, the National League finally won a game for the first time in a decade, and one of our own came home with a trophy from the Home Run Derby. But alas, fun time is over and it's time to get back to work, and a team with a couple former Jays lies ahead in the Arizona Diamondbacks. In today's bet365 Game Preview, we'll take a look at some of the key storylines and betting options you have at your disposal before first pitch.
The Blue Jays are -175 home favourites at bet365 and the total is set at nine runs.
Diamondbacks vs. Blue Jays odds
All odds courtesy of

About the Diamondbacks (52-39 SU, 55-36 ATS, 41-45-5 o/u)
While Arizona's year has been good on the whole, you can argue that they're a team that desperately needed the All-Star break, having gone 6-9 in their last 15 and 2-5 in their last seven. When they've won in this slump they've typically won back-to-back, before slipping for a while again. Coincidentally, their last series against the Pittsburgh Pirates featured two wins followed by a loss, so Toronto has an opportunity to keep that pattern going.
The Diamondbacks sent four players to All-Star weekend: Outfielder Corbin Carroll, Pitcher Zac Gallen, infielder Geraldo Perdomo, and outfielder (and former Jay!) Lourdes Gurriel Jr. played for the victorious National League. On top of Gurriel, the Diamondbacks also have Gabriel Moreno, who they've made into a full-time major league catcher.
About the Blue Jays (50-41 SU, 39-52 ATS, 40-47-4 o/u)
The Jays, on the other hand, might have wanted to keep the good vibes going, because despite getting swept by the Boston Red Sox, things have looked pretty good for them of late. Since June 20, they've posted a record of 11-6, and won five of six on the road before the pause. (The loss was a no-hitter, but we'll pretend that never happened).
The Jays have five players coming back from the All-Star festivities in Seattle. Kevin Gausman and Jordan Romano represented the team on the mound, while Home Run Derby champion Vladimir Guerrero Jr. joined Whit Merrifield and Bo Bichette in the infield for the AL.
Probable pitchers
Diamondbacks: RHP Ryne Nelson (5-5, 5.19 ERA, 6.2 K/9, 1.43 WHIP)
Arizona's challenger on the mound is a tosser in desperate need of a bounceback game. After two consecutive seven-inning, three-hit, one-run appearances against San Francisco and the Angels, Nelson was shell-shocked by the Mets in his last appearance on July 6. It took just three innings for Nelson to give up nine hits, seven runs, and two homers, effectively making the game a loss before it really got a chance to start. Nelson has struggled to strike out batters this year, something Toronto can take advantage of with the right discipline.
Blue Jays: RHP José Berríos (8-6, 3.50 ERA, 8.4 K/9, 1.14 WHIP)
Berríos gets the ball for Toronto's first game back on the schedule and if there's a player who could've probably gone without the break in rhythm, it's him. He was spectacular in his last outing, pitching seven innings against the White Sox on June 6 and giving up just one hit and one walk. By Win Probability added, it was his second-best performance of the season, even if he didn't get the decision. Berríos has been reliable to hold on to the mound for the bulk of the games this year, only coming out before the fifth inning once this season and going for six-plus innings in six of his last seven starts.
Weather
Expect a nice, clear day with light winds to the northwest tomorrow night in Toronto, with temperatures landing at about 23C around the time of first pitch. Perfect summer weather.
Betting trends
The Blue Jays are 5-5 straight-up against the Diamondbacks in their last 10 games against each other. It's worth noting that as interleague opponents, these series only happen once ever few years, so head-to-head history likely holds little context.
Thanks to that awful Canada Day weekend against Boston, Toronto is on a three-game home losing streak. The Jays are 5-5 in the last 10, however, almost balancing out Arizona's 6-4 record in its last 10 road games.
The Jays are 6-4 in their last 10 as the favourite, but 2-8 against the runline. The Diamondbacks are 3-7 in their last 10 as the underdog, and 5-5 against the runline.
Player prop trends
Matt Chapman is getting his usual love (and short odds because of it), but it hasn't been an amazing 10-game run for him. He's picked up two home runs and seven hits – respectable, but not off the charts – and a .212 batting average, with 12 strikeouts as the cherry on top. With that said – when he connects, he gets around the bases, leading the team in OPS in this stretch thanks to two doubles and a triple. Keep all of this in mind when looking at the props for him – perhaps look at total bases instead of betting on a line of 1.5 hits, for example.
Bichette's hot streak remains about the same as it did the last time we spoke with 12 hits in his last 10 games, and three extra-base hits.
Our old friend Moreno has appeared in six of Arizona's last 10 games, and has the highest batting average (.400) and OPS (.993) on the team in that stretch. He's picked up six hits and three walks, though only one of those hits was for extra bases.
Wagers to consider
As mentioned, a couple of former Jays are coming home to visit today in Gurriel Jr. and Moreno. Everyone loves a good return and revenge game, and you know those two will be looking to show their strengths today. Gurriel is +210 to pick up over 1.5 hits, Moreno -220 for one hit. For home runs, they're +825 and +1500, respectively.
On Toronto's end of the same bargain, Daulton Varsho gets an opportunity against his former team. He's -175 to get a hit, and +425 to send one over the wall for a home run.
Will Vladdy get a Home Run Derby boost? While many hitters have their rhythm messed up by the event, it's also helped others recalibrate and heat up for the second half – Juan Soto and Albert Pujols being recent examples. Vlad sits at +330 to go deep Friday, the second-shortest odds available on the board.
Other MLB games on Friday
Today is a heavy schedule around the majors and bet365 has all the action! Some of our favourite matchups include: