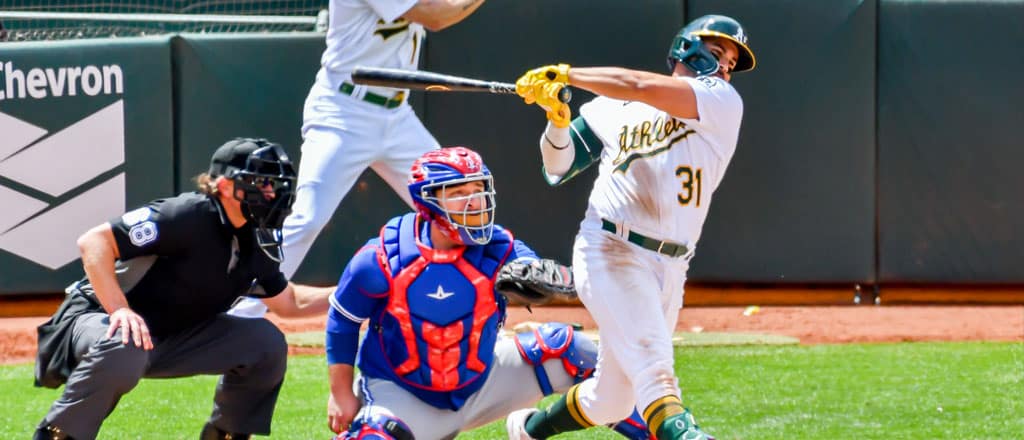 Things got a little dicey to get there, but it looks like the Toronto Blue Jays are finally back on track? After getting thumped 11-0 to kick off their last series against the Miami Marlins, the Blue Birds responded with two solid outings – a 2-0 win on Tuesday, and a 6-3 outing on Wednesday.
The Jays have an opportunity to carry some of that momentum into the weekend with an "easy" opponent in the dead-last Oakland A's on Friday night. But no win is automatic, so let's look at what's ahead for them in today's bet365 preview.
The Blue Jays are -300 home favourites and the total is set at nine runs.
Athletics vs. Blue Jays odds
All odds courtesy of

About the Athletics (19-58 SU, 35-41 ATS, 37-37-3 o/u)
The A's are probably the biggest mess in baseball, and maybe all of the major men's professional sports right now. It's fairly obvious that Oakland ownership, unable to get handouts from local government to build a new stadium, already have one foot through the door of Las Vegas. The fans aren't amused, setting fairly unprecedented attendance lows at times this year, bottoming out under 3,000 on three seperate occasions.
It probably doesn't help that the team is bottoming out the roster to match, creating further reason for apathy. As proof that anything can happen, though, the team that's on pace for 121 losses had a seven-game win streak at one point this month, before dropping the following eight, which is where it stands going into today.
About the Blue Jays (41-35 SU, 34-42 ATS, 35-38-3 o/u)
The Blue Jays are coming off a solid afternoon showing in Miami, which gave them a much-needed series win after a couple of weeks of inconsistency. An explosive five-run second inning was the key to this one, as the team gradually ran itself close to the sun. Miami added two in response in the fourth, and Kevin Gausman imploded early in the seventh to allow a run and load the bases. Erik Swanson, Trevor Richards, and Jordan Romano sorted out the mess though, steering the game to a 6-3 victory while still letting Gausman get the decision.
This was the second of back-to-back wins to get this week on the right track. Toronto's last three-win run was the one that closed out its series against the Astros earlier in the month – could the Blue Jays do that and maybe push beyond? A sweep would get them their first five-game win streak since April – probably wishful thinking, but it would be great nonetheless.
Probable pitchers
Athletics: RHP James Kaprielian (2-6, 6.38 ERA, 8.0 K/9, 1.63 WHIP)
Coming in for the opponents is Kaprielian, who has something that many on the Athletics can't brag about, and that's a decent streak of appearances. The 29-year-old has picked up two wins and a 5 1/3 innings non-decision over his three June appearances, allowing just six runs across 17 1/3 innings. That's a marketed improvement on the rest of his season, and something he'll be looking to keep going. His six strikeouts on June 17 against the Phillies were his second-most this year.
Toronto: RHP Chris Bassitt (7-5, 4.16 ERA, 7.8 K/9, 1.20 WHIP)
Bassitt has had the better season of the two pitchers, but he's had a bad week and change that he desperately needs to shake off. His June 13 appearance saw him give up eight runs in three innings and 77 pitches, and while an improvement, three earned runs and seven hits given up in 3 2/3 innings against Texas on Sunday wasn't better by enough.
There's an opportunity for Bassitt, who had two deep four-hit games to begin the month, to bounce back here.
Weather
Toronto is looking at 21C weather tonight, with a 70% chance of precipitation throughout the day, with the percentages in the mid-to-high 30's by first pitch. Some light winds will mix in as well. The dome might be a game-time decision for this one – don't be too shocked if it ends up closed.
Betting trends
Toronto is 7-3 in its last 10 games against Oakland, and 8-2 at home. With that said, the runline has been a concern for the Jays, having dropped all of their last five matchups. Don't be shocked if this game is unnervingly close!
The A's are 8-2 in their last 10 games against the runline, despite being 3-7 in the actual games. Oakland may not win often, but they at least keep themselves hanging around, hence a better spread record than the Jays this year.
The A's have gone over their run totals in three of the last 10 games, versus five of 10 for Toronto. Neither have been consistently giving fans barnburners.
Player prop trends
George Springer is scorching right now. In his past five games, he's picked up eight hits, battled .381, and driven in four runs.
Matt Chapman's massive home run on Wednesday has people feeling that he may be coming around from what has otherwise been a rough month. Five hits in his last four games is a nice parallel to a .163 batting average and .250 on-base percentage through the first 16 days of June.
There might be no hotter bat on either team than Tony Kemp's in Oakland. In his last six appearances, he's picked up eight hits, two XBH, a home run, drawn four walks, and slashed .533/.632/.800 in that span. The Jays will surely want to keep an eye towards keeping him down.
Wagers to consider
Take advantage of Springer's hot streak and look for him to contribute on the boxscore. The hits line for him is set at 1.5 (over +200, under -245), so if you're looking for something a little closer to even, 1.5 total bases sits at +100 over, -130 under.
Athletics outfielder Esteury Ruiz leads the majors in stolen bases with 39 in 75 games. The line on him adding to that account is at -130 over 0.5, +100 under.
I'm not giving up on that Vladdy home run. It's going to come, he's just too good of a player for this to be a permanent wall – especially the part where he hasn't hit one at home this year. The books seem to concur with that wishful thinking, the odds on him (+390) are as short as anyone's, so that's may be more of a heart string play than a rational play. You know what, maybe look at the previously mentioned Tony Kemp and his +1450 here if you're really trying to get bang for your buck.
Other MLB games on Friday
Today is a heavy schedule around the majors and bet365 has all the action! Some of our favourite matchups include: