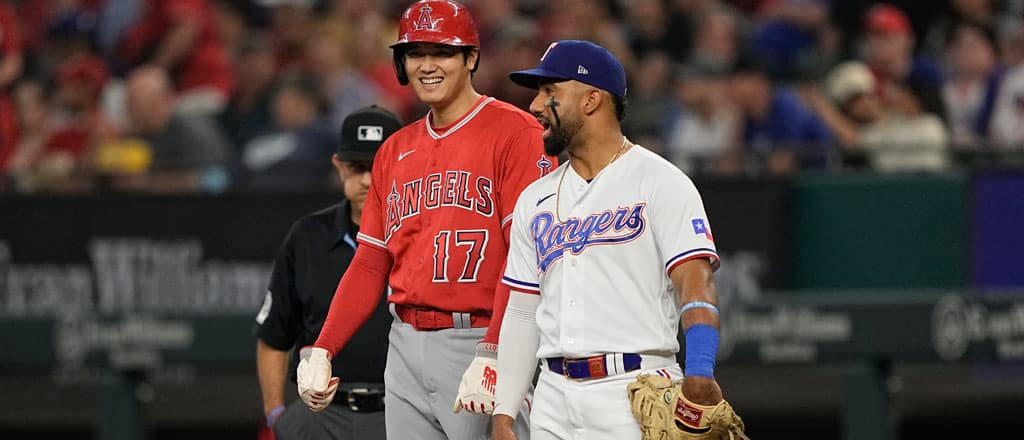 Shohei Ohtani gave the road crowd a treat last night with yet another jaw-dropping home run, but as is often the case with the Los Angeles Angels, it was a bright spot in an otherwise negative game. The hometown Texas Rangers had the last laugh as they widened their lead in the AL West, and look to do so again today – but this time, the unicorn will meet them on the mound. Let's look at what we can expect tonight!
The Rangers are -135 home favourites and the total is set at 8.0 runs.
Angels vs. Rangers odds
All odds courtesy of

About the Angels (38-32 SU, 35-35 ATS, 34-32-4 o/u)
While the Angels have so far had a much more respectable season than many previous, the ending to last night's game definitely gave a "Tungsten Arm O'Doyle" vibe. The Angels struggled to manufacture much of anything offensively for most of this one – Anthony Rendon smacked home Mike Trout in the third to give them a brief lead, but after that, it was nothing until Shohei Ohtani sent an opposite field home run to the moon – or, at least, it felt that way when the ball landed 453 feet away.
The problem was that the home run, his 21st of the season already, came with just two outs remaining in the bottom of the ninth, and only brought the Angels within three. They couldn't get the two more they needed to turn it into a victory, so he'll have to bring the game into his own arms today.
About the Rangers (42-25 SU, 42-25 ATS, 38-25-4 o/u)
Last night's game was iced by pair of seventh-inning homers from the Rangers. Marcus Semien, perhaps best known by readers on this website for his time with the Blue Jays, cracked home his tenth home run of the year, and was followed up by Corey Seager, who is in the midst of the hottest streak of his career. Since returning from injury on May 17th, he's picked up eight home runs, ten doubles, and 32 runs batted in over the course of 25 games. In his last 12, he's batting 0.429 with a 0.491 on-base percentage.
Semien had been on a bit of a slump coming into last night's game, but previously had a 25-game hit streak. The two have been instrumental to Texas' offensive success throughout this season. Leody Taveras was also dynamic at the plate last night, picking up a home run, two RBI, and a stolen base. On the mound, Andrew Heaney brushed away five Angels with strikeouts in the 6-3 victory, though it was Josh Sborz who walked away with the win next to his name.
Probable pitchers
Los Angeles Angels: RHP Shohei Ohtani (5-2, 3.32 ERA, 12.1 K/9, 1.04 WHIP)
Somehow, the generational two-way talent keeps getting better as the years go by. Now in his sixth year in the majors and fourth on the mound, Ohtani is giving up fewer hits and throwing more strikeouts than he ever has in his career. His last appearance saw him go five innings against the Mariners on June 9th, where he threw six strikeouts and gave up three runs without a decision. It's been a few starts since we've seen him go deep – it would be nice to get that tonight.
Texas: RHP Nathan Eovaldi (9-2, 2.49 ERA, 8.6 K/9, 0.98 WHIP)
Eovaldi joined the Texans this year after a five-year run in Boston, playing with the Yankees, Marlins, and Dodgers before that, and he's having a year reminiscent of his Cy Young push in 2021. The 33 year old is crushing the underlying metrics, with career bets in ERA+, FIP, and WHIP, while conceding fewer hits or runs than he has at any point in his career. His last four starts were all wins, and while he's not a strikeout machine, he's certainly been delivering results.
Weather
Forecasts are calling for an 2% chance of showers with temperatures around 30C at first pitch. Winds will be moderate and heading northeast at about 18 km/h.
Betting trends
The Angels are 6-4 on the moneyline in their last ten games against the Rangers.
Los Angeles are 8-2 in both straight-up and run line scenarios in their last ten games. Texas, despite their better overall record, are 5-5 and 4-6 respectively.
The Angels have enjoyed the underdog role of late, going 4-1 in straight-up, run line, and runs total situations in their last five.
While Texas has lost two of their last three at home, they've won 7 of their last 10. The form hasn't been there, but home field advantage is still at play, as it was last night.
Wagers to consider
Bet365 has a couple of fun boosted same-game parlays tonight!
If you're expecting a Rangers win, you can pair it with a Corey Seager home run and Nathan Eovaldi notching over 6.5 strikeouts for a boost from +1200 to +1400.
If you believe in the Angels megastars to dictate this game, you can get a combo of Mike Trout over 1.5 bases, Shohei Ohtani to win, and also to finish with under 4.5 hits allowed. This one is a bit courageous especially when you consider a recent cold streak from Trout, but you can get it for +850 instead of +750.
If you just want something simple, I'm probably looking at the under on runs tonight. Eovaldi and Ohtani have both been incredibly good this year and that sets the scene for a good ol' fashioned pitchers battle. Once again, that's even/+100 odds for under 8 runs.
Other MLB games on Thursday
Today is a heavy schedule around the majors and Bet365 has all the action! Some of our favourite matchups include: