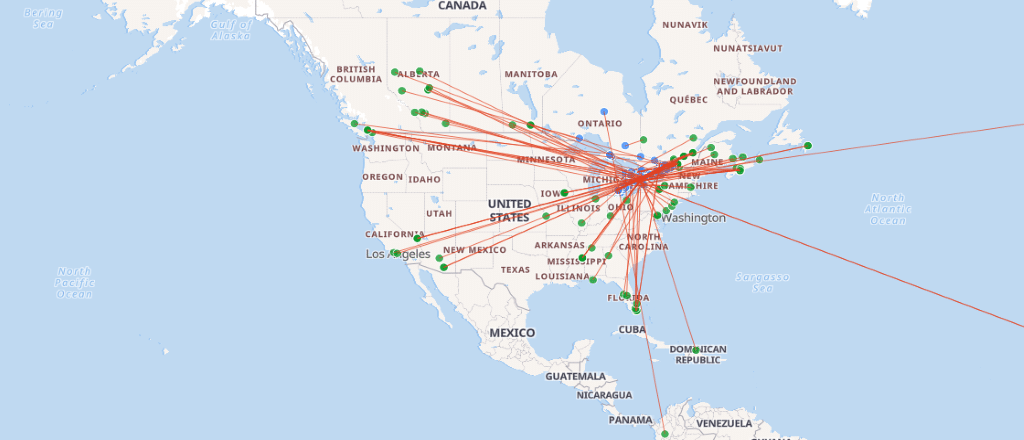 Several thousands of attempts were made by bettors outside of Ontario to access the province's regulated sports betting market during Super Bowl week.
According to GeoComply, a Vancouver-based third-party location service provider that provides cybersecurity solutions to detect location fraud and verify a user's true identity, there was more than 9,000 blocks from users attempting to place bets in Ontario that actually weren't physically present in Ontario.
"There were people using VPN or some sort of spoofing device to try and pretend like they're from Ontario but they're really from somewhere else," GeoComply's Senior Vice President of Government and Public Affairs John Pappas told Canada Sports Betting. "No one outside of Ontario should be able to place a wager. Operators are obligated by regulators to stop anyone who is using a location spoofing manipulator, like a fake GPS app, or a VPN. Our product is refined to detect and stop those transactions. Over the last year, we've also identified and blocked over four million transactions from countries that are on sanctions lists like Cuba, Iran, and Russia."
The overwhelming majority of these Super Bowl spoofing attempts came from other provinces across Canada (39%) and the United States (49%). There were also fraudulent attempts made to access the market from Europe, Venezuela, and other countries around the world (12%).

"Anytime you have a popular sporting event, there's going to be an increase in potential fraud," Pappas explained. "Obviously, the Super Bowl is one of the biggest sporting events of the year. There are many jurisdictions, even still in the United States, that haven't legalized sports betting. So people in these states are trying to access Ontario sportsbooks to place a bet. The legal gambling ages also vary from state to state and country to country, so bettors try to take advantage of that, too."
Ontario is the only Canadian province that has embraced private sports betting operators and taken measures to completely eliminate grey market operations, but it's obvious that bettors in other provinces are eager to place wagers with new sportsbooks other than their respective provincial lottery corporations.
"The success of the Ontario market is probably catching the attention of the other provinces," Pappas added.
Ontario's industry regulators reported Ontarians wagered $11.53 billion and the market produced $457 million in total gaming revenue for the period of Oct. 1, 2022-Dec. 31, 2022. There were 910,000 active player accounts during the period with an average monthly spend of $167 per active player account.
Super Bowl a hit in Canada and U.S.
Leading up to Super Bowl week, the Responsible Gambling Council, which is based in Toronto, estimated that 42% of Ontario's sports bettors planned to wager on the big game. Around 52% of respondents planned to wager $50 or less, while 17% planned to wager $100 or more. Interestingly, 36% of respondents planned to place a wager on the Super Bowl using the Ontario Lottery and Gaming Corporation's PROLINE + platform, which operates parallel to the private market in the province.
Once the dust settled after the Kansas City Chiefs were crowned NFL champions, TV ratings revealed that the Super Bowl is gaining popularity in Canada.
GeoComply is prohibited from releasing overall satisfaction numbers in Ontario and across Canada due to local industry regulations. However, the geolocation provider did release some staggering Super Bowl data pertaining to our neighbours south of the border, where the reporting of earnings, market share, and data regarding sports betting is much more transparent than Canada.
The American Gaming Association predicted that 50 million Americans would wager roughly $16 billion combined on the Super Bowl this year in legal, regulated U.S. markets.