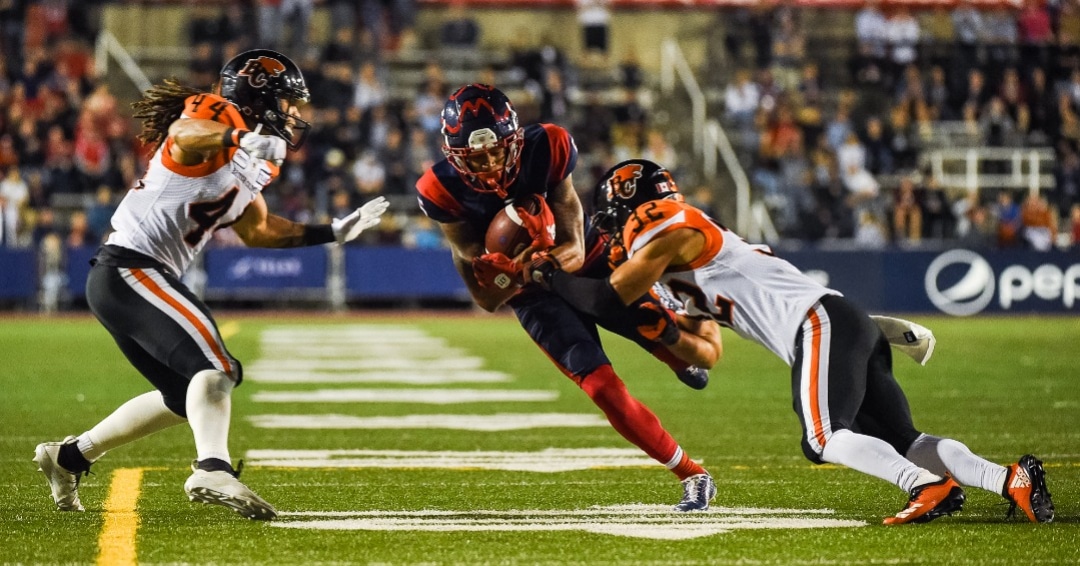 As Canadians around the country try to beat the heat, the action heats up in the CFL. There are four games on the slate in Week 5.
The matchups begin on Thursday as the (2-1) Saskatchewan Roughriders host the downright bad (0-4) Edmonton Elks.
On Friday, the (1-2) Calgary Stampeders face a tough test on the road as they travel to IG Field to face the (3-1) Winnipeg Blue Bombers.
The weekend games see the (0-3) Hamilton Tiger-Cats host the (1-2) Ottawa Redblacks on Saturday, while the premiere matchup of Week 5 pits the (2-1) Montreal Alouettes against the (3-1) BC Lions, Sunday night in Vancouver.
Here's a look at the latest CFL Grey Cup outright odds, followed by our bet365 Week 5 betting preview:
All odds courtesy of

Edmonton Elks @ Saskatchewan Roughriders (-7.5, 43 o/u)
About the Elks (0-4 SU, 0-4 ATS, 1-3 o/u): The Elks best opportunity to notch a win so far this year came in Week 4 against the (then 0-2) Ottawa Redblacks. Despite facing off against a winless opponent, Edmonton still managed to trip over their own feet to the tune of a 26-7 trouncing.
A desperation QB switch prior to the game was pointless as Jarret Doege ended up being just as inept, completing 19 of 33 passes for 223 yards but throwing 3 INTs in the process.
Their "Number 1" QB; Taylor Cornelius will return to face the Redblacks but the results are trending in the same direction. Cornelius did complete 14 or 18 for 135 yards and a score in Week 3 against the Argos but was eventually yanked in favor of Doege.
No matter the opponent week to week, the Elks will be in tough to produce offence or stop their opponents from scoring in bunches. A long season continues to get longer for Edmonton.
About the Roughriders (2-1 SU, 2-1 ATS, 2-1 o/u): Saskatchewan got the benefit of a much needed bye in Week 4 but the injury bug continues to plague the Riders.
On Thursday, they'll be deprived of several significant pieces when they face the Elks. Among the key players unavailable for the game are wide receiver Jake Wieneke and offensive lineman Peter Godber.
Their depth will surely be tested but that test couldn't come at a better time as the Elks pose the league's most lukewarm threat.
QB Trevor Harris has been a bright spot for the Riders and should paper over a lot of the injury concerns. His 289 yards per game average is 2nd in the league through 4 weeks and he'll be well rested off his 275 yard, 1 TD, 1 INT stat line against the Calgary Stampeders in Week 3.
Betting trends:
The Elks are 0-5 ATS in their last 5 games overall.
The Over is 6-1 in Elks last 7 games following a bye week.
The Over is 5-1-1 in Roughriders last 7 games in July.
Pick: Roughriders -7.5.
Calgary Stampeders @ Winnipeg Blue Bombers (-8, 46.5 o/u)
About the Stampeders (1-2 SU, 1-2 ATS, 1-2 o/u): The Stamps got some much needed bye week rest in Week 4 on the heels of a heartbreaking OT loss to the Roughriders in Week 3.
Calgary sits at 1-2 with both losses coming at the hands of Western Division rivals (The Riders and Lions), making their Week 5 trip to Winnipeg all the more important.
Stamps QB Jake Maier has the tools to put up points but his inefficiencies have been apparent in Calgary's 3 games thus far. His QB rating of 68 is way under his CFL career average of 99.5. He's thrown 5 picks through 3 weeks and has to be better through the air, completing only 58% of his passes so far.
Maier has the ability to mask his throwing struggles with his ground game however. The 3rd year QB is averaging 4.1 yard per carry and has 2 rushing scores this season.
Maier and the Stamps will have their hands full against the Bombers but there's a likelihood that we see a lot of points put up by both squads.
About the Blue Bombers: (3-1 SU, 3-1 ATS, 2-2 o/u): The Bombers bounced back from their Week 3 loss by dominating the Als in Week 4 to the tune of a 17-3 victory.
It was a punishing slog of a game that was heavily impacted by weather, and the Winnipeg defense took full advantage in creating a difficult environment for the Montreal offence.
The Bombers continue to be the betting favourite to take the Grey Cup this year, currently sitting at +210 to win it all on bet365.
Winnipeg will be bolstered by the leagues most fearsome receiving corps and the possible return of suspended star wideout Kenny Lawler. Quarterback (and reigning MVP) Zach Collaros has a wealth of options to throw to and clearly enjoys carving up opposing defences judging by his 1015 passing yards and 7-2 TD to Turnover ratio through 4 games.
Betting trends:
The Stampeders are 11-1-1 ATS in their last 13 games following a ATS loss.
The Blue Bombers are 5-0 ATS in their last 5 games in July.
The Under is 6-1 in Stampeders last 7 games following a straight up loss.
The Under is 4-1 in Blue Bombers last 5 home games.
Pick: Stampeders +8.
Ottawa Redblacks @ Hamilton Tiger-Cats (-2.5, 44.5 o/u)
About the Redblacks (1-2 SU, 1-2 ATS, 0-3 o/u): Following their first win of the season, the Ottawa Redblacks are currently enjoying some positive vibes.
In Week 4, the Redblacks triumphed over the struggling Elks, and are now facing down another winless opponent.
In his second appearance of the season, quarterback Tyrie Adams delivered an impressive performance. Adams completed 14 of 20 passes for 185 yards and a TD. Additionally, he showcased his agility by adding 31 rushing yards through three skillful runs. Adams' contributions on both passing and running plays demonstrated greater proficiency compared to his teammate and former starting quarterback, Nick Arbuckle.
Adams and the Redblacks will look to build on this momentum but a win against the hapless Elks can hardly be considered a stepping stone. They still have work to do to turn their season around and a hungry Ti-Cats squad will pose a greater threat this week.
About the Tiger-Cats (0-3 SU, 0-3 ATS, 2-1 o/u): Hamilton were licking their wounds through a Week 4 bye and hope to right the ship starting in Week 5.
Among the pre-season betting favourites, the now 0-3 Ti-Cats have started the season reeling and off-season edition Bo Levi Mitchell continues to be sidelined with a lower-body injury.
Backup QB Matthew Shiltz has performed admirably in relief but Hamilton have struggled to put up points in the same way since Mitchell went down. Despite Shiltz's 463 yards thrown, he's only come up with a single passing TD. All things considered, their Week 2 and 3 opponents (Toronto and Montreal) posed and considerably greater threat than Ottawa does so Shiltz and the Cats have a golden opportunity to get right at home this weekend.
Betting trends:
The RedBlacks are 0-4 ATS in their last 4 games in Week 5.
The Tiger-Cats are 5-0-1 ATS in their last 6 games in Week 5.
The RedBlacks are 8-2 ATS in their last 10 meetings in Hamilton.
The Under is 5-2 in the last 7 meetings in Hamilton.
Pick: Tiger-Cats -2.5.
Montreal Alouettes @ BC Lions (-7, 45.5 o/u)
About the Alouettes (2-1 SU, 2-1 ATS, 1-2 o/u): The Als let their undefeated record slip in Week 4 as they looked pretty rough in a 17-3 loss at the hands of the Blue Bombers.
Sure the weather played a role in the defeat but the Als were perhaps more exposed than it seems.
With their two wins to start the season coming against the (1-2) Redblacks and (0-3) Tiger-Cats, Montreal's record may be a bit of a mirage. We should find out for sure when the Als visit the (3-1) BC Lions on Sunday.
The good news for the Alouettes has been the play of QB Cody Fajardo. In his first season with Montreal (7th in the CFL) Fajardo has completed 69% of his passes for a total of 823 yards across 3 games. He's maintained a stellar 109.6 QB rating over that span and is a definite bright spot for the Als.
About the Lions (3-1 SU, 3-1 ATS, 1-3 o/u): After rattling off 3 straight wins to start the season, the Lions came crashing back down to earth in Week 4. Losing 45-24 to the Toronto Argonauts.
BC now sits 3rd in the Grey Cup odds at +350 to win it all on bet365.
Despite the setback at the hands of the defending champs, the Lions pose a serious threat to any team week in and week out.
QB Vernon Adams Jr. has a blistering 1237 air yards thus far, completing 70% of his passes. He possesses a 92.6 QB rating which is only held down by his 8 INTs to go with his 8 throwing scores.
BC boasts a well rounded receiving corps to compliment Adams Jr. The Lions have 5 pass catchers with over 100 yards thus far and can put up points with the best of them.
Betting trends:
The Over is 4-0 in Alouettes last 4 road games.
The Lions are 4-0 ATS in their last 4 games following a ATS loss.
The Lions are 4-0 ATS in their last 4 games following a straight up loss.
The Under is 6-0 in the last 6 meetings.
Pick: Lions -7.