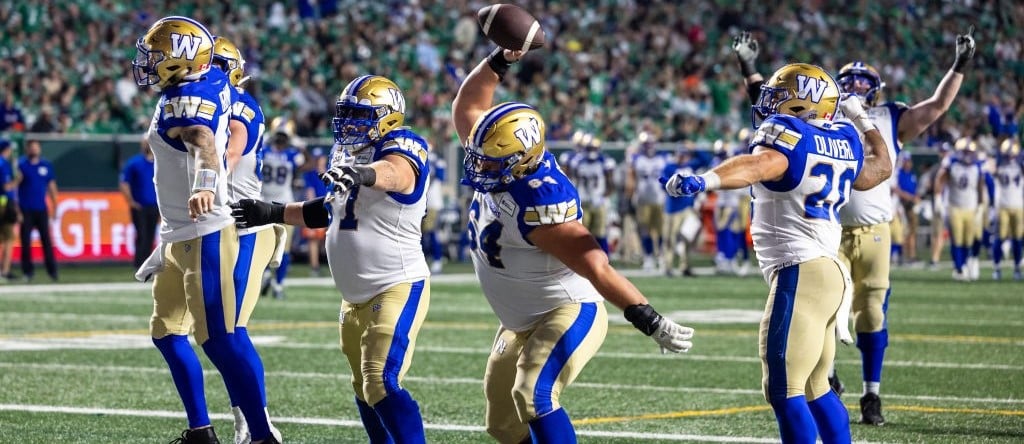 Four teams — Winnipeg Blue Bombers, BC Lions, Toronto Argonauts, and Montreal Alouettes — are still undefeated entering Week 3 of the CFL regular season.
On Thursday, the Lions and Blue Bombers will clash in Winnipeg in the marquee matchup of the week. On Friday night, the Montreal Alouettes will visit the Hamilton Tiger-Cats. And on the weekend, the Saskatchewan Roughriders will visit the Calgary Stampeders and the Toronto Argonauts will invade Edmonton for a battle with the Elks.
Through eight regular season games to this point, six of them have played under their posted total. Away teams are 4-4 against the spread and favourites are 5-3 ATS.
Here's a look at the latest CFL Grey Cup outright odds, followed by our Week 3 betting preview:
All odds courtesy of

BC Lions @ Winnipeg Blue Bombers (-6, 49 o/u)
About the Lions (2-0 SU, 2-0 ATS, 0-2 o/u): After being promoted to QB1 following Nathan Rourke's departure to the NFL, Vernon Adams Jr. has completed 74.3% of his passes and thrown three touchdowns to lift BC to a flawless 2-0 start to the season. The dual-threat quarterback also has 46 yards on the ground while rushing for another major. However, Adams Jr. won't have one of his top receivers at his disposal against the Bombers, as Dominque Rhymes has been ruled out with a foot injury.
BC's defence is coming off a 22-0 shutout against the lowly Edmonton Elks. The Lions held Edmonton to just 139 yards of net offence, one week after posting another stingy performance by holding the Stampeders to just 15 points. With so many star offensive players leaving the team this offseason, BC's defence has stepped up to fill the void.
About the Blue Bombers (2-0 SU, 2-0 ATS, 2-0 o/u): Winnipeg is ready to put BC's defence to the test after averaging a league-best 43.5 points per game and 447 total yards through two games. Quarterback Zach Collaros has thrown for 647 yards and five touchdowns without an inception this season and he's only been sacked twice through a pair of games.
Winnipeg does have some injury concerns on offence coming into this one, though. Lead back Brady Oliveira is doubtful with a thorax injury, and reigning CFL Most Outstanding Rookie Dalton Shoen is questionable with a hip issue. Without potentially their top running back and one of their best receivers, the Bombers likely won't put up 40-plus points again this week.
Betting trends:
The Lions are 0-5 ATS in their past five games in Winnipeg.
The under is 6-0 in BC's past six games (two games this year and four dating back to last season).
Winnipeg is 24-9 ATS in its past 33 home games.
Pick: Blue Bombers -6.
Montreal Alouettes @ Hamilton Tiger-Cats (-2.5, 44)
About the Alouettes (1-0 SU, 1-0 ATS, 0-1 o/u): The Alouettes are coming off an early bye week and should be rested and prepared coming into this matchup. Montreal grinded out an ugly 19-12 win in its season opener against Ottawa. New quarterback Cody Fajardo scored the team's only touchdown with a one-yard rush and David Cote converted four field goals to lift the team to victory.
More troubling was that Fajardo was sacked six times in the opener. The veteran quarterback was sacked 61 times last season while playing with Saskatchewan, so Montreal will have to tighten up its offensive line to preserve the health of its quarterback.
William Stanback, who led the league is rushing yards in 2021, only generated 42 yards off 16 carries. He's noticeably slimmed down from his previous 233-pound frame in an attempt to remain healthy this season.
About the Tiger-Cats (0-2 SU, 0-2 ATS, 1-1 o/u): Expectations were high in Hamilton after the roster was overhauled in the offseason, but the team has looked downright awful through its first two games of the season, although both losses came against strong opponents in Winnipeg and Toronto.
Hamilton's defence allowed 74 points over the two losses, and veteran quarterback Bo Levi Mitchell looks totally uncomfortable in his new surroundings after spending his entire career with the Stampeders before signing with Hamilton in the offseason. To make matters worse, Mitchell suffered a lower-body injury in Week 2 and has been ruled out for Friday's home opener. Matthew Shiltz will start at quarterback.
The Tiger-Cats opened as three-point favourites in this game on Monday at bet365, but the line moved closer to a pick'em on Tuesday after Mitchell was ruled out before rebounding to Hamilton -2.5 on Wednesday.
Betting trends:
The under is 6-1 in the past seven meetings and 4-0 in the past four meetings in Hamilton.
Hamilton is 1-7 ATS in its past eight games against East Division opponents.
Pick: Alouettes +2.5.
Saskatchewan Roughriders @ Calgary Stampeders (-3.5, 45.5 o/u)
About the Roughriders (1-1 SU, 1-1 ATS, 1-1 o/u): Trevor Harris, who was a game-time decision due to a hip injury last week, threw for 428 yards and three touchdowns in his first appearance at Mosaic Stadium against the Blue Bombers. His favourite target was Samuel Emilus, who hauled in all three of those touchdown passes from Harris in a losing cause.
Shawn Bane Jr. has also emerged as a viable receiving option for the Riders after catching six balls for 125 yards in Week 2. He leads the team in catches (12) and receiving yards (161).
At Tuesday's practice, the Riders were without nine players who played last Friday against Winnipeg. Their injury report is quite extensive for only being three weeks into the new season. Bettors will want to monitor the team's injury report leading up to the weekend.
About the Stampeders (1-1 SU, 1-1 ATS, 0-2 o/u): The Stampeders improved their record to 1-1 with a 26-15 win in Ottawa against the Redblacks last Thursday night. Calgary fell 25-15 to BC in its season opener.
Strong defence led the way for Calgary last week, as defensive back Branden Dozier recovered a fumble for a score and linebacker Micah Awe turned in a big game with a sack and an interception. However, the defensive line has gone two games without recording a sack, so getting more pressure on the quarterback will be a priority for the Stamps in this one.
Dedrick Mills did his best last week to fill the shoes of one of the league's best running backs, Ka'Deem Carey. With Carey on the six-game injured list, Mills had 19 carries for 102 yards and a touchdown.
Just like the Riders, Calgary's injury report is also extensive. Receiver Reggie Begelton, who had eight catches for 141 yards last week, and receiver Malik Henry both didn't practice on Tuesday. This is a tough game to handicap with so many key players questionable to play on both teams.
Betting trends:
The under is 6-2 in the past eight meetings in Calgary.
The Stampeders are 7-20 ATS in their past 27 home games.
The under is 4-0 in Saskatchewan's past four road games.
Pick: Stampeders -3.5.
Toronto Argonauts @ Edmonton Elks (+6.5, 44.5 o/u)
About the Argonauts (1-0 SU, 1-0 ATS, 0-1 o/u): The Argonauts raised their Grey Cup banner at BMO Field last week with their hated Ontario rivals, the Tiger-Cats, watching on the sidelines. Toronto then responded with a convincing 32-14 victory over Hamilton in its season opener after sitting out the first week of the season with a bye.
Chad Kelly, the nephew of legendary Buffalo Bills quarterback Jim Kelly, rushed for three touchdowns and completed 14 of his 23 passes for 213 yards in the victory. With McLeod Bethel-Thompson leaving this winter for the USFL, Kelly is now the undisputed QB1 for the Boatmen after heroically stepping in to play a key role in last year's Grey Cup.
On defence, Toronto recorded two sacks and two interceptions while holding Hamilton to 340 yards of total offence.
About the Elks (0-2 SU, 0-2 ATS, 0-2 o/u): Different year, same story for the lowly Elks. Edmonton has started the season 0-2, picking right up where it left off as one of the worst teams in the league last year. And now the Elks have the daunting task of trying to put an end to their 18-game home losing streak against the defending Grey Cup champs. The last time the team won at Commonwealth Stadium was Oct. 12, 2019!
Edmonton was shut out 22-0 by the Lions last week. It's the first time the franchise has been shut out since a 40-0 defeat to the Saskatchewan Roughriders in 1976. Star receiver Eugene Lewis, who was only targeted three times in the loss, called the shutout "an embarrassment" and said "I don't feel like BC's defence really did anything to stop us from doing anything, we just didn't capitalize on opportunities."
Lewis only made one catch for nine yards last week and he now has six for 157 yards and a touchdown through two games.
Betting trends:
The Elks are 4-0 ATS in the past four meetings.
The over is 12-5 in the past 17 meetings.
Edmonton is 17-37 ATS in its past 54 home games.
Pick: Argos -6.5.