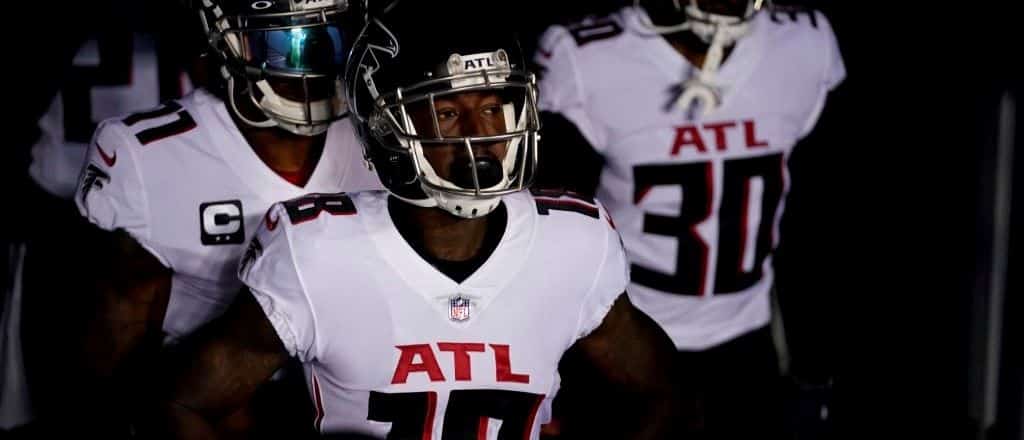 NFL wide receiver Calvin Ridley has been reinstated by the league following a yearlong suspension for placing sports bets on NFL games in 2021 while he was on a mental health leave from the team.
Ridley placed six wagers totalling $3,900 USD on or including Atlanta Falcons games while he was rostered on the team in 2021. After a thorough investigation by the league, he was suspended by the NFL last March 7 for at least the 2022 season. Ridley applied for reinstatement on Feb. 15, and was then cleared to return on Monday.
The Falcons traded Ridley to the Jacksonville Jaguars last November despite the wideout being suspended for at least the entire 2022 season. Ridley will now be able to suit up for the Jaguars in 2023. The team issued the following statement on Monday:
"The Jaguars organization is aware of the NFL's ruling to reinstate Calvin Ridley. We look forward to building a relationship with Calvin as both an individual and as a player. Calvin is a proven playmaker and we are excited to see him compete among and with his new teammates, first during our Offseason Program in April and ultimately into the 2023 season, as we collectively pursue a championship for Jacksonville."
Ridley's betting history
According to Sports Handle, Ridley placed his wagers using the Hard Rock Sportsbook app that first became available in Florida on Nov. 1 as an online extension of the Seminole Tribe's Hard Rock Casino. He also wagered more than $32,000 USD on other sports. Soon after his suspension was annoucned, Ridley admitted to placing some wagers on his Twitter account.
The 28-year-old had 248 career catches for 3,242 yards and 28 touchdowns in 49 games for the Falcons and he'll now get the chance to be a part of a blossoming Jaguars offence led by quarterback Trevor Lawrence.
"Today's reinstatement by the NFL brings an end to a challenging chapter of my professional career, one that was self-inflicted and began with an isolated lapse in judgement. I have always owned my mistakes and this is no different. I have great respect for the game and am excited for the opportunity to restart my career in Jacksonville. I look forward to showing my new coaches, teammates, and the entire Jaguars organization exactly who I am and what I represent as a player and person," Ridley said in a statement.
The Jaguars have +2500 odds to win the Super Bowl and shorter +1400 odds to win the AFC Championship next year at FanDuel.