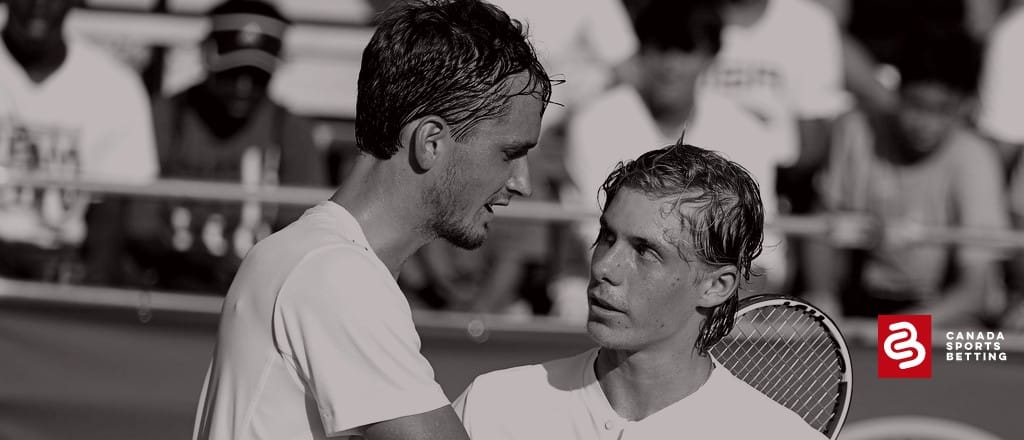 While the Indian Wells is underway, we look forward to the 2022 Miami Open taking place next week: March 21. Women's World no. 1 Ashleigh Barty and Men's World no. 2 Novak Djokovic will not participate though there is still plenty of star power. Three Canadians will notably be in the running: Leylah Fernandez in the WTA's side and Felix Auger-Aliassime and Denis Shapovalov in the ATP's. What are their latest tennis odds with our Miami Open 2022 picks preview?
The 2022 Miami Open will once again be held from the Miami Gardens on a hard court. The ever-popular tournament is one of the most prestigious outside of the four Majors and involves more than 64 players in the main draw that extends beyond one week.
Miami Open 2022 Betting Overview
Ashleigh Barty and Hubert Hurkacz are the defending champions though the former is absent and Hurkacz faces a tough field. Leylah Fernandez will represent Canada on the women's side as she looks to make a deep run in a field missing plenty of top players. On the men's side, Denis Shapovalov could return for the first time since his quarterfinal appearance while Felix Auger-Aliassime looks to improve on his third-round result last year.
WTA: Fernandez, A Longshot Despite Diluted Field
Leylah Fernandez will face considerable betting odds entering this tournament. She's fresh off a win with the Monterrey Open, her second WTA title. She has her best performances on the hardcourt although she did get ousted quickly in the Australian Open.
| WTA Outright Winner | |
| --- | --- |
| Barbora Krejcikova | TBA |
| Aryna Sabalenka | TBA |
| Iga Swiatek | TBA |
| Anett Kontaveit | TBA |
| Maria Sakkari | TBA |
| Paula Badosa | TBA |
| Karolina Pliskova | TBA |
| Garbine Muguruza | TBA |
| Emma Raducanu | TBA |
| Leyla Fernandez | TBA |
Among the players tentatively expected to participate, Fernandez has beaten the likes of Aryna Sabalenka, Angelique Kerber, and Elina Svitolina. She has lost to Barbora Krejcikova, who is expected to be the top seed in this tournament, Iga Swiatek, and Jelena Ostapenko.
Of the contenders, only Victoria Azarenka has won the Miami Open in recent years – a feat she did three times from 2009 to 2016. She hasn't been the same player thanks to a history of injuries and hiatuses. Ostapenko reached the 2018 Final and Karolina Pliskova was a finalist in 2019.
Svitolina and Maria Sakkari were also semifinalists last year. The Ukrainian, Svitolina, lost to the eventual champion Barty while Sakkari lost to Canadian Bianca Andreescu in a three-set war. Krejcikova is fairly new to the scene and reached the second round in last year's tournament. She's the no. 2 seed in the world and was the 2021 French Open champion.
Other players that may enter that could be worth a bet are Naomi Osaka and Sloane Stephens, who had quite the match in the current Indian Wells. Osaka was a quarterfinalist in last year's Miami Open while Stephens won the 2017 tournament though she hasn't been past the third round since.
ATP: Auger-Aliassime and Shapovalov Face Tough Odds
On the men's side, both Felix Auger-Aliassime and Denis Shapovalov should be close to each other in terms of their outright betting odds. However, Auger-Aliassime has been performing more consistently, and why we think he could break out and win a major this year with our ATP tennis outright picks. He can start by making a deep run in this tournament.
| ATP Outright Winner | |
| --- | --- |
| Daniil Medvedev | TBA |
| Alexander Zverev | TBA |
| Rafael Nadal | TBA |
| Stefanos Tsitsipas | TBA |
| Matteo Berrettini | TBA |
| Andrey Rublev | TBA |
| Casper Ruud | TBA |
| Felix Auger-Aliassime | TBA |
| Hubert Hurkacz | TBA |
| Denis Shapovalov | TBA |
Auger-Aliassime may have only started gaining recognition for his run in 2021, but it was in the 2019 Miami Open that he first broke into the public's consciousness. The then-18-year-old would make a run to the semi-finals, along with Shapovalov, where he would bow out to John Isner.
But Auger-Aliassime was a qualifier and had to beat the likes of Hubert Hurkacz, last year's champion, and 2020 US Open quarterfinalist Borna Coric. He would once again be eliminated by Isner in last year's tournament. The American won the 2018 Miami Open and was a runner-up in 2019. In hardcourts, he is a potential threat regardless of his seeding.
Shapovalov's Miami Open run has been identical to his Canadian compatriot. He too was ousted in last year's third-round against Hurkacz – who would also beat another Canadian in Milos Raonic. Speaking of the Polish pro, he is ranked no. 11 in the world and his best result in a Major has been a semi-final appearance in last year's Wimbledon.
At 25, Hurkacz's stock is going up as he has had some notable wins on hardcourts. He won three tournaments last year and was a semi-finalist in the Paris Masters. Some of his notable victories in recent years have come against top-five players like Andrey Rublev, Stefanos Tsitspias, and newly-minted World no. 1 Daniil Medvedev, who should be the favoured player here.
Medvedev won the 2021 US Open and Canadian Open and was a runner-up in the 2021 Paris Masters. But he has rarely played in the Miami Open and hasn't progressed past the first round in his 2018 and 2019 appearances. He has a winning record over most of the contenders on the list although Shapovalov has played him evenly: 2-2 in their four appearances.
Other contenders of note are Alexander Zverev and Jannik Sinner. Zverev has been making plenty of deep runs in prestigious tournaments including a 2018 Final appearance at the Miami Open. Last year's runner-up, Jannik Sinner, is another young prospect that is beginning to make waves. He was a quarterfinalist in this year's Australian Open and has wins over Zverev, Tsitsipas, and Hurkacz.
Milos Raonic will miss this tournament as he continues to recover from his injuries. His career may be in jeopardy as he hasn't been able to stay healthy.