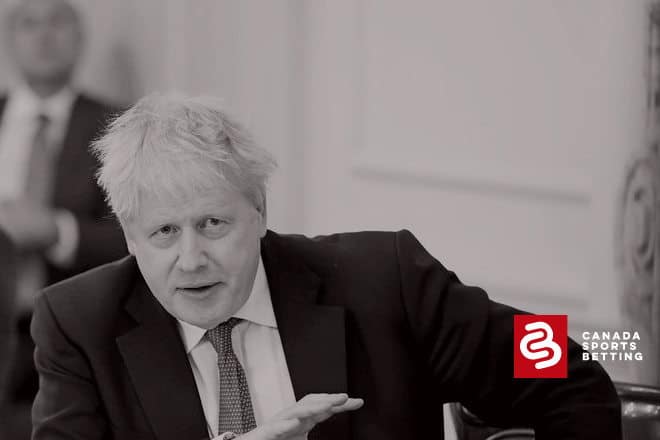 Let's have a look at the new UK Prime Ministre betting picks.
Things took another turn for the worse for UK Prime Minister Boris Johnson this week, so with his position under threat, we take a closer look at who could replace the beleaguered PM if his own Tory party decides to get rid of him.
Yes, it's groundhog day again in London, England, as UK Prime Minister Boris Johnson lurches from disaster to disaster.
What Has Boris Done This Time?
The latest revelation is that the PM – and his wife – attended a Downing Street garden during the height of the Covid-19 enforced lockdown when such gatherings were illegal.
The revelation is the latest blow to an already under-fire Prime Minister, and it now looks like only a matter of time before he is forced out of office by his very own Conservative Party.
Johnson's claim that he hadn't realized it was a party and that he thought it was a work meeting in the garden might get him off the hook for a while. But it probably won't save his skin.
The British public, by and large, isn't buying it.
And when Johnson's fellow members of the Conservative Party start worrying about losing their own seats (at the next General Election), they won't waste too much time getting rid of the person they fear is going to cost them their jobs.
There is currently an inquiry taking place into the alleged 'bring your own booze' bash.
But even if Johnson somehow manages to come out of that claiming he's done nothing wrong, he already looks to have lost the support of the British public.
The very people he needs on his side to win him a General Election.
So with Johnson coming under increasing pressure and looking like a dead-man-walking, who are the likely candidates to replace him?
Let's take a closer look.
Rishi Sunak @ 2.75
The current Chancellor of the Exchequer, Rishi Sunak is the betting favourite at 2.75 with PowerPlay.
Please take the time to read our PowerPlay sportsbook review.
Sunak holds what is regarded as the second most important job after Prime Minister, and his lack of public backing for Johnson has been quite telling.
He did half-heartedly tweet his support for his boss.
But he has not been heard vigorously defending his boss, which says it all really.
This smacks of Sunak taking a long-term approach, and that he wants Johnson's job.
He is keeping his distance because when Conservative members vote for a new leader, they will choose a person regarded as clean and not knee-deep in the PM's mess…. to put it politely!
Sunak is a clear runner in this market, and that applies to both in the short and long term – assuming Johnson somehow manages to hang on!
Liz Truss @ 3.75
Her official title is Secretary of State for Foreign, Commonwealth and Development Affairs of the United Kingdom, but to us common folk (not invited to garden parties), she's just known as the Foreign Secretary.
Truss is well-liked and respected in the Tory (nickname for Conservative) Party.
If it was just a straightforward popularity contest to be the next Conservative leader (and with it PM, as things stand), Truss would be a certainty.
The problem for Truss is that when a new leader is elected, her peers will be looking for the person who cuts through to the British public, more than who is a popular member of the Tory Party.
While Truss ticks one of those boxes, Rishi Sunak is probably more well known by the average British voter.
Truss definitely can't be ruled out though!
Michael Gove @ 8.00
Gove is the sort of person who opposition parties would dearly love to see put in charge of the Government, as they know he is the sort of person who gets under the skin of the British public.
Michael Gove may well be a very nice bloke, I don't know, as I've never met him. But he comes across as what we English would call pompous and irritable.
Opposition parties such as Labour would be rubbing their hands with glee if Gove got the gig. So I don't see it happening.
Jeremy Hunt @ 10.00
The first person in the betting who is currently outside of Johnson's inner sanctum, Jeremy Hunt would be classed as a safe pair of hands.
The non-offensive politician is no real fan of Johnson and went head-to-head with him in the last leadership election.
Hunt was pro-EU, and although that doesn't sit well with a lot of Conservative MPs, that ship has sailed. I'd also be staggered if any potential Tory party leader candidate stood on a pro-EU ticket.
<p">Depending on the mood of the nation when Johnson goes, could depend on Hunt's chances.
If the Tory Party suspects the public wants a clean break and a leader who wasn't part of Johnson's merry gang, Hunt may well be a good shot at political betting odds of 10. 
What of the rest?
Outside of those four candidates, you can name your price.
Lesser-known MPs such as Tom Tugenhat at 17.00, or Johnny Mercer at 34.00, could be worth a shout.
Although stabs in the dark, I do think they would be better valued than the likes of Dominic Rabb and Sajid Javid, both at 21.00.
It promises to be an interesting fight, and if pushed to back one, I would go for Rishi Sunak, with a little saver bet on Jeremy Hunt.
Check out our best Canadian Sportsbooks Reviews page for my great betting offers that can be used on sports and politics.