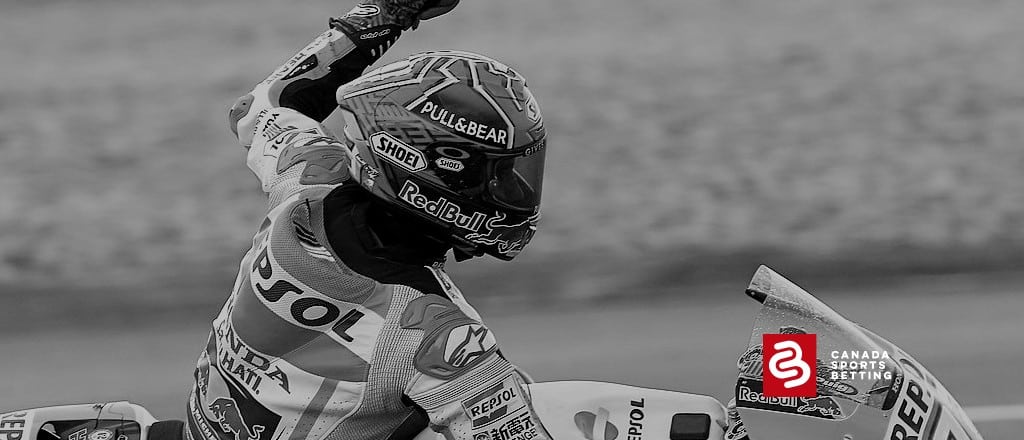 Marc Marquez goes into the new season as the betting favorite to win a seventh MotoGP World Championship crown, here we check out his chances.
The 2022 MotoGP season gets underway in Qatar this Sunday, and Spain's Marc Marquez is back. He's the bookmakers betting favorite to win his seventh – and what would surely be most spectacular – MotoGP world title.
The last time the Spaniard won was in 2019, which was the last of his four titles in a row, and sixth in total.
In the two following years, Marquez has been beset by injuries, which have prevented him from contending for the titles won by Joan Mir (2020) and Fabio Quartararo (2021).
This year Marquez is back. He's fighting fit, and ready to go, and in the latest MotoGP betting odds, he is the 2.37 favorite to win the title.
How to bet on MotoGP
There are plenty of betting options when it comes to MotoGP. In futures, you can bet on the winner of the world championship, and also on who will finish in the top three.
Also in the futures markets, you can bet on the constructor's championship. This is a bet on which team will get the most points across the season.
In individual races, it's possible to bet on the winner of each race, and also the winning constructors.
Another popular bet is to finish on the podium, also known as a bet on finishing in the top 3.
Make sure you pay a visit to our online betting bonus offers page. Using these bonus offers, you can bag yourself hundreds of dollars of bonuses, and these can be used on long-term markets, meaning you're not tying up your hard-earned cash for months on end.
These bonus offers are also great to use for placing bets on long-shot speculative riders, that you might not want to risk cash on.
Marc Marquez; Finally injury-free, can he reclaim the world crown?
The news that Marc Marquez is back fit and firing is great for MotoGP fans. The Spaniard has been cleared of Diplopia, and his shoulder injury has also healed up. His return to testing earlier this month saw his odds dramatically cut to 2.37 betting favourites.
Across the previous two years, Marquez just hasn't got going. The injury he suffered in 2020 at Jerez kept him out all season. Problems arising from the injury hampered him last year, and along with other niggling issues, meant his season never really took off.
Marquez has now finally got a clean bill of health. So can anybody prevent the Spaniard from winning his seventh world title?
If Marquez can stay fit and healthy, then I can see him winning his seventh title. Is he good value at 2.37 is a fair question though?
Whether he is or he isn't, he can't be ignored and I would have no problem betting on Marquez to win the 2022 MotoGP World Championship.
Now, let's take a look at his main rivals, starting with defending champion, Fabio Quartararo.
Fabio Quartararo @ 5.50
In 2021, the Frenchman finally broke the nine-year winning streak of Spanish riders when he comprehensively won the world championship.
Despite winning last season's title by 26 points from Italy's Francesco Bagnaia, Quartararo is the third favourite in the betting at 5.50.
Quartararo's Yamaha team hasn't had the greatest record in recent years. Last year's title was their first since Spain's Jorge Lorenzo won the title for them back in 2015.
At 5.50, the Frenchman is good value if you think he can win back-to-back titles. I'm struggling to see it happening myself.
Check out our Sportsbooks Reviews page for more great betting bonuses for new customers. These offers can be used on MotoGP betting throughout the season.
Francesco Bagnaia @ 3.00
The next rider I'm looking at is the aforementioned Francesco Bagnaia. The 25-year-old enjoyed his best season last year and has to be taken seriously again this time around.
Riding for the Lenovo Ducati team, Bagnaia is the second favourite at 3.00.
This will be only his fourth full season in MotoGP. Before last season's breakthrough, Bagnaia finished 16th in 2020, and 15th in 2019.
Working on that trajectory, could this be the year he gives Ducati their first title since Casey Stoner back in 2007?
What of the Rest?
Bagnaia's Ducati teammate Jack Miller is next in the betting at 17.00, the same odds as Jorge Martin.
Miller is an interesting bet though. The Ducati is competitive, and Miller is improving every year. Last season he finished fourth, and this will be his eighth season in MotoGP, so he has the experience and know-how
As for Jorge Martin, this will be the Spaniard's second full season in MotoGP. He has the feel of a future world champion, and can't be ruled out of this season's championship race.
If pushed for an outside pick to challenge Marquez, I would have to go for Jack Miller though.
The timing just seems to suit the Aussie better than Martin. He's experienced enough, and he's on a competitive bike, and I can see him breaking the top three this season.