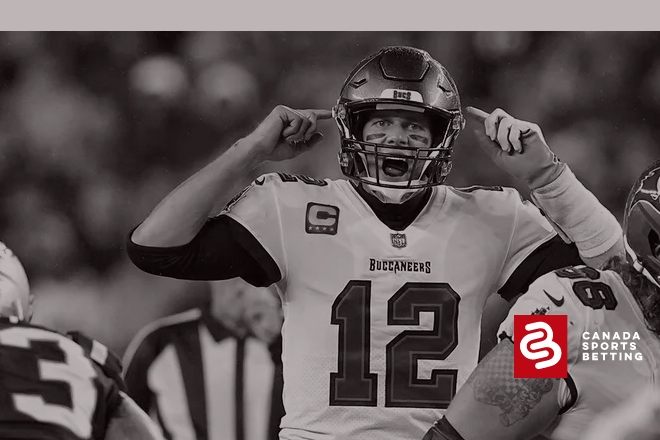 The NFL blesses us with three more playoff games as the first round continues. Tom Brady's defense leads our Sunday, January 16th Super Wildcard Picks.
Super Wildcard Weekend Continues
Super Wildcard Weekend continues on Sunday. This breaks down the three games on Sunday. That's correct. The game continues from early in the afternoon till almost midnight Eastern Time. At Canada Sports Betting, we bring the heat with the Sunday NFL picks for January 16th.
NFL Super Wildcard Sunday Picks
As mentioned above, there are three matchups to take a look at on Sunday. The Sunday action starts at just after 1:00 PM ET. First is the #2 seed Tampa Bay Buccaneers entertaining the #7 seed Philadelphia Eagles. After that is the late afternoon contest between the #3 seed Dallas Cowboys and #6 seed San Francisco 49ers. nightcap which expects to feature a ton of fireworks. The #2 seed Kansas City Chiefs go up against the #7 seeded Pittsburgh Steelers at 8:15 PM ET.
The Super Wildcard weekend Sunday picks expect to feature lots and lots of twists and turns. One never quite knows with these games. It is time to wager a few more dollars. Let's examine some of those NFL numbers.
NFL Super Wildcard Sunday Numbers Style
Now, let's peek at those numbers for NFL Super Wildcard Sunday. The Super Wildcard Sunday has three games below on the betting table.
There are some incredible Sunday NFL betting sites at one's disposal this Sunday. Go take a look at some of the numbers and get your best picks in.
Tampa Bay Buccaneers over Philadelphia Eagles – The Early Sunday Game
The opening postseason game of Super Wildcard Sunday features the Tampa Bay Buccaneers and the Philadelphia Eagles. It has been quite the season for both teams. But, the Philadelphia Eagles needed a little help to ensure their trip to the postseason. Jalen Hurts and the Eagles won six of their final eight postseason games to squeak into the playoffs with a 9-8 mark.
The Tampa Bay Buccaneers won the NFC South behind Tom Brady, Rob Gronkowski, and a defence that excelled at playing downhill. It was ugly at times but Tampa Bay went 13-4 to win the division. Tom Brady, at 44 years young, threw for 5.316 yards, 43 touchdowns, and just 12 interceptions.
His partners in crime were Chris Godwin and Mike Evans. Both receivers went over 1,000 yards and combined for 19 touchdowns in all. If that was not enough, even Gronkowski topped 800 yards with six more touchdowns. Brady even made Leonard Fournette a threat with more than 1,300 yards from scrimmage. There are a lot of targets who the seven-time Super Bowl Champion can throw to.
Philadelphia got to the playoffs simply by winning the games they needed too late in the season. Can Jalen Hurts and the offence keep up with Tampa Bay? In their previous meeting, Tampa Bay went up to Philadelphia and showed they were the defending Super Bowl Champions in a close 28-22 contest Hence with home-field advantage, take Tampa Bay on the moneyline Sunday versus the Philadelphia Eagles. 
San Francisco 49ers over Dallas Cowboys
The Dallas Cowboys and the San Francisco 49ers battle for the first time in a long time in the playoffs. Sunday evening's winner has the fortune of not playing against the Green Bay Packers in the next round. This game boils down to can Jimmy Garoppolo and the 49ers offense keep the Dallas offence off the field long enough. Also, how does Dak Prescott handle the playoff atmosphere in Dallas.
It almost is that simple. Few wide receivers can scare a team quite like Deebo Samuel when he is on his game. The San Francisco wideout racked up almost 1800 yards and a combined 14 touchdowns. Besides, Samuel, there is a healthy George Kittle and Brandon Aiyuk for Jimmy Garoppolo. Elijah Mitchell's ability to run may catch Dallas by surprise too. Now, there are always some quality free sports picks this 2022 but that is not the focus here. 
That also means the Dallas Cowboys will have to control the ball and hold on to it. Dallas has the best offence but the league's best offence in terms of points allowed. Dak Prescott has to manage this game and not let it get away from him. Much like he did all season. Prescott just has to make the throws needed while letting Ezekiel Elliott and Tony Pollard run behind that offensive line. The concern is that San Francisco's defence can slow down the run and force Prescott into mistakes like Arizona did in Week 17.
Deebo Samuel and the San Francisco 49ers are our pick for this Super Wildcard Sunday pick over the Dallas Cowboys. 
Also, remember to look at these Canadian online betting bonus offers to get more for your dollars.
Kansas City Chiefs over Pittsburgh Steelers
The final matchup of Super Wildcard Sunday picks features the Kansas City Chiefs and Pittsburgh Steelers.
Kansas City, behind Patrick Mahomes and their revamped defence, went 9-1 over the final ten games which makes them again one of the favourites to get to the Super Bowl. While Ben Roethlisberger and the Pittsburgh Steelers are a feel-good story, Kansas City just possesses too many weapons offensively and defensively at home
Take the Kansas City Chiefs over the Pittsburgh Steelers on Sunday night in a game where the Chiefs could easily win by double digits.