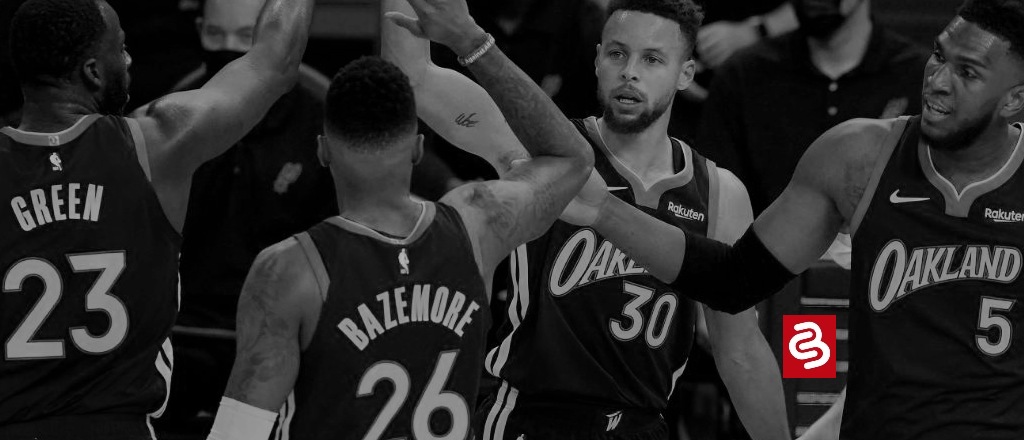 So, if you don't know which top future bets to look at on Friday. Ideally, you should read this because we've done the research and selected the very best NBA future outright bets of April 22. The best part is they're all yours — for free!
First, let's look at the table as of Friday morning.
Phoenix and Golden State Lead the NBA Futures
The Phoenix Suns and Golden State Warriors are still lead the NBA Futures to come out of the West and win the NBA Title (likewise, their NBA online betting odds to win the league have shortened too). Honestly, we're riding the Golden State momentum going into the weekend. Why? This is because Golden State is the healthiest they have been all year and can turn it on like few championship teams can.
That rout came in the form of another 20-point triumph. This game allowed Golden State to rest some of its top players for the trip to Denver for Games 3 and 4. At press time, the Warriors have not been challenged and yes, injuries can happen, but there is little that the Nuggets can do which seems to even phase Golden State at this point. The Warriors can let loose and either beat you with offense or defense or both. It's a scary proposition when all parts of this team are mostly operational.
So, Phoenix has a little bit of a problem. The feared injury bug hit but not to who many expected. Chris Paul is fine but Devin Booker has a mild hamstring sprain. The likelihood is that Booker is out for Games 3 and 4. However, he has not been completely ruled out yet. There was an overall trend in the top NBA future bets with Phoenix seeing shrinking numbers. With the injury and a young, chippy New Orleans team, some uncertainty might creep in.
Expect New Orleans not to be intimidated by Phoenix, especially now. This is where that series gets more intriguing. What should have been a four maybe five-game series has the look of something different now. That is unless the Suns find a way to match the tempo of New Orleans and counter with their own game. The difference between Phoenix and Golden State is that Golden State adapts better. Golden State is our pick.
Boston Another Top NBA Future Bet for the Outright
To no one's surprise, life with fewer expectations has not been that bad for the Boston Celtics. The Celtics won 51 games during the NBA season and even went 25-5 at one point over their final 30 games that mattered (Milwaukee game was a rest game). Boston kept Brooklyn mostly at bay during Game 1. The Celtics absorbed a furious Nets first-half charge in Game 2. But rather than jumping on Brooklyn to come back, we are riding Boston for one of our top NBA Futures Bets for Friday.
Why? Because we do not see Ben Simmons making enough of a difference for Brooklyn if and when he plays in this series. Boston, even without Robert Williams, seems to have all the answers. Boston averaged nearly 112 points per game during the regular season and gave up 104.5. They ranked as the best defensive team in terms of points allowed and second overall when it came to defensive pace. Guess what wins championships still? Defense with some timely offense. Boston possesses both.
Worse, the injury to Williams may have helped some teams sleep on Boston a bit. Their value at 6.67 could move depending on the West teams and Milwaukee. If Miami and Philadelphia shorten a bit given Philadelphia has a 3-0 lead and how good Miami has looked, that may help Boston gain even more value. It might not. However, one thing is clear. Boston's hot second half is not a fluke. They are a team to be reckoned with. The fact that Williams could be back in a few weeks helps Boston that much more.
The idea for us is to place a small wager on Boston here. Also, they can make us a bit more money than even Golden State. There is a lot to like as Boston should be able to survive through Round 1. Also, we at Canada Sports Betting give, them a better chance at the outright too. Honestly, they are worth this top NBA Futures Bet for Friday.
Any Longer NBA Outright Top Future Bets?
One needs to be aware of how Memphis bounced back in Game 2. With the doubters getting loud after Game 1, the Memphis Grizzlies roared in Game 2 to a 124-96 rout over the Minnesota Timberwolves. The outcome was never in doubt either as the Grizzlies asserted their balance. Ja Morant and company put the foot on the pedal from the opening tip. Memphis is one of the better NBA Playoff Betting Odds choices for a reason.
That's why outrights tilt to Memphis. At one point, the Grizzlies' depth went 18-2 without their All-Star Morant in the lineup. They are one of the only teams to have an offensive and defensive rating both in the top five in the league. Their pace is third best in the NBA. The Memphis Grizzlies have the youth combined with a dash of experience to make a deep run even in a crowded Western Conference.
The smart play is just to run with the Suns in Game 2 to win this game on the moneyline. The spread just seems too high and it really could move up to 10 or even 11 before game time. That is a concern when it comes to Phoenix. That being said, the over is more enticing if it stays between 220 and 222. The Memphis Grizzlies at 14.95 remain one of top value NBA Future bets on Friday.
Now, Do Not Forget
The weekend is here NBA fans and bettors. Go check out some of the top-rated NBA betting sites below.