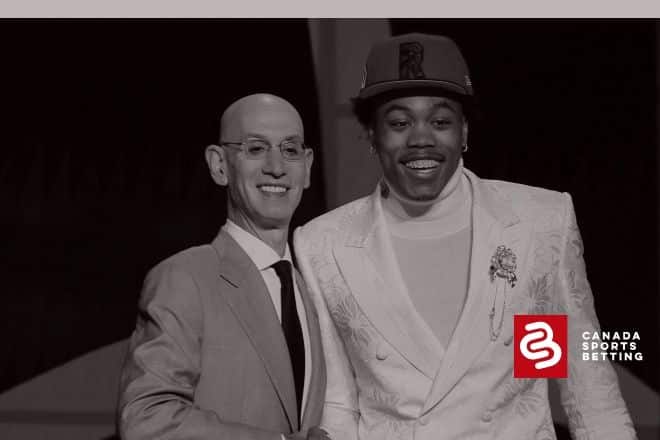 It is hard to believe we are more than a month into the NBA season. Here are some rookies to look at and our pick for NBA Rookie Of The Year.
The 2021-22 NBA Futures sure have seen a lot of excitement. As the weather starts to get colder and colder, the NBA action heats up more and more.
So, let's bet on another one of those awards. This time, we take a look at the NBA Rookie Of The Year award, spotlight a few targets, and then reveal our pick. These first-year NBA talents face enough obstacles in a typical season. When one adds COVID into the mix, that increases the amount of drama. Here at Canada Sports Betting, we. start to wade through some of the numbers this week.
The best Canadian located NBA betting sites had some less than ideal numbers for Monday so we went in a differnet direction. Let's take a look at some of the top rookies and how they are doing in the early going. Here is our NBA Futures update taken as of November 21st.
2021-22 NBA Futures: Scottie Barnes Now Tops Rookies
The NBA Futures for Top Rookies did see some changes. The most noticeable movement came from Scottie Barnes of the Toronto Raptors. Barnes has gotten off to a nice start. He is averaging 16.3 points per game along with 8.3 rebounds per contest. For those wondering, Barnes entered fifth in the race at 11.00 and his odds have shortened as low as 3.25.
Toronto spotlights the power forward well. He is playing 35.5 minutes a game and does not look the least bit winded. Barnes shoots at an effective 51.2% while making 79.1% of his foul shots. Those are solid numbers especially with how well he has meshed with the Raptors. The rookies has topped 20 points a total of four times including a season-high of 25 against the Boston Celtics. That game was in Boston too. Barnes also had 13 robounds in that game.
Barnes has shown an ability to distribute the ball a bit. He had four assists six times in a row at one point. The question is this. Can a power forward like Barnes help the Toronto Raptors make the playoffs? Toronto might be a bit of a longshot but there are some great NBA Playoff Betting odds on the table.    
The power forward has been fun to watch no question. His half-court game has improved immensely from the summer leagues. Just the fact that Toronto trusts him with the playing time he sees is a great sign. Now his +/- has been a bit of a mixed bag but the Raptors are a team that can struggle offensively so it is less of a surprise.
Scottie Barnes Our Pick to Win Rookie of the Year
Hopefully, bettors got in on the ground floor when Barnes was around 11.00 to 13.00. However, in the early going, the Raptors' rookie has shown he is the head of the class. Hence, our pick to win for top rookie is Scottie Barnes.
While wagering on this award, why not take a look at some of those NBA Free Picks and Predictions too.
So What About Evan Mobley Among the Top Rookies?
Again and again, the NBA Futures will change. Evan Mobley is no exception as he started out fourth and is now nestled just behind Scottie Barnes. Mobley watched his odds shorten from 7.00 down to around 3.50.The Cleveland Cavaliers talent was always going to get a good deal of the spotlight. However, his biggest surprise was the amount of minutes he saw early. Now, he keeps playing around that 33-34 minute per game mark.
Mobley shoots a solid 49.4% fron the field and 77.1% from the foul line. The power forward, much like Barnes has been pretty good defensively. The only slight concern is that Mobley will miss the next few weeks due to an elbow injury. He could be back as soon as the end of the month, however.
The power forward averages nearly 15 points per night and eight rebounds per contest. His season-high 26 points came in a huge win over the New York Knicks where he had nine rebounds and five assists. Mobley showed a nice presence and thrived in the spotlight of Madison Square Garden. The atmosphere fed his 11-15 shooting performance.
It will be fun to see how Evan Mobley bounces back come December and beyond for Cleveland.
A Rookie Of The Year Futures Longer Shot Maybe?
So, the Rookie of the Year Futures will continue to be a wild ride. It will be a fun one considering once upon a time Barnes and Mobley had longer odds. Several names kept popping up and some of the original favorites have seen their odds lengthen enough.
However, Josh Giddey is becoming an interesting wiildcard. Giddey was drafted sixth overall by the Oklahoma City Thunder. He hailed all the way from Melbourne, Australia. The point-guard can dish the rock however. He has nearly six assists, ten points, and seven rebounds per game. His height and reach make him a solid defensive contributor as well.
There are some concerns like that 38.4% shooting percentage but so many parts of his game have improved so much. Giddey shows a calm presence on a young Oklahoma City team that is much needed.
Josh Giddey is still getting 19.00 odds in some places and that is intriguing enough to put a few dollars on, perhaps. 
There are plenty of sportsbooks to wager on all things NBA as the holiday season approaches.