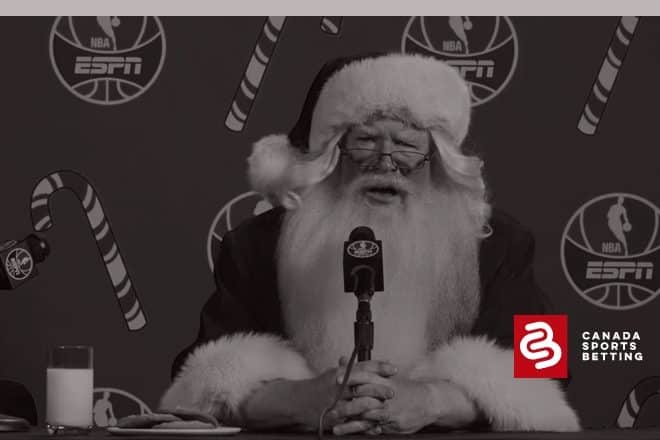 It is that magic time of year where we open up presents and watch sports. That makes perfect sense. Let's make a few bucks with the Christmas NBA Picks.
There were rumours that Santa Claus was very good to us this year at Canada Sports Betting. It has been lots of fun bringing good tidings, cheer, and of course this edition of Christmas NBA Picks. Currently, there are five basketball games on this slate. The good news is none have been postponed yet.
One of the best things the NBA does is how they stagger their Christmas games. They start at Noon ET and go until after Midnight. It is a nice luxury to be able to watch one contest at a time. Heat up the food, enjoy some dessert, and wager on some basketball. It all goes together.
The evening game features two of the best teams in the league (Golden State versus Phoenix). The primetime game comes from Los Angeles as LeBron James and Kevin Durant do battle (Brooklyn-Los Angeles). Finally, the nightcap features Dallas and Utah and one of the best home teams in the NBA.
It has the feel of a nice, spread-out Saturday watching a round, orange basketball and of course perusing some of the best NBA betting sites to maximize one's wagers.
Christmas Numbers Glistening NBA Style
Ah, it really is the most wonderful time of the year. The Christmas numbers just seem to glisten off the NBA pages. These Christmas NBA Picks were just eye-catching. The goal for this holiday was to take a fast look at three of the games.
While the Golden State Warriors and Phoenix Suns were the main events that got us hooked, bettors should know there is some value in that Brooklyn-Los Angeles game and maybe even easy money with Utah in the nightcap.
Let's peer into those numbers for Saturday, December 25th, 2001.
Also, there are some great free NF betting picks on Christmas to be had as well.
Christmas NBA Picks — Golden State over Phoenix
The Christmas NBA Picks begin with a bang err one huge matchup. That is no misprint. The two best teams in the NBA face off against each other as the Golden State Warriors play the Phoenix Suns from Phoenix. At press time, these two teams combined for a mere 11 losses on the season. These are teams that can rip off seven-plus game-winning streaks like it's nothing. They are both that good.
Phoenix and Golden State do it in slightly different ways, however. Phoenix has a solid defence in their own right but their offence sets up their defence. Golden State is the team that likes to isolate and can play defence in a multitude of ways. It is why the Warriors lead the league in points allowed at 101. It does not hurt to have a tenacious Stephen Curry leading the way. Golden State is not even fully healthy yet though that is coming.
Phoenix can match possession for possession with a team like Golden State because of their balance. Eight guys average in double-digits for the Suns and they have one of the best passers in Chris Paul. Paul can set anyone up and with Devin Booker leading the way on both sides of the court, the Suns have proven last season's run to the Final was no fluke.
The home and home between the two teams told only part of the story. Phoenix, at home, attacked Golden State hard and was able to weather their runs. At Golden State, they just could not keep up and were blown out. The thought process rides on the stage. It is Christmas. Both teams are relatively healthy all things considered. Golden State's defence bucks a few trends including the Phoenix 15-2 home mark and is our top pick Saturday over the Phoenix Suns.
Brooklyn Nets over Los Angeles Lakers
The biggest question in the Brooklyn Nets-Los Angeles Lakers matchup may just be who plays for Brooklyn. How many players can overcome COVID protocols to play? It is partly why the numbers are a little torn as to what direction they may pivot. The times of the games on Saturday may be an issue as well, particularly for a game like this.
The Nets had nine players in the protocol at one point. Also, they may get a bit more rest if Thursday's game in Portland is postponed as well. There is a chance by Saturday, a bunch of these players could come back. It also does not seem likely this game gets postponed but it is worth it to keep an eye out anyway.
If the game goes as expected, strength on strength is where Brooklyn excels. They are 21-9 and gradually improving week by week. The Los Angeles Lakers even with LeBron James (watch the ankle) are meandering around .500.
Simply, the Nets are itching to play and make a good pick at plus-money on Saturday.
Utah Jazz over Dallas Mavericks — Book IT!
Our CSB "Book IT" lock is the Utah Jazz over the Dallas Mavericks. It is the final game of the night and Utah's balance and defence bely the top offence in the league at over 115 points per game. They can play it ugly or can run up the score. Dallas just does not have those extra gears.
Take the Utah Jazz to run away late over the Dallas Mavericks on Saturday.
It will be essential to keep up on the latest sports betting news for this weekend's action.