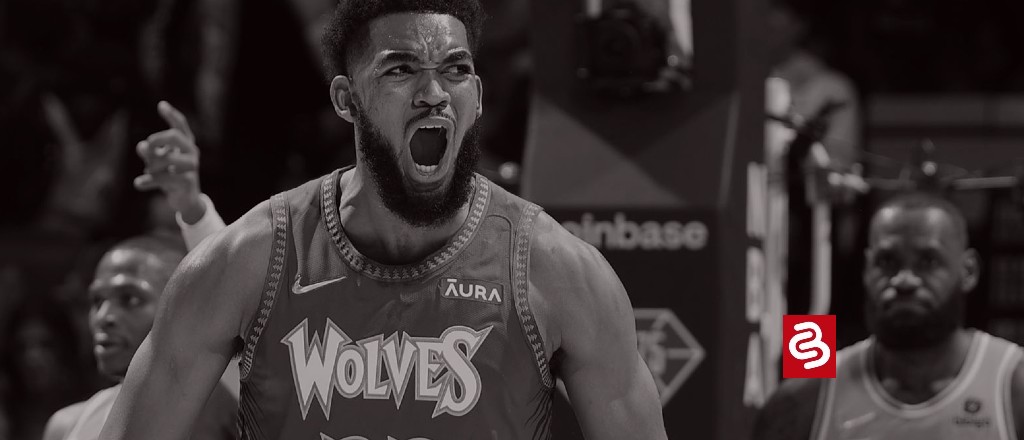 Against The Spread: Los Angeles Lakers at Minnesota Timberwolves
Let's begin with the Lakers-Timberwolves spread, which is set at eight points by the best online sportsbooks in Canada. Both teams are going in completely opposite directions as of late — LA are losers in eight of the past ten games, whereas Minnesota has won eight of their last ten. The recent stretch has the T-Wolves threatening for a top-four seed in the Western Conference (and home-court advantage in the first round), while the Lakers could realistically miss the postseason entirely if they don't snap out of it.
Our immediate inclination is to bet against LA. It's been a successful strategy for bettors given the Lake Show have also only covered twice in their previous 10 matchups. The only thing that could save the Lakers' season at this point is getting back a healthy Anthony Davis, which is a rarity. Davis is expected to begin practicing with the team soon but will miss Wednesday's game and a one-on-one matchup with Karl-Anthony Towns.
Speaking of KAT, he's fresh off the game of his career on Monday, dropping a 60-point whopper on the lowly Spurs. The performance came on the two-year anniversary that his mom was admitted due to the hospital for COVID-19, which would end up taking her life. It was a gutsy performance by KAT, but likely also a physically and mentally exhausting one. We have a feeling there's going to be a "hangover" of sorts for Minnesota's best player, which might be enough to let the Lakers hang around and cover the spread.
Over/Under 225.5 Points: Chicago Bulls at Utah Jazz
Where oh where has the Bulls' defence gone? It's been MIA during the past three weeks, which is the main reason Chicago has dropped six games out of the last eight. In each of those defeats, the Bulls allowed the opposition to score at least 112 points. That trend spells doom against a Jazz team that's one of the most efficient offensively, but it also spells an opportunity for bettors taking the Utah-Chicago over/under.
In most major offensive metrics, Utah ranks in the upper echelon among NBA squads. The team averages 113.8 points per game (sixth-best in the league), but what's more impressive is their 55.7 effective field goal percentage (ranked first) and 59.1 true shooting percentage (also first). Donovan Mitchell is the lynchpin of that attack and had success vs. Chicago in the two's only meeting this season. Mitchell went off for 30 points, but the Bulls won 107-99 at home in late October.
Alex Caruso recently returned to Chicago's lineup so that aides its defence, but they won't be complete until Lonzo Ball and Patrick Williams return from injuries. We fully expect the Jazz to score with ease on their home floor, which should help this game enter over territory.
Against The Spread: Milwaukee Bucks at Sacramento Kings
Over the last month, Milwaukee's played a murder's row of a schedule. They've essentially duelled against every title contender at top-rated NBA betting sites. That includes games vs. Philly, Brooklyn, Miami, Chicago, Phoenix, Golden State, and Utah. They are 4-3 in those contests but do get a "gimme" game against Sacramento. The Bucks' nine-point spread in this game is one of the biggest of Wednesday.
We think Milwaukee's strength of schedules actually helps their cause in this game. They've played the toughest stretch of games yet and find themselves two games back from the conference's number one seed, which is occupied by the Heat. There's no way they're letting up now — not when they're that close to one and that battle-tested. All things considered, we're hammering the Bucks to win this road game in blowout fashion.
Over/Under 220.5 Points: Boston Celtics at Golden State Warriors
Draymond Green returned to the floor for the Warriors last time out, which means all the defensive woes that plagued the Dubs during his two-month absence are fixed right? Well, not quite. Green is still getting back into game shape. In his first outing back, he logged just 20 minutes. Don't expect to see Green at full strength versus the Celtics, which could mean this game has over potential.
Boston comes to town and here's a team that's finally hit its stride. Since the start of 2022, the C's have gone 24-9. Leading the way has been Jason Tatum, who is averaging a team-high 26.8 points, 8.2 rebounds, and 4.2 assists in that span. We expect Tatum's superstar transformation to continue Wednesday, especially against a still-leaky Golden State defence that only has Greenback in a limited capacity.
How To Bet On NBA Today?
Moneyline bets, spreads, over/under — dozens of those bets are available to bet on NBA today. To get all these NBA odds in one place, visit one of the Canadian betting sites underneath. They have you covered with bettor-friendly prices on NBA games from now until the NBA Finals come June.