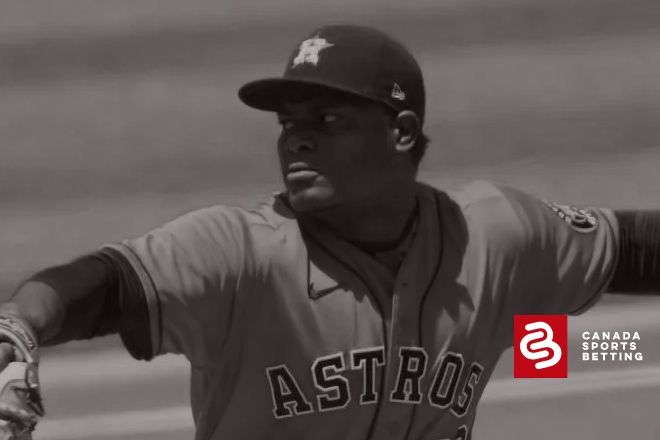 The Houston Astros open Game 1 of the World Series at home against the Atlanta Braves. At Canada Sports Betting, we give you our best bet Tuesday night.
The Houston Astros and Atlanta Braves face off in Game 1 of the World Series on Tuesday night just after 8:00 Pm ET. We give our MLB pick for this opener of the Fall Classic.
Tuesday night's World Series Game 1 will feature a little of everything. As always, at Canada Sports Betting, our featured pick will be at the end. In around a week the 2021 MLB season will be over. That seems so hard to believe and yet here we are.
Both teams have bounced back in the World Series odds. The best of seven features two teams that have fought tooth and nail to get where they are.
World Series Odds Game 1: How The Numbers Roll?
The Houston Astros have made deep runs in the playoffs before. They have been in a couple of world series over the past five years including five straight ALCS appearances. The Atlanta Braves have not made the Fall Classic since 1999. They won their only title in 1995. Talk about a time warp.
Game 1 sees some intriguing numbers and not quite what one may expect. It appeared that Houston after coming back from down 2-1 and all but out would have shorter odds. They are not. however. Maybe this is because the Atlanta Braves disposed of the Los Angeles Dodgers the way that they did. Atlanta played the Dodgers' game and excelled. Simply put.
Here are those numbers and still they do offer a little bit of value perhaps heading into Tuesday night.
| 2021 World Series Game 1 Odds – 10/25 | Spin Palace Sports | 10Bet | |
| --- | --- | --- | --- |
| Atlanta Braves | 2.10 | 2.10 | 2.15 |
| Houston Astros | 1.76 | 1.74 | 1.70 |
The betting odds for Game 1 favour the Houston Astros currently.
The Road For Houston and Atlanta to the World Series
It had been no easy road for Houston and Atlanta as they advanced to the World Series. Both have faced their level of adversity, particularly in their respective Championship Series. The Houston Astros advanced pretty easily past the Chicago White Sox in four games (ALDS). Houston controlled that first round except for Game 3.
Then, there was the ALCS. Houston battled through a shaky Game 1 and held on to win. Games 2 and 3 saw Boston bash their way to a lead. After that, the Houston Astros' offence struck back with a vengeance. Their pitching came up time again and again. The Astros won three straight games and advanced to the Fall Classic.
Atlanta Didn't play an extra game
Atlanta had a similar sort of road not having to play an extra game. They lost a close one to Milwaukee in Game 1 of their NLDS. Then they proceeded to win four straight contests. After advancing to the NLCS, they had to face the Los Angeles Dodgers — the team that eliminated them in 2020.
At first, Los Angeles looked to be more than up to the task but two walk-off game-winning hits changed the complexion of that series. Eddie Rosario was the star. His three home runs and nine RBI's are a huge reason why Atlanta was able to defeat the Los Angeles Dodgers in six games. His three-run home run in Game 6 turned out to be the series clincher.
It is why the MLB Playoff Odds can be considerably chaotic.
Now, how about the World Series? It is the greatest question. Both teams have excellent pitching and balanced offence. Let us look at who potentially has an edge.
World Series Game 1: Who has the EDGE?
This is not the easiest thing to gauge but the first game of the World Series has a few constructs worth considering. For one, the Houston Astros have home-field advantage and are so good at home. Look at how Atlanta jumped out at home for example in the NLCS. Those two walk-offs were crowd-fed.
Houston made deep playoff runs again and again. They are in the World Series for the third time in five seasons. The experience does indeed mean something. Just ask Jose Altuve, Dusty Baker, and other members of the Astros that question. The answer one gets is the same. Playing like one has been there before is easier when you are.
Valdez vs Morton
Look at the Game 1 pitching matchups real fast. Framber Valdez goes up against Charlie Morton. Valdez was roughed up by the Chicago White Sox in the ALDS. However, the starter adjusted and came back with two good starts in the ALCS against a lethal hitting Boston team. His 2.53 ERA over 10+ innings was more than respectful.
Now, Charlie Morton has experience (14 seasons compared to Valdez's four). On the other hand, Morton has allowed six earned runs in 14 2/3 innings pitched. That included his start against Los Angeles where he walked six batters. That has to cause concern for Atlanta and almost glee for Houston.
Houston has to be considered a favourite for Game 1 based on that alone.
Houston Astros and Atlanta Braves Game 1
It is intriguing how the numbers have ranged for the first game of the World Series. Game 1 shows Houston as a favourite ranging from 1.7 to 1.8. That is in the realm of being only a slight favourite. The reality may be that the Astros are more of a favourite than they appear. Is Atlanta being sold too hard?
Atlanta has not even hit the 2.2 mark in terms of being an underdog yet and they may not here. Game 1 expects to feature a lot of Houston's balance. They have firepower offensively that is not just timely. This should make a difference along with their slightly more consistent pitching.
Our World Series Game 1 Pick
The Houston Astros are our pick to win Game.1 of the World Series.
Sportbooks have been bringing great numbers all postseason long. Check them out.