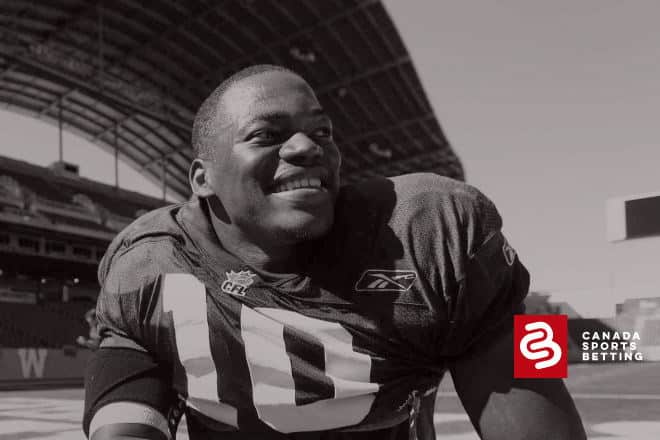 Toronto Argonauts linebacker Henoc Muamba is a 2.60 betting favourite to win the CFL's Most Outstanding Canadian Player Award for the 2021 season. He also won it for the 2019 CFL season. Muamba was playing for the Montreal Alouettes when he captured the honour in 2019. The last player to win successive Most Outstanding Canadian Awards was Calgary Stampeders running back Jon Cornish. He won it three years in succession from 2010-12. Let's have a look at the betting picks.
Most Outstanding Canadian Player Betting Preview
Toronto Argonauts linebacker Henoc Muamba is 2.60 betting favourite to win the CFL's Most Outstanding Canadian Player Award
Muamba also won the award in 2019 while playing for the Montreal Alouettes
He is seeking to be the first player to win the award in successive seasons since Calgary's John Cornish (2010-12)
Henoc Muamba is seeking to go where no player in CFL history has gone before. In league history, no defensive player has even won the Most Outstanding Canadian Award in successive seasons.
Playing for the Montreal Alouettes, linebacker Muamba was named Most Outstanding Canadian in 2019. COVID-19 then wiped out the 2020 season. In the meantime, Muamba joined the Toronto Argonauts. Even with a new season and a new team, Muamba is still viewed as the Canadian to beat.
Online sportsbook Bet99 is listing Muamba as the 2.60 betting choice to be the CFL's Most Outstanding Canadian in 2021. If he does accomplish this feat, Muamba will be just the sixth player to win the award in successive seasons. Calgary Stampeders running back Jon Cornish (2010-12) and Ottawa Rough Riders tight end Tony Gabriel (1976-78) won it three years in a row.
| Player (Team) | |
| --- | --- |
| Henoc Muamba (Toronto) | 2.60 |
| Cameron Judge (Toronto) | 2.70 |
| Andrew Harris (Winnipeg) | 3.35 |
| Corey Greenwood (Calgary) | 14.00 |
| Lemar Durant (B.C.) | 14.00 |
| Kwaku Boateng (Edmonton) | 17.00 |
| Jake Burt (Hamilton) | 32.00 |
| Cleyon Laing (Ottawa) | 32.00 |
Montreal Alouettes receiver Ben Cahoon (2002-03) and Edmonton Eskimos running back Normie Kwong (1955-56) did it twice. If Muamba were to win again this season, he'd join B.C. Lions defensive end Brent Johnson (2005-06) as the only defensive players to win Most Outstanding Canadian two seasons in succession.
Defensive Dynamos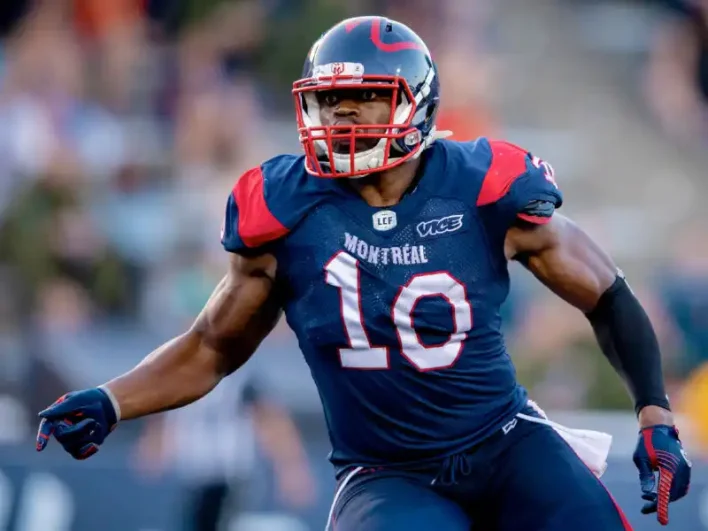 Muamba's 2019 win ended a nine-year reign over the award by players who worked on the offensive side of the ball. Oddsmakers are of the opinion that defence will continue to rule over this award in 2021 and if so, that could make league history in a number of ways.
While Johnson did win consecutive Most Outstanding Canadian Awards, no defensive player has ever done so while playing for different teams. In fact, no player has won the award in successive years wearing the uniform of two different CFL clubs. No linebacker has done so, either.
According to the betting line, Muamba's closest rival for the award will be his teammate and fellow Argonauts linebacker Cameron Judge. He's at odds of 2.70. Muamba and Judge were 1-2 in the voting in 2019.
There's plenty of other defensive players who are considered serious contenders for the honour. In fact, three of the top four in this betting line are defensive players and all are linebackers. Linebacker Corey Greenwood of the Stampeders is the co-fourth betting choice at 14.00
Edmonton Elks defensive end Kwaku Boateng (17.00) and Ottawa RedBlacks defensive lineman Cleyon Laing (32.00) are also both on the odds board in this betting market.
For his part, Muamba is delivering the goods to offer proof that he'll be right there hunting for his second Most Outstanding Canadian Award just as efficiently as he hunts down ball carriers. Through two regular-season games, Muamba is seventh in the CFL with 11 tackles. He's only three tackles off the league lead.
Harris Slowed By Injury
An intriguing entry among the MOC contenders is Winnipeg Blue Bombers running back Andrew Harris. Besides Muamba, he's the only player on the list who's previously won the award. Harris was the CFL's MOC in 2017.
In 2019, he also won the Grey Cup MVP and MOC. Harris has led the West Division in rushing three times been named a CFL All-Star five times.
However, Harris has started the 2021 CFL season on Winnipeg's injury list. He'll need to get back on the field quickly to remain in with a chance at this award.
Where to Bet On The CFL?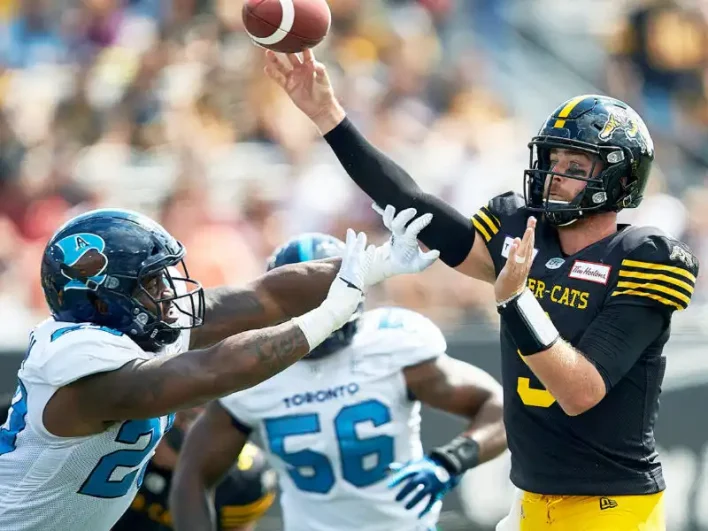 There are a number of leading online betting sites that will provide bettors with the chance to place a wager on the CFL, whether it be a moneyline or point spread wager, a future book bet, a parlay wager, or a player or team prop wager. The best bet you can make is to shop around in advance and seek out the right deal before joining one of these sportsbooks. Check out Sports Interaction and Bet99 as examples.
The signup bonus offers that are in place at all of these recommended sites will prove advantageous to the bettor. And since you'll get a good deal wherever you go, why not check out several sites and find the ideal fit for your needs?
Do you want a risk-free first bet as a signup bonus? Perhaps you find a no deposit bonus to be enticing. Or maybe you simply like the feel of cold, hard cash in your account and you want to go for a matching first deposit bonus. Whatever option you choose, you're already a winner.
Remember that new players and returning customers are eligible for better bonuses when they deposit using Bitcoin. As well, take advantage of the CFL betting advice offered at these sites to help newcomers acclimatize to sports betting.
See below the top sportsbooks where you can wager online and choose the right one for you: