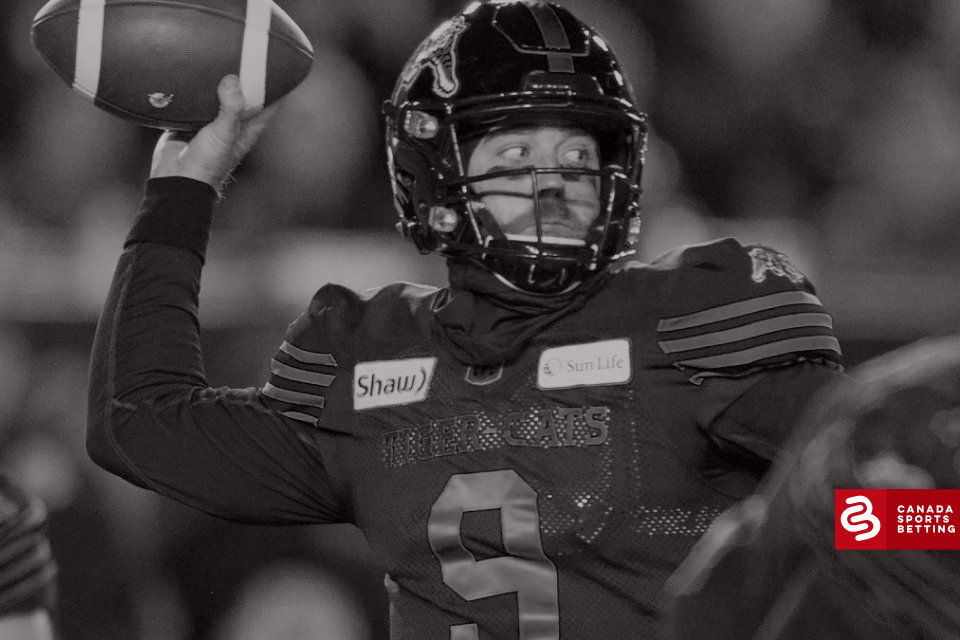 Let's have a look at the 2021 CFL total wins picks.
CFL 2021 Total Wins Picks
Online sportsbook Sports Interaction (SIA) is offering a prop wager on the win totals for each of the nine CFL teams. The Hamilton Tiger-Cats, who won a league-leading 15 games in 2019, the last year there was a CFL regular season, are given the highest win total at 9.5 games. On the other hand, the Ottawa Redblacks, a CFL-worst 3-15 in 2019, have seen their win total established at 3.5 games.
Sports Interaction has established win totals for all nine CFL teams during the upcoming 2021 18-game regular season
The Hamilton Tiger-Cats are set with the highest win total of 9.5 games
It's the Ottawa Redblacks who've been given the lowest total bar at 3.5 wins
The CFL regular season will kick off where it left off. The Winnipeg Blue Bombers will face the Hamilton Tiger-Cats in the season opener on August 5th. Those are the same two teams that met in the 2019 Grey Cup when the Blue Bombers upset the favoured Tiger-Cats.
The COVID-19 pandemic completely wiped out the CFL's 2020 campaign. That's left plenty of uncertainty coming into this season in terms of which players will be able to pick up where they left off and which will be able to pick up the slack following a downturn in performance during the 2019 season.
Savvy CFL bettors can work this uncertainty to their advantage. For instance, Sports Interaction is offering a prop wager on the win totals for each of the CFL's nine franchises. Without games being played for over a year, determining which teams will mesh smoothly and which CFL clubs will struggle to find their groove could make a play on any of these win total options a profitable wager.
Hamilton Tiger-Cats (9.5)
The Tiger-Cats posted their first winning season since 2015 by earning a league-leading 15 wins in 2019. It was also a franchise single-season record.
Bookmakers have set the bar low for Hamilton at 9.5 wins. The over looks like a safe play to make here.
Winnipeg Blue Bombers (8.5)
From their 33-12 Grey Cup win over Hamilton, 21 of 24 starters return for the Blue Bombers.
Winnipeg was the CFL's No. 2 offence in 2019, scoring 508 points while going 11-7.
Saskatchewan Roughriders (8.5)
Saskatchewan's West-leading 13-5 mark was the Roughriders' best season since going 14-2 in 1970. But just like in 1970, they didn't get to the Grey Cup game.
The CFL's No. 2 defense was gutted by departures. The Riders will be hard-pressed to match their 2019 output.
Calgary Stampeders (7.5)
The Stampeders are the most consistent team in the CFL and the safest bet in the league. Calgary has reached double digits in wins for 12 successive seasons.
Calgary has finished first in the West Division seven times during that span.
Montreal Alouettes (6.5)
Montreal enjoyed a breakout season in 2019. The play of QB Vernon Adams Jr., both with his arm and legs, was a revelation.
The leadership of head coach Khari Jones proved vital. Jones has used that solid character to keep his players working so that they'd be ready to go when the CFL finally got the go-ahead to play again.
Toronto Argonauts (6.5)
There were only two places that the Argos couldn't win in 2019 – at home and away.
Toronto sought to solve the problem the way the Argos traditionally do – by throwing money at it. They brought players in volume into training camp, hoping to assemble a good team from all those pieces.
British Columbia Lions (5.5)
With a new coaching staff and a revamped roster, the Lions are basically starting from scratch.
In the rugged West, going into the season with some assembly required isn't a recipe for success.
Edmonton Elks (5.5)
The team to be named later, odds are the former Eskimos aren't likely to fare much better in their first season as the Elks.
Edmonton also is going into the season with new coaching staff.
Ottawa Redblacks (3.5)
Some team has to be the worst one in the league. In 2019, that was the 3-15 Redblacks. 
QB Dominique Davis owns a powerful arm. Sadly it's not also an accurate arm. 
Where to Bet On The 2021 CFL Win Totals?
There are a number of leading online betting sites that will provide bettors with the chance to place a wager on CFL football, whether it be a win total wager, a Grey Cup future book bet, a game wager, or a player or game prop wager. The best bet you can make is to shop around in advance and seek out the right deal before joining one of these sportsbooks. Check out Sports Interaction and Bet99 as examples.
The signup bonus offers that are in place at all of these recommended sites will prove advantageous to the bettor. And since you'll get a good deal wherever you go, why not check out several sites and find the ideal fit for your needs?
Do you want a risk-free first bet as a signup bonus? Perhaps you find a no deposit bonus to be enticing. Or maybe you simply like the feel of cold, hard cash in your account and you want to go for a matching first deposit bonus. Whatever option you choose, you're already a winner.
Remember that new players and returning customers are eligible for better bonuses when they deposit using Bitcoin. As well, take advantage of the betting advice offered at these sites to help newcomers acclimatize to sports betting.
See below the top sportsbooks where you can wager online and choose the right one for you: