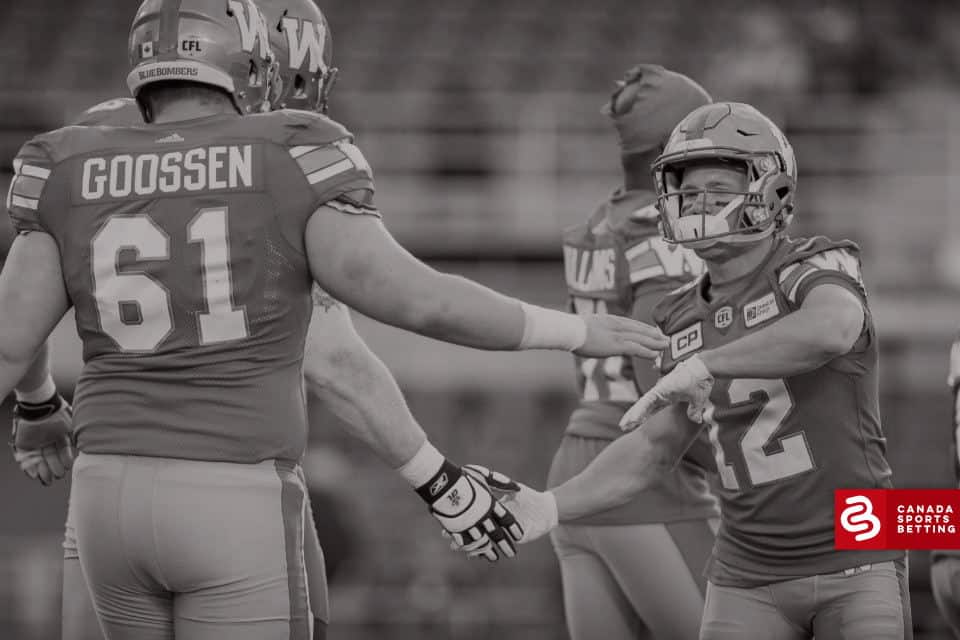 Road teams are being given the nod in two of three-weekend games in Week 9 action in the CFL. The CFL betting picks are favouring the Saskatchewan Roughriders to win at Calgary over the Stampeders. Meanwhile, the Winnipeg Blue Bombers are slight favourites as they travel to Canada's Left Coast to face the B.C. Lions. Only the Hamilton Tiger-Cats, home to the Montreal Alouettes, is being given the nod in the CFL Week 9 picks.
CFL's Week 9 2021 Predictions
The Winnipeg Blue Bombers are 1.5-point favourites at the B.C. Lions in CFL Week 9 picks
The Saskatchewan Roughriders are the 2.5-point chalk at Calgary facing the Stampeders
It's the Hamilton Tiger-Cats who are 2.5-point picks at home against the Montreal Alouettes
Plenty of Canadians will be trekking across the country next week for a homemade feast on Thanksgiving weekend. However, in the CFL Week 9 picks in the week leading up to Thanksgiving, home cooking appears to be quite overrated.
Among the three games slotted over the upcoming weekend, visiting teams are listed as CFL best bets to take the two points back home with them in two of those games.
At B.C., the hometown Lions are listed as 1.5-point underdogs as they welcome the reigning Grey Cup champion Winnipeg Blue Bombers for a Friday visit. On Saturday in Calgary, the Stampeders have been made 2.5-point home underdogs as they play host to the Saskatchewan Roughriders.
The honour of home-field advantage belongs only to the Hamilton Tiger-Cats this Saturday. Hamilton is the 2.5-point home betting choice in the CFL picks as they match up against the visiting Montreal Alouettes.
Winnipeg Blue Bombers (-1.5) at B.C. Lions (+1.5)
It's their sterling defence that generally makes the Blue Bombers the best bet in the weekly CFL picks. However, Winnipeg is also a team with a resilient offence. The Blue Bombers have 10 touchdowns in 15 red zone opportunities for a 66.7 percent success rate. That's tops in the league.
Winnipeg is also a resilient bunch. The Blue Bombers are the only team in the CFL that has a winning record when trailing after the first half. They are 2-1 in those games. Winnipeg has only allowed six points in the fourth quarter this year.
B.C. quarterback Michael Reilly is on pace to throw for 3,720 yards this season. In his rookie season, Canadian Jordan Williams of the Lions is on pace for 98 tackles.
Saskatchewan Roughriders (-2.5) at Calgary Stampeders (+2.5)
Calgary and Saskatchewan have split their last six meetings. Calgary swept the season series in 2019. Before these past six games, Calgary won 10 in a row and 17-of-19 since 2010.
Stampeders QB Bo Levi Mitchell has a record of 9-3 against Saskatchewan. However, he only has two 300+ yard passing games against the Roughriders. That's his fewest against any opponent. Calgary owns the CFL's second-best red-zone TD rate at 10-for-19 (52.6 percent).
When Saskatchewan is leading after three-quarters of play this season, the Roughriders are 5-0.
Montreal Alouettes (+2.5) at Hamilton Tiger-Cats (-2.5)
At 2-0, Hamilton is among three CFL teams that remain unbeaten at home this season. The Tiger-Cats got some good news on the injury front that only figures to give them a boost in the CFL picks this week. Both QB Jeremiah Masoli (ribs, elbow) and receiver Brandon Banks (ribs) were full participants in practice.
Including this year, the Ti-Cats are 9-3 in their last 12 games against Montreal.
Montreal's William Stanback is on pace to rush for 1,442 yards. At his current pace, he would accumulate the most rushing yards in a season since 2013, when Jon Cornish ran for 1,813. Despite the shortened season, Als QB Vernon Adams Jr. is on pace for 26 touchdown passes, which would surpass his personal best of 24 set in 2019.
Where to Bet On The CFL?
There are a number of leading online betting sites that will provide bettors with the chance to place a wager on the CFL picks, whether it be a moneyline or point spread wager, a future book bet, a parlay wager, or a player or team prop wager. The best bet you can make is to shop around in advance and seek out the right deal before joining one of these sportsbooks. Check out Sports Interaction and Bet99 as examples.
The signup bonus offers that are in place at all of these recommended sites will prove advantageous to the bettor. And since you'll get a good deal wherever you go, why not check out several sites and find the ideal fit for your needs?
Do you want a risk-free first bet as a signup bonus? Perhaps you find a no deposit bonus to be enticing. Or maybe you simply like the feel of cold, hard cash in your account and you want to go for a matching first deposit bonus. Whatever option you choose, you're already a winner.
Remember that new players and returning customers are eligible for better bonuses when they deposit using Bitcoin. As well, take advantage of the betting advice offered at these sites to help newcomers acclimatize to sports betting.
See below the top sportsbooks where you can wager online and choose the right one for you: