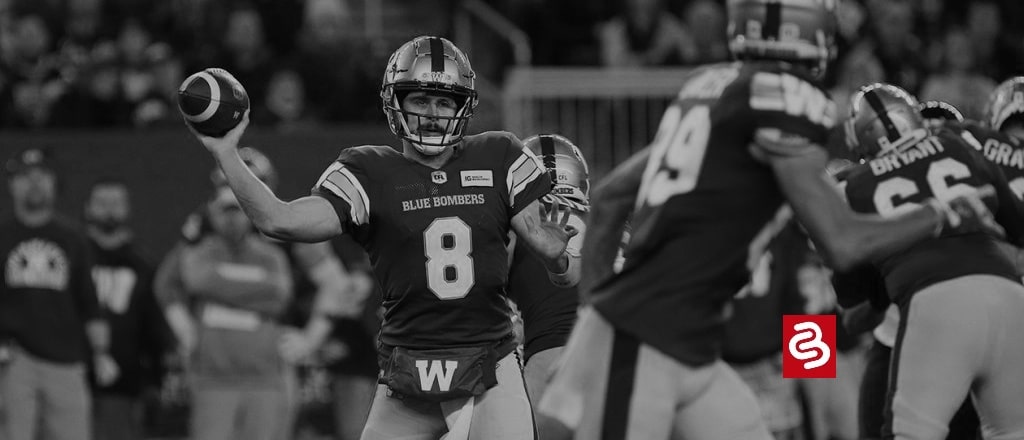 The sports betting world heads north to Canada as the 2022 CFL Futures report is out for the month of March. How do the favourites shape up for next season?
2022 CFL Grey Cup Futures?
Time keeps on keeping on. At Canada Sports Betting, that could not be more true as the 2022 CFL Futures have been unearthed. The first thing often asked is this. Well, the 2022 CFL season is still a whipping three months away. That is true. Look at other sports. In baseball, the World Series futures for the next season are out even though there is a lockout currently. This is how it is now as news cycles are endless and recurring.
Yes, the NFL, CFL, and sportsbooks alike update these numbers year-round. If that is not enough, one will be able to pick divisional outrights too in time. After that, there are some award props that will surface just before the June 22nd opening. The Winnipeg Blue Bombers have once again assumed the favourite's role currently.
Opening The Early 2022 CFL Futures
This seems like a fun time to examine the 2022 CFL Futures err Grey Cup 109. Digging deeper into some of these numbers may even reveal a potential darker horse or could one of the other teams that came so close find a way. No shifts have taken place yet because these are the openers. There are six current contenders listed below.
Do not forget about the CFL betting odds as well. The 18-game schedule will allow for adjustments and gauge events better as the schedule takes place over 21 weeks. Again, the Winnipeg Blue Bombers lead the way as significant favourites ranging from 3.50 to 3.75. Saskatchewan is not too far behind with several other teams creeping up on them even.
Winnipeg A Repeat 2022 CFL Futures Favourite?
Triumphing and Winnipeg sports, in general, could be considered more like ebony and irony. This places the Winnipeg Blue Bombers as a lock to be up at the top of any 2022 CFL futures list. The top online sportsbooks are constantly rearranging as more data piles in. Any speculation can cause a shift. It does not take as much as one would think. Sometimes it is simply an opinion. Winnipeg was an easy favourite as they have won the last two Grey Cups (2019 and 2021).
That contention is significant. Easily, Winnipeg is one of the most balanced teams in the CFL period. It was their balance on both sides of the ball combined with clutch playoff play that led people to think that Winnipeg has a shot for a three-peat. Their divisional outright ranges will feature much shorter numbers when they come out. This is one thing that has not changed.
For Winnipeg, it boils down to complacency. Can the Blue Bombers avoid the typical championship traps? Their only competition arguably in the West will be their arch-rival Saskatchewan Rough Riders once again. Those games are always close and bring out the best in the Blue Bombers.
The Winnipeg Blue Bombers are still our early CSB favourites even though there is value in one other place in particular.
What About The Saskatchewan Rough Riders And Derailing The Champs?
The Saskatchewan Rough Riders have come so close the past few seasons but have run into the Winnipeg Blue Bombers. Last season, Winnipeg ended their season in heartbreaking fashion. The Rough Riders fell just short by a score of 21-17. They then watched as the Blue Bombers again outlasted the Hamilton Tiger-Cats to win another Grey Cup. As Saskatchewan fans lamented, "what might have been".
Saskatchewan won the West Division in 2019 going 13-5 and then came back in 2021 to go 9-5 and finish second in the West. After they defeated Calgary, the Rough Riders again ran into the Blue Bombers. The contention is that Saskatchewan is right there with their quarterback play and offence. Even the defence is close. After all, they slowed Winnipeg down to 21 points last season. Little has changed in the off-season. Again, this all comes down to making plays in crucial moments.
The dilemma is the Rough Riders should not be pushed like this especially if they struggle within the division again. Another pick maybe two in March is out there. Lengthening of their number is not likely until the start of next season. Saskatchewan at 5.50 or even 5.75 is still not worth a wager at this time. The reason is maybe to wait and hope the number moves closer to 6.00.
Can The Hamilton Tiger-Cats Find Their Way Back?
Can the Hamilton-Tigers find their way back? Did they really just come up one play short in overtime? Is there something about this team? What if the answer is a little of both? So far, the numbers hint that value may be there again. Betway has yanked this out a bit to 6.50. That means there may be more room as the CFL season approaches.
Obviously, Hamilton has to get off to a better start than they did during last year's shortened season. They were away better second-half and playoff team. They still meandered to an 8-6 regular season before getting hot in the playoffs. Hamilton's receivers and particularly the secondary are huge strengths heading into the 2022 campaign. That alone may be the reason for optimism on their number. They can get back.
Any 2022 CFL Future Long Shot Shifts?
Now, forecasting the CFL Futures this far out, long shots and shifts are hard to see coming. If Toronto can overcome its playoff woes. They are not long shots. However, Calgary might be worth a look but maybe more into the summer.
Our pick to top the 2022 CFL Futures is still the Winnipeg Blue Bombers.
Take a look at some CSB Top Free Picks this week and make some more wagers!