The Canadian Tire Centre was formerly known as The Palladium when it opened in January 1996. It's a multi-purpose indoor arena primarily used as the home ice for the Ottawa Senators. Located in the western suburb of Kanata, the Centre stands out and gives a circus-like vibe when Ottawa fans travel to and from. [-]
The Senators have consistently been a great hockey team and the Centre, with its latest set of renovations serve as a just home for them.
Canadian Tire Centre Seating
The Centre can be configured for concerts with full and half arena seating arrangements. It has six restaurants and a fitness club, a rarity for many arenas. The Ottawa Sports Hall of Fame exhibit is on the 200/300 level concourse. The 2014 $15 million renovation brought remodeled food outlets and 4K Video displays. Club Bell was also introduced and introduces a new section for fans looking to get luxurious and comfortable.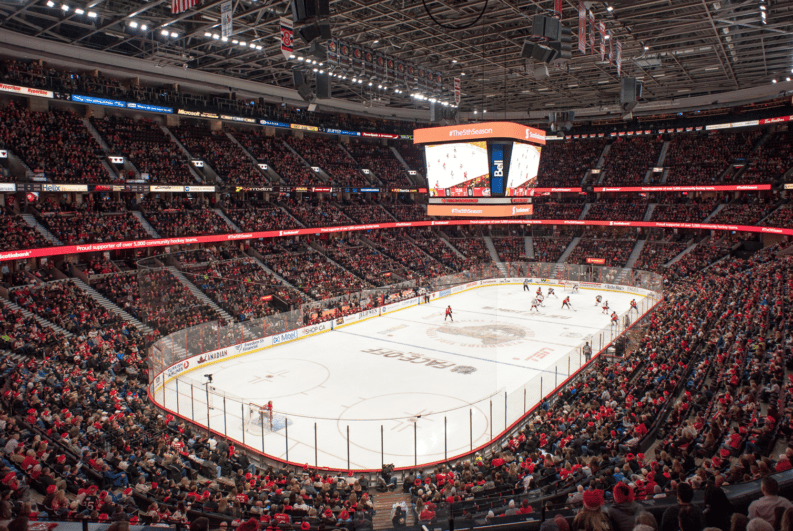 Ottawa Senators Canadian Home Schedule
One of Canada's youngest franchises, the Ottawa Senators joined the NHL during the 1992-93 season and after initial years of ineptitude quickly blossomed into being perennial playoff contenders. They made their first trip to the Stanley Cup Finals during the 2006-07 season but lost to the Anaheim Ducks. Despite playing in a small market, the Senators remain popular and are one of the most efficient franchises. They'll hope to eventually overcome their playoff demons and bring the Cup back to Canada right in the nation's capital.
Hotels Near Canadian Tire Centre 
The Canadian Tire Centre is spectacular and the biggest thing in Kanata so it may be a bit of a walk from the nearest hotels. The Fairfield Inn & Suites in Kanata is a nice hospitable place with friendly staff. At 1.3 kilometers away, it's a 13-minute walk. The Holiday Inn & Suites is more upscale for a great price but is a bit further away. The Brookstreet Hotel is a short drive away and is one of the loveliest hotels in the city with exceptional staff and excellent facilities.