Toronto Maple Leafs Arena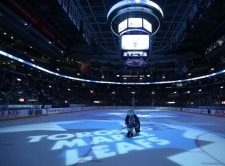 The Air Canada Centre (ACC) is a multi-pupose indoor arena that hosts both sporting and entertainment events situated at the southernmost district of Downtown Toronto. It is home to the Toronto Maple Leafs and also the Toronto Raptors of the NBA and the Toronto Rock of the NLL. Owned and operated by Maple Leaf Sports & Entertainment Ltd. [-]
(MLSE), it is the same group that operates both Leafs and Raptors. From its initial design, the ACC revolutionized arena concpets such as their incusion of luxury suites.
Air Canada Centre Seating
The ACC is Canada's premiere sports and entertainment venue in the heart of the city. The ACC features 1020 club seats, 40 platinum lounges (unique to any North American venue), 65 executive suites, 32 theatre suites, 16 Loge suites, three group sales areas, including a 200-seat gondola and themed restaurants. It is also one of only two arenas in Canada to house a Rickards Brewhouse.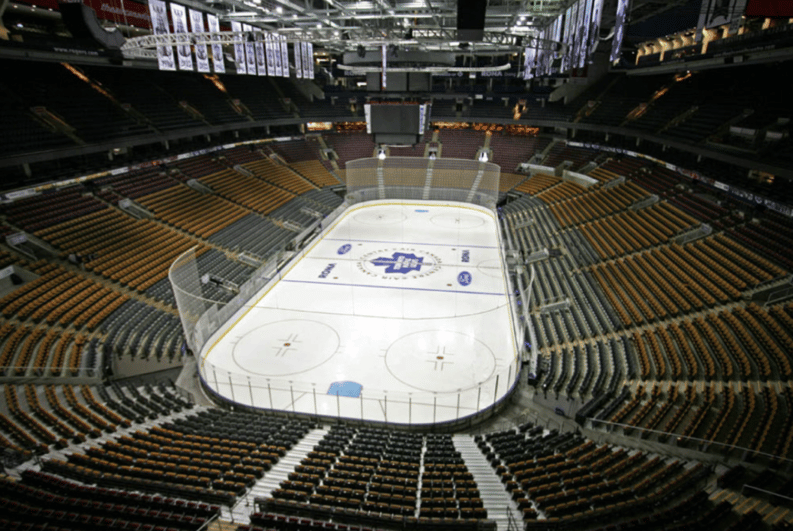 Toronto Maple Leafs Home Schedule
The Leafs are both the NHL's most popular and most valuable franchise. With 13 Stanley Cups, only their rivals, the Montral Canadiens have more although their last cup came in 1967 before the expansion era. Since the NHL lockout that wiped out the 2004-05 season, the Leafs have struggled mightily and have become the subject of criticism. They have, however turned over a new leaf (pun intended) with astute new management and promising young players as the ever-passionate fanbase keeps looking for hope.
Hotels Near Air Canada Centre
Located along the lakeshore are of downtown Toronto, the Air Canada Centre is conveniently located close to the subway and many hotels. Hotel Le Germain Maple Leaf Square is literally where the ACC is and it gets better over time. The Delta Hotels by Mariott is also beside the ACC and offers scenic views of the Rogers Centre and the Toronto waterfront. The Fairmount Royal York is a block north on Front Street where plenty of bars, clubs and entertainment hubs are located.