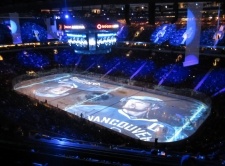 The Rogers Arena is an indoor sports arena in the downtown core of Vancouver. It opened in 1995 as the General Motors Place (GM Place) until GM ended its naming rights sponsorship and Rogers Communications took over. The arena is home the Vancouver Canucks and aso formerly hosted the Grizzlies when the NBA expanded to Canada in 1995. [-]
The arena occasionally upgrades to keep up with the modern times and as of 2016 is still working on expanding.
Rogers Arena Seating
Since being built in 1995, the arena has already gone through several upgrades. In 2006, the arena was upgraded with a ProAd LED ribbon board and shortly after new LED scoreboards around four widescreen video displays, which were the largest in the NHL before the Bell Centre made their own upgrades. 2008 saw an upgrade to the sound systems: L-Acoustics speakers, amplified controllers and is mixed through Soundcraft Vi6 digital console. The largest installation in North America.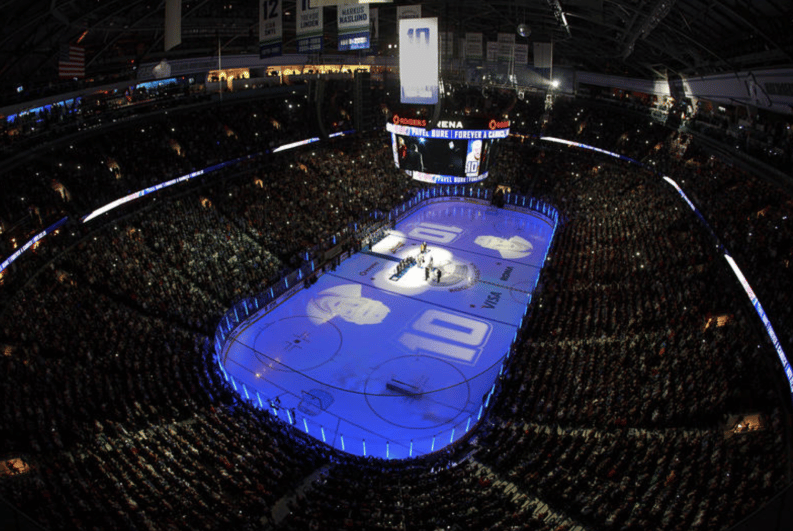 Vancouver Canucks Home Schedule
Next to Leafs Nation, Canucks fans are the longest suffering Canadian fans. Since the Vancouver Canucks joined the NHL in 1970, they have been to three Stanley Cup Finals in three different decades but lost each time. They have won their division ten times and the President's Trophy in back-to-back campaigns and have consistently been a contender in year's past although are prone to rebuilding some time soon. Among some of the best Canucks are Pavel Bure, the Sedin twins and Markus Naslund.
Hotels Near Rogers Arena
The YWCA Hotel is a perfect compliment to the Rogers Arena. The hotel is relatively inexpensive and comfortable, which contrasts it with the high prices you'll be going through while enjoying the arena's entertainment. The Georgian Court Hotel is located right by the area and is perfectly placed with the BC Place just across it and many fine eateries around. The Victorian Hotel is a bit further but is located in a quaint neighbourhood and has heavenly beds.