Scotibank Arena formerly known as Air Canada Centre is a multi-purpose indoor arena that currently houses the Toronto Raptors and the Toronto Maple Leafs of the NHL. It is one of the busiest arenas in the world not only housing multiple sports teams but also concerts and political conventions. Scotiabank Arena at the time of its creation revolutionized the arena business with its concepts… [-]
…Including luxury suites, splitting the main scoreboard into multiple sections and having many restaurants.
Scotiabank Arena Seating
The arena is 665,000 square feet and connected to the Union subway station while also providing up to 13,000 parking spaces. It is the premiere destination for all kinds of entertainment in the city. A 17-screen HD video scoreboard, measuring 10 feet high by 17 feet wide provides additional electricity while state-of-the-art BOSE sound systems amplifies the sound quality.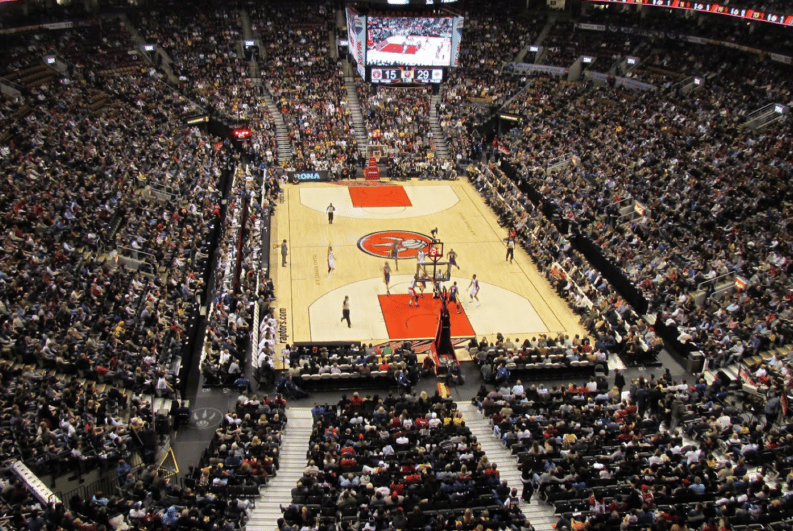 Toronto Raptors Home Schedule
The Toronto Raptors are Canada's one beloved basketball team. Debuting in 1995 with the now-relocated Vancouver Grizzlies, the Raptors moniker was chosen due to the popularity of Jurassic Park at the time. Now, fans gather round The Scotiabank Arena calling it the Jurassic Park as the Raptors are in their best form in over 20 years of existence having just made it to the Eastern Conference Finals for the first time. They'll continue to improve and one day hope to bring the Larry O'Brien Trophy north of the border.
Hotels Near Air Canada Centre
The Scotiabank Arena is in a convenient location just south of the downtown core. It is beside the subway so any hotel within the vicinity is accessible. The Hotel Le Germain is right by the Maple Leaf Square beside The Scotiabank Arena and is a luxurious hotel that is well-designed inside and out. It's the prime hotel for those with money to spend. The One King West Hotel & Residence is a decent mid-range choice. It's beautifully designed, clean and comfortable and still just walking distance from the arena. The Shangri-La Hotel is a unique luxury hotel that has a zen-like atmosphere too.
Perfect for a relaxing getaway.