Despite being over 40 and semi-retired, Pacquiao remains one of boxing's biggest stars and best athletes. A Filipino icon, Pacquiao's rise to fame is partly due to the loyal Filipino fans who still fiercely support him today. With billions in revenue generated, and twelve major titles won, Pacman still has a passion for boxing. While there won't be many more – here is Pacquiao's next big fight.
The boxing world is fortunate to still have him. Fans and bettors are ecstatic every time Pacquiao's fight odds are posted as his fights aren't just exciting, but a good way to earn coin. Pacquiao battled Keith Thurman for the WBA Welterweight belt on July 20, 2019, at the MGM Grand Garden Arena in Las Vegas, Nevada, USA.
Manny Pacquiao has officially announced his retirement from boxing. While this may be reversed, it does seem that it's it for him. We will keep the odds available in case anything changes.
The odds for Manny Pacquiao vs Yordenis Ugás have emerged and are now available. The Latest boxing odds refreshed on May 23, 2022:
| Favorite | Win | VS | Win | Underdog |
| --- | --- | --- | --- | --- |
| Manny Pacquiao | 1.12 | Split Decision | 5.50 | Conor McGregor |
| Manny Pacquiao | 1.26 | Split Decision | 3.00 | Yordenis Ugás |
Congratulations to Manny "Pacman" Pacquiao who defeated Keith Thurman, via a split decision, to claim the WBA Welterweight Championship. The win moves the amazing Ageless Warriors' career record to 62-7-2.
WILL PACQUIAO FIGHT MAYWEATHER?
There's been plenty of speculation as to whether or not there will be a second bout between Manny Pacquiao and Floyd Mayweather Junior. Both fighters are still fit enough to go a full twelve rounds, and they have been keeping their names in the media in one way or another, including various fight rumours.
In late 2019, Floyd Mayweather was quoted as saying he "feels the time is right" for a rematch between himself and Pac-Man. In fact, Floyd has mentioned that he wants to fight twice in 2020 – once with Manny, and in another MMA crossover super fight with one of the most dangerous men in the octagon, Khabib Nurmagomedov.
Certainly, when these men enter the ring, they're defending themselves at all times. But it's also worth remembering that everyone involved in these bouts does so for the sake of earning a paycheck.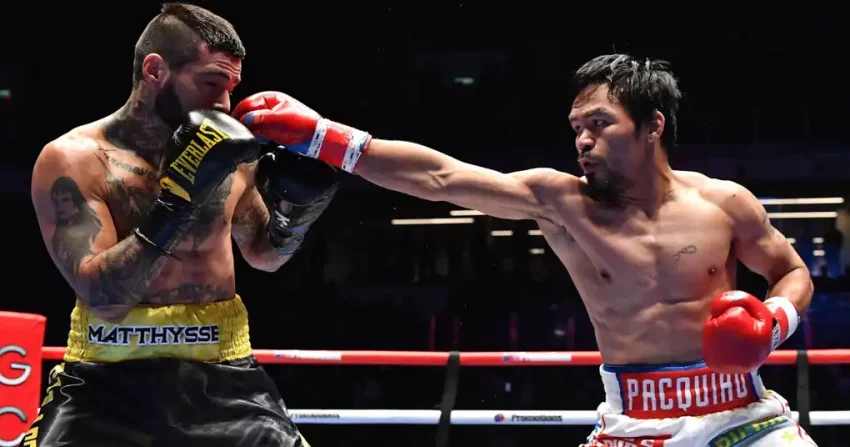 What is Manny Pacquiao's Next Fight?
There's been a wide range of rumours and speculation in terms of who Manny will square up against the next time he enters the ring. Some believe that he will focus strictly on domestic work in the Philippines if he doesn't find an opponent that he can work with to create a big payday. As such, Floyd Mayweather Junior is one of the most obvious possibilities for his next bout.
Interestingly, Manny has been linked on and off with the potential to fight against Gennady Golovkin. However, Golovkin has a notable size edge on Pacquiao, and GGG has been fighting against the likes of Canelo – in other words, the best of the best. GGG is one of the hardest-hitting men in the business, so a match against Pacquiao could legitimately be dangerous and unfair.
Perhaps the most logical potential bout for Manny would be one against Errol Spence Jr. Errol recently dealt with a horrible car crash and picked up a DUI along with a lengthy recovery period. Now that Errol is back in public, he's looking for a fight to defend his WBC and IBF welterweight belts. Manny would find Errol a much more even battle, one that would give him the extra incentive of a potential championship belt.
Other rumoured fighters for Manny's next fight are Danny Garcia, Shawn Porter, Mikey Garcia, and Terence Crawford.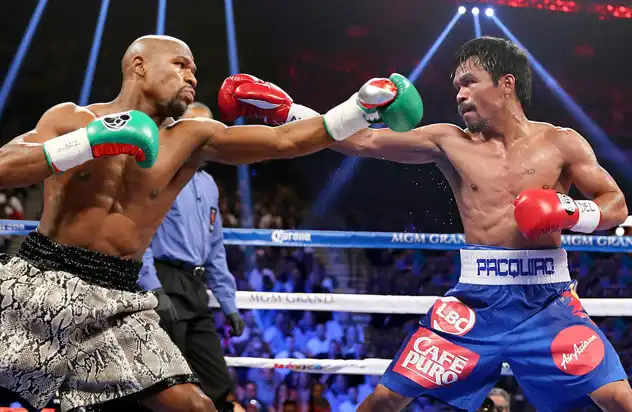 Who is Manny Pacquiao?
Manny Pacquiao is a record-breaking boxer who hails from the Philippines. He's done so as an undersized fighter who somehow punches 50 pounds above his weight. Pretty much every part of his life story involves him beating the odds in one way or the other. He started out from a small, poor town in the Philippines and is now one of the most powerful men in the country.
He's set a record as the only champion across eight boxing divisions, and he's the first in history to win a belt in four of eight glamour divisions – in his case, the flyweight, featherweight, lightweight, and welterweight divisions. He's also the only boxer to be a champion across four decades, having won in the 1990s, 2000s, 2010s, and in 2020. There's no combatant around the world who can claim his level of success.
Unlike the vast majority of boxers, Manny has parlayed his success in the ring into a ridiculous number of ventures in areas outside of sports. He's become a career politician, he's recorded albums, and he's appeared in nearly a dozen movies and has been a part of various TV shows, including documentaries and game shows.
The Philippines is absolutely crazy about basketball, and the Pac-Man leveraged his fame and fortune to become part of the Philippines' professional league. Manny purchased a team, entered the draft like other players, and then was the coach and player on his own team.
Incredibly, Manny's even developed enough influence to make political endorsements in the United States, including Jerry Brown of California and Duke Aiona in Hawaii.
Where is Manny Pacquiao From?
Born Emmanuel Dapridran Pacquiao on December 17th, 1978, in Kibawe, Bukidon of the Philippines, Manny grew up with six siblings. His dad split from the family when he was only six. At a young age, Manny was drawn to combat sports after watching great like Muhammad Ali and Bruce Lee. Pacquiao was undersized as a 16-year-old aspiring pro boxer, only 4'11" and 98 pounds, so he put weights in his socks to make the minimum demand for weights.
Manny still won his first fight.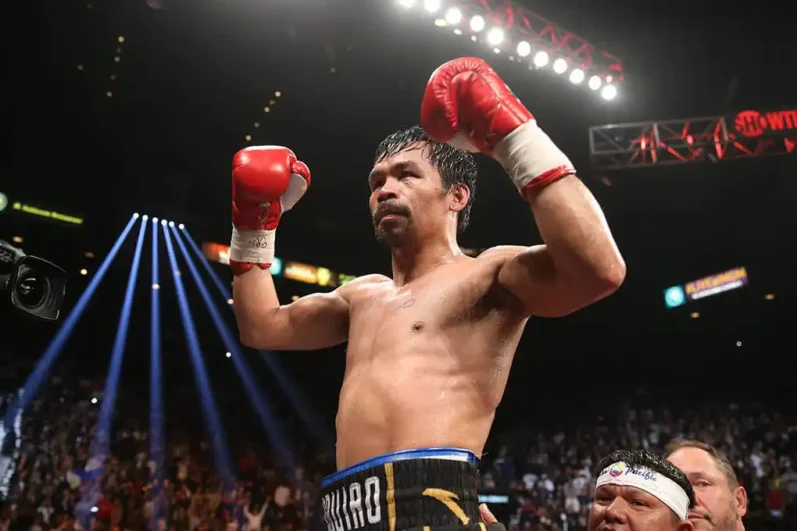 How Manny Pacquiao Made His Money?
Manny's biggest windfall by far was his bout against Floyd Mayweather Jr. It's estimated that the Pacman took home a paycheck worth $130 million for that fight alone. He's drawn around $1.25 billion in ticket revenues from his 24 pay-per-view boxing bouts, including 4.6 pay-per-view television purchases for his Mayweather fight. Manny's also been a part of countless endorsement deals around the world.
He's also deeply passionate about basketball, personally involving himself as a coach and owner. As a senator with the Philippine government, he's also part of various business deals. He also attracts revenue through acting, TV hosting, and the music recording industry.
What is Manny Pacquiao's Net Worth?
Manny's net worth is estimated at around $220 million, although it's estimated that he's earned more than $500 million from fight purses and various worldwide promotions. Pacquiao's family struggled with poverty when young, which makes his success story that much more notable. No doubt his family is now taken care of quite well.
While Pacquiao isn't at his competitive peak, he's still a big enough celebrity in the boxing world and in the Philippines for another potential windfall through another super fight event. If he manages to gain momentum for a major bout that involves him and a pugilist who will exit retirement, his net worth could easily shoot up again.
Who did Manny Pacquiao Date?
Manny has been long married to Maria Geraldine Jamora, and the couple has five kids in the Philippines. Of course, this hasn't stopped the rumour mill from churning. A celebrity as big as Pacquiao is often linked with many different romantic possibilities outside of marriage.
Manny has been linked with a couple of stars back home, including Krista Ranillo and Ara Mina. As you'd imagine, these sort of rumours and innuendo have a negative effect on any marriage. However, despite it all, Manny and Maria remain married and committed to each other in their second decade of matrimony.
Manny Pacquiao's Record
Manny holds a 62-7-2 record over his boxing career, including 39 knockouts. Over his past five fights, he's managed to pull off a respectable 4-1 record.
| | | |
| --- | --- | --- |
| Opponent | Date | Result |
| Keith Thurman | Jul 20, 2019 | Pacquiao split decision |
| Adrien Broner | Jan 19, 2019 | Pacquiao unanimous decision |
| Lucas Matthysse | Jul 15, 2018 | Pacquiao TKO |
| Jeff Horn | Jul 2, 2017 | Pacquiao decision loss |
| Jessie Vargas | Nov 5, 2016 | Pacquiao unanimous decision |
Manny Pacquiao's Historical Fights
Pacquiao vs Oscar De La Hoya
Oscar De La Hoya was the Golden Boy of the boxing world, winning world titles across six different weight classes. At the time, he was considered a favourite to retain his welterweight belt against Manny. Pacquiao was a respected challenger to Oscar, but nobody really expected Manny to be able to defeat one of the all-time greats in 2008, and someone who reignited a passion for the sweet science.
Manny stopped De La Hoya with an eight-round knockout, notching one of the biggest upsets of the decade. De La Hoya had faced plenty of strong, hard-hitting opponents, but there was something behind Manny's fists that crumbled Oscar into literal retirement.
Pacquiao vs Floyd Mayweather
Many consider Mayweather to be one of the greatest defensive boxers in history, able to slip and duck away and into counterpunch opportunities. Manny was considered one of the few boxers with the fist speed and power to potentially create problems for Floyd. Mayweather was technically only knocked out once in his entire career, and Manny showed proven stopping power against a litany of champions across seven weight divisions.
Alas, by the time Floyd stopped ducking Manny, Pacquiao was no longer the same killer in the ring. In fact, he revealed that he entered the ring with a shoulder injury, which would negatively impact the speed, precision, and power of his attack. This was the richest prizefight ever to happen at the time, netting both fighters a nine-figure paycheck. Manny bowed out gracefully with a decision loss.
Pacquiao vs Erik Morales II
Not the richest nor the most high profile victory of his career, but for his reputation, it was the most important. Manny dropped a decision against Erik Morales the year before in a controversial bout. As such, Pacquiao determined that he would need to avenge this blight on his soul with a rematch against Erik.
Manny loaded up in the tenth round and stopped Morales to regain his crown. This victory in 2006 cemented his reputation as a prizefighter worth watching, instead of a two-time loser to Morales. He didn't duck another rematch. Manny would give Morales a chance for revenge in a third bout, which was won handily by Pacquiao, establishing his dominance over Erik.
See below the top sportsbooks where you can wager online on Manny Pacquiao and other boxing matches and choose the best one for you: