He is the biggest boxing superstar today. With blockbuster bouts against Floyd Mayweather Jr., Julio Cesar Chavez, and Gennady Golovkin, Saul "Canelo" Alvarez is the sport's top draw. The Mexican slugger has been a staple at the T-Mobile Arena in Vegas and is the World Boxing Council middleweight champion among many other titles. Get to know boxing's main man as we look through his history, accomplishments, and betting odds.
Canadian Sports betting fans have closely followed Canelo's boxing odds. As the brightest Mexican star of his era, Canelo Alvarez hasn't been disappointed. With a 52-1-2 record, Canelo has lost just once – to Floyd "Money" Mayweather.
Since 2017, Alvarez has averaged at least a million pay-per-view buys and has generated over $600 million in revenue. Now inked to a record-breaking deal, Canelo fights exclusively with DAZN. Boxing fans and bettors alike stay updated on Canelo's odds as big fights come his way.
After a draw in their first fight (16/09/17) and then a somewhat controversial majority decision victory by Alvarez (15/09/18) there is talk that Canelo Alvarez vs. Gennady Golovkin III is being negotiated. We will keep you posted!
Below above are currently Off The Board at Bet99 – We are watching for them to reappear. The odds were last updated on May 23, 2022:
Who is Canelo Alvarez
Saul Alvarez a.k.a. "Canelo" was born on the outskirts of Guadalajara, Mexico but moved to Juanacatlan where he grew up on his family's farm. Nicknamed "Canelo" for "cinnamon" due to his red hair, Canelo began boxing at 13 and became a champion at 15.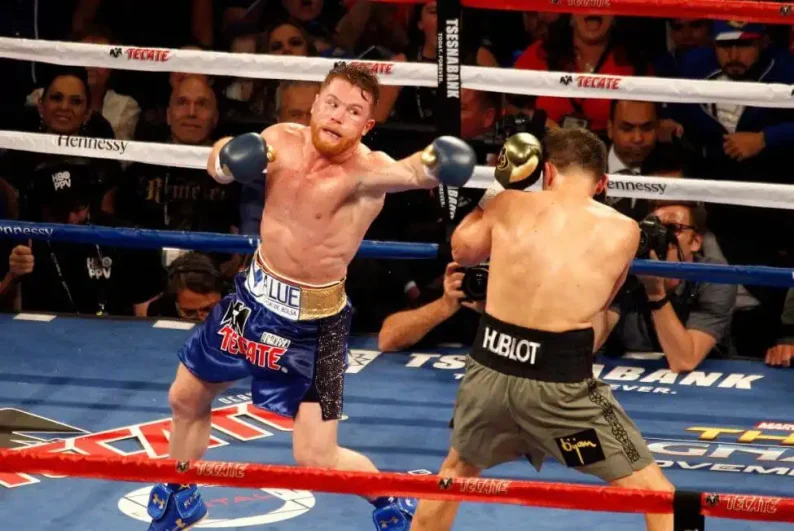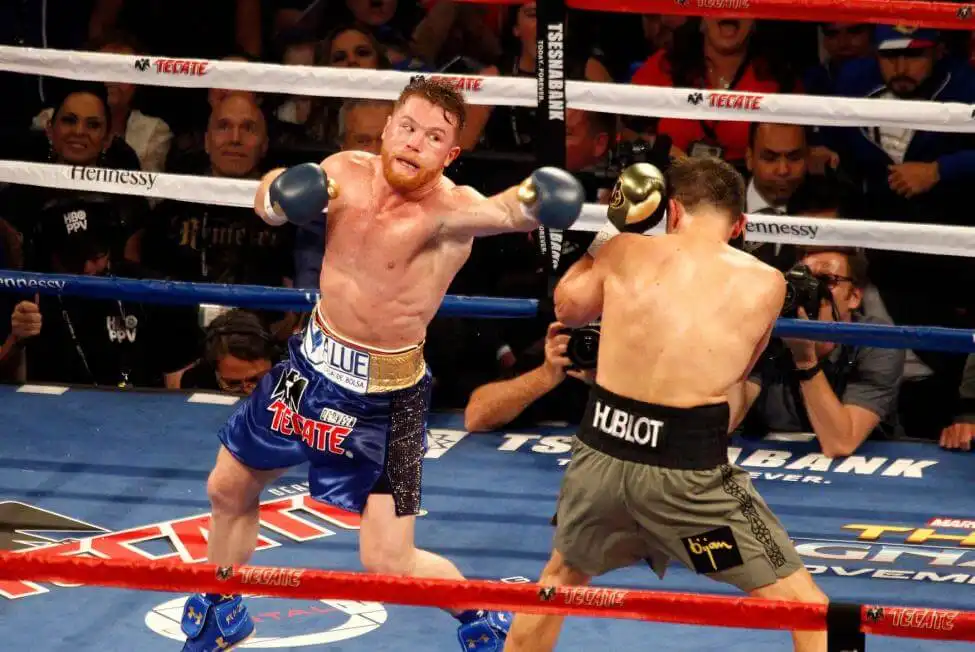 He would break into boxing fame in 2010 when he defeated Miguel Cotto's brother, Jose during the Mayweather-Mosley undercard. Three years later, he would fight and lose to Mayweather in one of boxing's highest-selling PPV's of all time.
Since that defeat, Canelo hasn't lost and has beaten the best boxers around his weight class. Whenever Canelo odds open, there is plenty of action in Vegas.
Canelo Stats
Real Name
Saul Alvarez
Nickname
Canelo
Weight Class(es)
Welterweight (147 lbs)

Light middleweight (154 lbs)

Middleweight (160 lbs)

Super middleweight (168 lbs)

Height
5'9″ (175 cm)
Reach
70.5″ (179 cm)
Stance
Orthodox
Birthday
July 18, 1990
Nationality
Mexican
Birthplace
Jalisco, Mexico
Wins
52
Knockouts
35
Losses
1
Draws
2
How rich is Canelo Álvarez?
As the biggest star today, Canelo is one of boxing's richest athletes. Most recently, he just signed a five-year $365-million deal with DAZN making him the richest man in boxing (outside Mayweather). In 2018, he made around $50 million for his fight against Golovkin. In 2017, he made close to $42 million.
A 2018 report from Forbes published him as the 15th richest athlete at $44.5 million behind only Mayweather ($285 million). His net worth is estimated to be around the $100 million mark. And as he continues to sign mega deals and headline blockbuster fights, his value only goes up.
What is Canelo Alvarez's record?
In 55 professional bouts, Canelo has only lost once. His only defeat came against Mayweather, the greatest boxer of his era.
Here is a table of Canelo's most recent pro boxing record:
| | | | | | | | |
| --- | --- | --- | --- | --- | --- | --- | --- |
| Result | Record | Opponent | Weight | Result | Round | Date | Location |
| Win | 52-1-2 | Daniel Jacobs | Middleweight | Decision (Unanimous) | 12 | May 4, 2019 | Paradise, Nevada, USA |
| Win | 51-1-2 | Rocky Fielding | Super Middleweight | TKO | 3 | Dec 15, 2018 | New York City, New York, USA |
| Win | 50-1-2 | Gennady Golovkin | Middleweight | Decision (Majority) | 12 | Sep 15, 2018 | Paradise, Nevada, USA |
| Draw | 49-1-2 | Gennady Golovkin | Middleweight | Draw (Split) | 12 | Sep 16, 2017 | Paradise, Nevada, USA |
| Win | 49-1-1 | Julio Cesar Chavez Jr. | Catchweight | Decision (Unanimous) | 12 | May 6, 2017 | Paradise, Nevada, USA |
| Win | 48-1-1 | Liam Smith | Light Middleweight | KO | 9 | Sep 17, 2016 | Arlington, Texas, USA |
| Win | 47-1-1 | Amir Khan | Middleweight | KO | 6 | May 7, 2016 | Paradise, Nevada, USA |
| Win | 46-1-1 | Miguel Cotto | Middleweight | Decision (Unanimous) | 12 | Nov 21, 2015 | Paradise, Nevada, USA |
| Win | 45-1-1 | James Kirkland | Super Welterweight | KO | 3 | May 9, 2015 | Houston, Texas, USA |
| Win | 44-1-1 | Erislandy Lara | Light Middleweight | Decision (Split) | 12 | Jul 12, 2014 | Paradise, Nevada, USA |
Canelo Alvarez historical fights
Canelo has garnered widespread fame thanks to his combination of technical and slugger style, his Mexican heritage, and his spectacular knockout power. He is incredibly durable, fights with plenty of heart, and isn't one to back down from big challenges.
Here is a collection of his greatest fights:
Canelo vs Golovkin
If it wasn't for the controversial ending, this would've been the Fight of the Year. After much build-up, the undefeated Gennady Golovkin a.k.a. "GGG" finally squared up with Canelo. The Kazakh mauler was the favourite and was outboxing Canelo for most of the fight. But true to his Mexican warrior heritage, Canelo rallied towards the end.
The three judges all split with one favouring GGG, the other for Canelo, and another scoring it a draw. An immediate rematch quickly ensued.
Canelo vs Golovkin II
The hotly-anticipated rematch featured yet another controversial ending but a decided one. This time, it was Canelo who was the aggressor as he pushed the pace of the fight despite getting outboxed again. A contingent of fans and media ruled in favour Golovkin who outlanded Canelo for eight rounds.
Nonetheless, this victory sealed Canelo's place as the best middleweight of his generation. There is still a possibility of a trilogy happening between them and although there is no word on this yet, boxing odds have been opened.
Canelo vs Chavez
Although Canelo didn't finish this bout, it is arguably his best performance. Canelo shut out the overmatched Chavez winning all 12 rounds from all three judges. Aptly named "Civil War", this high profile boxing match pitted two of Mexico's biggest stars at middleweight.
Canelo was too much for Chavez who was intimidated throughout the fight and was jeered by the Mexican fans. Despite the lacklustre fight, the PPV drew over one million buys making it Canelo's biggest box office performance at this time.
Canelo vs Khan
In what is Canelo's most iconic knockout, the Mexican faced the Englishman who moved up in weight to create this "superfight". Dubbed "Power vs. Speed", it lived up to its name as the smaller Khan used his quick reflexes and agility to outbox Canelo early on. However, it only took one clean shot for Canelo to put Khan down for good.
This was Canelo's first fight at the T-Mobile Arena in Vegas and would cement his status as the leading man to headline T-Mobile Arena boxing events in the future.
Cotto vs Canelo
In what was Canelo's highest profile fight after Mayweather, he defeated four-weight world champion Miguel Cotto in a dramatic 12-round affair. Though the judges' scorecards indicated Canelo won decisively, most fans and pundits felt the match was much closer.
Both men showed iron chins and kept coming despite absorbing heavy blows, especially on Cotto's side. The Puerto Rican used his jab and movement to score on Canelo although the Mexican countered with bigger shots. The PPV was a huge success garnering close to a million buys.
Canelo vs Angulo
Canelo faced fellow Mexican Angulo in a "tune-up" fight following his first defeat against Mayweather. This was arguably his most entertaining bout as Angulo kept coming at him like a man possessed. Canelo weathered Angulo's storm and finished him in the tenth round to get back on the win column.
This victory would restore Canelo's status as an upcoming contender and he would go on to headline several bigger bouts en route to being one of boxing's biggest draws.
Mayweather vs Canelo
This was the fight that turned Canelo from a rising star into one. Although many casual fans haven't heard of him until this bout, Canelo ingratiated himself to the world by giving Mayweather a competitive bout. The young Canelo came at Mayweather, especially early on where he took some rounds. Although he faded towards the end, he had already made a solid impression.
The scorecards in this bout were highly dubious as a judge scored the bout a draw. Regardless, Canelo would go on to be a superstar headlining many lucrative PPV's and superfights on his own.
Whenever there is a Canelo fight you can check the top sportsbooks where you can wager online and choose the best one for you: